Tigers vs. Red Sox ALCS: Who has the edge?
Two of baseball's best offenses and starting rotations will meet in the ALCS. Which club has the upper hand?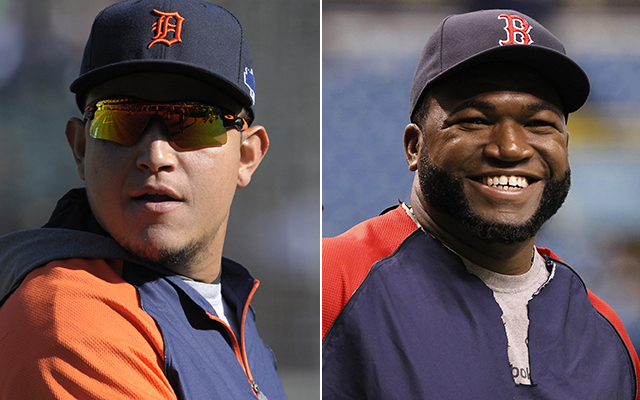 More: NLCS: Who has the edge? | ALCS & NLCS start times
For the third consecutive year, the Detroit Tigers will play in the American League Championship Series. They clinched their berth with a 3-0 win over the Athletics in ALDS Game 5 on Thursday night. The Boston Red Sox clinched their ALCS spot -- their first since 2008 -- with a win over the Rays in Game 4 of their ALDS matchup earlier this week.
The Tigers and Red Sox are not division rivals, so they only played seven times during the regular season. The Tigers won four of the seven -- three of four at Comerica Park but only one of three at Fenway Park. The Red Sox outscored them 43-35 in the seven games, however.
The best-of-7 ALCS starts Saturday night in Boston. These were the two highest-scoring teams in the AL this year, so expect to see a bunch of runs regardless of who's on the mound. Let's break the series down position by position.
Catcher: Alex Avila vs. Jarrod Saltalamacchia

Saltalamacchia enjoyed an uptick in homers last season and then doubles (40, compared to 17 last year) this season. And while his homers dipped, in many ways this was a career year for Salty, as his overall triple-slash line (.273/.338/.466) was an improvement across the board, just as his 118 OPS+ and WAR (both versions) were. Avila, like Salty, has a good rapport with his pitching staff. Avila is better at throwing out would-be base-stealers (28 percent to 21 percent), but he has shown that big offensive season in 2011 was pretty fluky. He hit just .227/.317/.376 this year.
First base: Prince Fielder vs. Mike Napoli

These two had surprisingly similar seasons, including power (25-23 HR in favor of Fielder), on-base (.362 vs. 360 OBP in favor of Fielder) and overall offensive (129 vs. 120 OPS+ in favor of Napoli) production. Prince's track record is much longer and greater, obviously, but this isn't about the past.
Second base: Omar Infante vs. Dustin Pedroia

Pedroia's power was down quite a bit this year (.415 SLG), but he brings so much else to the table. A high average, long at-bats, strong defense ... he's one of the best at the position in all of baseball. The underrated Infante is, well, underrated. A rock-solid player who does a little of everything. A little of everything but nothing as good as Pedroia.
Shortstop: Jhonny Peralta vs. Stephen Drew

In an effort to jump-start their offense, the Tigers used Peralta at shortstop in ALDS Game 5 instead of the defensive-minded Jose Iglesias . Both Peralta and Drew are above-average hitters, but Drew has the advantage defensively. Not by a small margin either.
Third base: Miguel Cabrera vs. Will Middlebrooks

Not much of an argument to be made here. Middlebrooks is the proverbial "young kid trying to figure it out" while Cabrera had a legitimate MVP-caliber season. No, his ALDS wasn't good (aside from his two-run homer in Game 5), but neither was Middlebrooks'. Easy call at the hot corner.
Left field: Don Kelly vs. Daniel Nava

Assuming Peralta stays at short and the Tigers stick with Kelly in left, this is advantage Red Sox. Nava, a former independent league player, managed a .385 OBP and 128 OPS+ this year, so he can really hit. His defense is hit or miss, but mostly miss. Kelly is a versatile reserve player. That's about it.
Center field: Austin Jackson vs. Jacoby Ellsbury

Pretty convenient that both center fielders in this series bat leadoff. Makes the comparison nice and simple. Ellsbury led baseball with 52 steals (in 56 attempts) in the regular season and mashed in the ALDS (1.137 OPS). Jackson, meanwhile, had a miserable ALDS and a good but not great regular season offensively. He's a better defender than Ellsbury but not by much. Certainly not enough to make up the big offensive disadvantage.
Right field: Torii Hunter vs. Shane Victorino

Wily veterans, these two. They're also definitely not strangers to the postseason, combining for 90 career games played in the playoffs. Past Gold Gloves may not say so, but Victorino is the far superior defender at this point, especially in terms of range. The usefulness on offense is pretty similar, with Victorino better at getting on base while Hunter has a little bit more power. On the bases, though, Victorino is a much better base-stealer and baserunner in general. While they're generally, again, even in the batter's box, Victorino tilts the scales with his all-around game.
Designated hitter: Victor Martinez vs. David Ortiz

Both are coming off huge LDS rounds. Big Papi had a nice little on-base streak along with his rather normal power and Martinez was consistently good with a huge, clutch homer in Game 4. Triple-slash lines during the season?

Martinez: .301/.355/.430
Ortiz: .309/.395/.564

They are both pretty adept with the lumber in their hands, but Ortiz carries a large advantage in the power department -- this season, in his career and in his postseason career.
Bench

The Red Sox used all that money they saved from last summer's blockbuster trade with the Dodgers to add depth to the roster, and the result is an insanely strong bench. Mike Carp and Jonny Gomes offer big-time thump from the left and right sides, respectively, and one of the very best prospects in all of baseball ( Xander Bogaerts ) backs up the infield. Pinch-running specialist Quintin Berry has never been caught stealing as a big leaguer (27 for 27 career). David Ross , who had a concussion-shortened season, is widely regarded as one of the game's best backup backstops.
The Tigers, on the other hand, don't have many usable weapons on the bench. With Peralta at short and Kelly in left, Iglesias and Andy Dirks will be on the bench. Infielders Ramon Santiago and Hernan Perez are defensive players while backup catcher Brayan Pena is a good hitter who doesn't figure to play unless Avila gets hurt. Detroit is going to rely on its starting position players; there's not a whole lot to see on the bench.
Starting pitching: Max Scherzer , Justin Verlander , Anibal Sanchez , Doug Fister vs. Jon Lester , John Lackey , Clay Buchholz , Jake Peavy

Now that it appears Verlander is back to being his vintage best-pitcher-in-the-world self, the Tigers have two rotation titans in him and Scherzer, the likely AL Cy Young Award winner. Those are two overpowering pitchers who go deep into games and miss bats. Oh, and if that's not enough, Sanchez led the AL in ERA this season. He's going to start Game 1. Fister is rock solid.
The Red Sox have a similarly deep staff that does it a little differently than the Detroit crew. They aren't truly overpowering like Scherzer or Verlander, but they're very effective. Buchholz is the wild card after missing a huge chunk of the season with a neck problem. If he pitches like he did before getting hurt, he's as good as anyone in the series. One through four, both clubs have quality starters. I think the high-end impact of Scherzer and Verlander gives the Tigers an edge, however.
Relief pitching: Joaquin Benoit , Jose Veras , Drew Smyly , et al vs. Koji Uehara , Junichi Tazawa , Craig Breslow , et al

Uehara was arguably the best reliever in baseball this year and that walk-off homer he surrendered in Game 3 if the ALDS is pretty much an afterthought. It happens. Tazawa and Breslow were outstanding in the ALDS. Benoit and Smyly have been very good for Detroit, but they don't have the same kind of bullpen depth as the Red Sox. It's not a bad crop of relievers by any means, but the herd thins out after the top two guys.
Defense

Depending on where you look, the Tigers have either a really good defense (in the outfield) or a terrible one (on the infield). The Red Sox, meanwhile, are solid at worst and outstanding at best at every position other than left field. Gomes and Nava aren't winning any games with their gloves anytime soon. If you want numbers, Boston was a top-10 defensive team by UZR (+21.6) while Detroit was bottom 10 (-12.9). That matches the eye test.
Prediction
The Red Sox definitely have that look of being unbeatable right now. They score a ton of runs and they do a great job of preventing them as well. That said, I think the Tigers have the two best pitchers (Scherzer and Verlander) as well as the best position player (Cabrera) in the series on their roster. In a short series where star power gets more of a chance to shine than sheer depth, I think Detroit has a bit of an advantage. This series should be an awful lot of fun and I don't see it ending early. I'll take the Tigers in seven.
Show Comments
Hide Comments