Tim Hudson says negotiations with Braves were 'a slap in the face'
Tim Hudson said contract negotiations with the Braves over the winter were "kind of a slap in the face."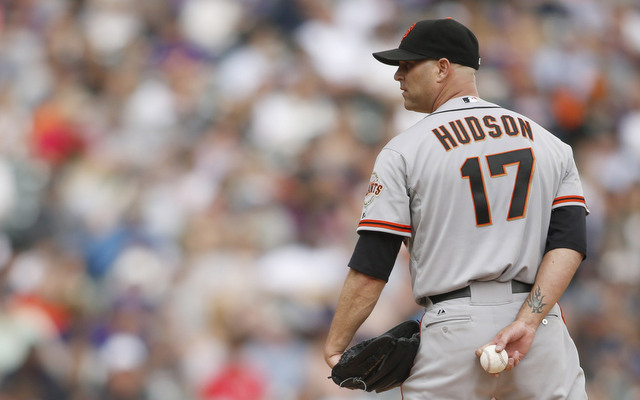 More MLB: Power Rankings | Expert Picks | Latest news & notes | Fantasy news
When the Giants signed veteran righty Tim Hudson to a two-year, $23 million contract over the winter, they landed one of the best value free agents on the market. He is 6-2 with a 1.75 ERA in his first 11 starts for San Francisco.
Hudson, 38, spent the last nine years with the Braves, though his time with the team came to unceremonious end last summer. He suffered a severe ankle injury covering first base in July and did not pitch again the rest of the season.
Hudson told Bob Nightegale of USA Today that when time came for a new contract after the season, Atlanta made is clear they were not interest in bringing him back.
"It was made pretty clear to me the Braves didn't want me back,'' Hudson, 38, tells USA TODAY Sports, noting the Braves' initial offer was so low, he didn't even bother to counter.

"After what I had done for them, it was kind of a slap in the face.''
Hudson clarified the comments to MLB.com's Mark Bowman, saying it "just kind of made me feel sick most of yesterday, because that is not the way I felt after the whole process played out."
Hudson's wife Kim added some more on Twitter:
1/2 Tim is disturbed and apologetic about the USA Today article. It's frustrating that a 30 minute interview produces one negative quote.

— Kim Hudson (@kimberlybhudson) June 3, 2014
2/2 He is obviously grateful for his time with the @Braves and was simply disappointed that negotiations began the way they did.

— Kim Hudson (@kimberlybhudson) June 3, 2014
General rule of thumb: it's probably bad to publicly call anything a "slap in the face." Nothing good ever comes from it.
The Braves notoriously have a very strict budget, and it's understandable that there wasn't room for a 38-year-old pitcher coming off a major ankle injury. Divorces are never pretty. One side has to make it clear to the other they aren't wanted or there's no place for them, and in this case it was the Braves letting Hudson know they were moving on. That's baseball.
Show Comments
Hide Comments