Today in faux-controversy: Melky Cabrera's Series ring exchange
Giants manager Bruce Bochy and Blue Jays outfielder Melky Cabrera contradict each other about Tuesday's 2012 World Series ring exchange.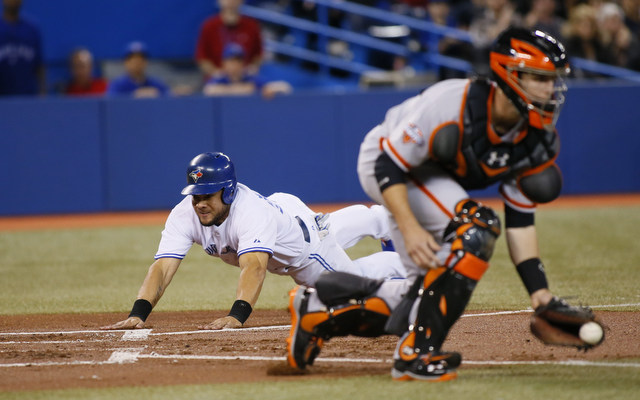 More MLB: Scoreboard | Standings | Probable Pitchers | Sortable Stats | Odds
The Giants are in Toronto this week for their first road interleague series of the year, and the date with the Blue Jays means they're facing former teammate Melky Cabrera. Cabrera, as you know, hit like an MVP-candidate for the club last year before being suspended 50 games following a failed banned substance test.
San Francisco went on to win the World Series, and although they declined to add Melky to the playoff roster after his suspension was up, his .346/.390/.516 (4.7 WAR) performance in 113 regular-season games helped get them to the playoffs in the first place. That earned him a World Series ring, and this week's series was a convenient opportunity to make the exchange.
That exchange happened in private before Tuesday's series opener. Giants manager Bruce Bochy and Cabrera met in the bowels of Rogers Centre before the game. A few minutes later, Jose Bautista was posting photos of the ring. Not much to it, simple hand-off and maybe a hug or at least a handshake. That apparently couldn't happen without controversy. From Hank Schulman of the San Francisco Chronicle:
[Melky] didn't want to talk to reporters today, especially San Francisco reporters. But he forced his hand with a four-hit game against his old team. When asked why he wanted a private ceremony to get his World Series ring, he said manager Bruce Bochy wanted it that way. I believe that's a whopper of a lie.

When we asked Bochy at the start of batting practice why he didn't have the ring with him, he said a Blue Jays official approached Giants media relations man Matt Chisholm and said Cabrera wanted to do it privately. That's understandable. He's a private person. So why say that? Why put that on Bochy?

Cabrera's quote: "It was Bochy's decision, whatever he wanted to do. He wanted to do it before the game, which was fine. If he wanted to do it on the field, that's fine with me too. But they decided to just do it here inside."
So Bochy said Cabrera wanted the exchange to happen in private while Cabrera says it was Bochy who wanted to do it behind closed doors. Cabrera did the interview through a translator, so there's always a chance something was lost in translation. Bochy gets the benefit of the doubt, though, mostly because he isn't the PED cheat who tried to cover things up with a fake website.
At the end of the day, who cares? This is the most insignificant of controversies, one with zero impact on the field. The only victim is ... no one? Bochy's reputation isn't going to take a hit, and Melky doesn't have any reputation left, anyway. This is one of those things that seems to bother the fans and the media more than the parties involves, kind of like the recent shushing incident between Mariano Rivera and Joba Chamberlain.
Cabrera went 4-for-5 against his former team and has gone 16-for-39 (.410) with five doubles and homer in his last nine games. The Jays won 10-6, their third consecutive win and sixth in the last nine games as things appear to be turning around. Despite the loss, the Giants remain atop the NL West by 1 1/2 games over the Diamondbacks. That's the real story; the ring exchange is trivial.
Show Comments
Hide Comments