Tony Gwynn joins group bidding on Padres
Following the likes of Nolan Ryan and Magic Johnson, Hall of Famer Tony Gwynn is looking into ownership. Gwynn is joining Thomas' Tull's group hoping to buy the Padres.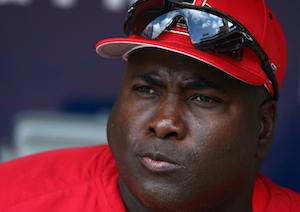 In one of the least surprising developments in the sale of the San Diego Padres, Hall of Famer Tony Gwynn is joining one of the bidding groups,
according to the San Diego Union-Tribune.
With the likes of Magic Johnson and Nolan Ryan in ownership circles, it's seemed like a recent trend for groups to have a local hero on board for good PR -- and Gwynn would certainly fit the bill in San Diego.
With that in mind, it seems that maybe Gwynn's endorsement of Thomas Tull's bid to buy the Padres could be some sort of coronation. Tull is one of five identified potential buyers for John Moores' controlling interest in the team. In addition to Tull, the chairman and CEO of Legendary Pictures, Steven Cohen, Dennis Gilbert, Peter O'Malley and David S. Wolff are known to be looking into purchasing the team. Gilbert is a White Sox executive, Wolff has a minority stake in the Giants and O'Malley used to own the Dodgers.
Gwynn told the newspaper he met with Tull last week in San Diego.
"From the minute Tull started talking, I was excited about what he wanted to do with the Padres," Gwynn
told the newspaper
. "I see a total commitment on his part. Tull wants the Padres to be on top. He has plans and ideas for the team that go beyond just owning the team. It's exciting to think where he might go and where he could take this team.
"Tull is in this to win. He wants to take the Padres to the top. That fired me up as an ex-Padre. I'm all in."
Gwynn said he doesn't know what role he'd play in the ownership group.
Not only a former Padre, Gwynn is a San Diego native, the baseball coach at San Diego State and part of the Padres' broadcast team. Gwynn said he is committed to his job as San Diego State's baseball coach.

Show Comments
Hide Comments