Top 10 2014 MLB free-agent corner infielders
In our continuing look at the best free agents, today we'll check out first baseman and third baseman. Hint: This isn't an overly attractive group.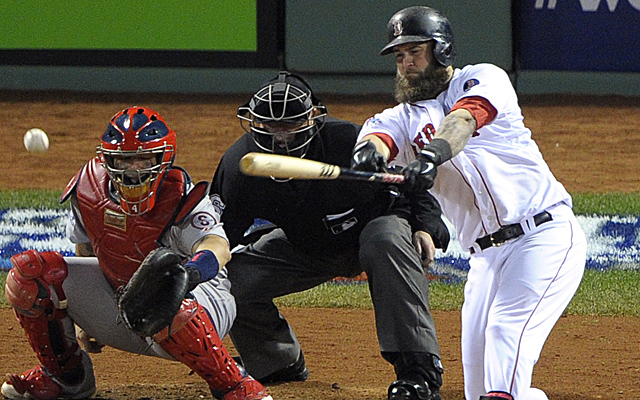 FA tracker: Position players | FA tracker: Pitchers | Top 10 starting pitchers | Top 10 OF
As free agency looms, we're taking a stroll around the positions and sorting out the best options. Corner infielders are the subject on this beautiful Sunday, and -- like most positions in free agency these days -- it's slim pickings.
1. Mike Napoli , 32: Hip issues last time around meant Napoli's reported three-year deal with the Boston Red Sox dropped down to a one-year contract. He more than earned it, providing solid protection for David Ortiz and playing quality defense at first base in his first year of being a full-timer at the position. He's in line for a raise and will probably get a sizeable one to stay put in Boston.
2. Corey Hart , 32: Hart is a two-time All-Star who hit .270/.334/.507 with 35 doubles, 30 home runs and 83 RBI in 2012. He missed all of the 2013 season, however, as he was unable to make it back from microfracture surgery on his right knee. He's an attractive bounce-back candidate, but the lack of progress during 2013 from the knee surgery has to be troubling and diminishes his value on the open market a bit.
3. Kendrys Morales , 30: His inclusion here is liberal, as he only played first in 31 games -- compared to 122 games at DH -- in 2013. Ever since that broken leg on a walkoff homer, he just hasn't really been mobile enough to play the field. So expect him to stay in the AL. He's an attractive DH option for teams starved for power, though, as the switch hitter had 34 doubles and 23 homers last season.
4. Juan Uribe , 34: Uribe was brutal in 2011 and 2012. It's actually a bit surprising he was never designated for assignment, but the Los Angeles Dodgers were repaid for their patience in 2013. Uribe hit .278/.331/.438 (117 OPS+) with good defense and a huge postseason homer. He's a risk due to the age and the 2011-12 debacles, but 2013 was certainly encouraging.
5. James Loney , 30: Since a promising rookie campaign in 2007, Loney had been a major disappointment through 2012 -- especially with a terrible 2012 season. This past year, however, Loney hit .299/.348/.430 with 33 doubles for a playoff team. His home run power is a lost cause, but otherwise he was a helpful offensive player. The question is, did the Tampa Bay Rays work their magic on him or did he actually turn a corner?
6. Michael Morse , 32: Morse has mostly been an outfielder throughout his career, but he has very little business remaining out there defensively moving forward. Free agency has hit two years too late for Morse, too. In 2011, he hit .303/.360/.550 with 36 doubles, 31 homers and 95 RBI. This past season was riddled with injury. When he did play, he hit just .215/.270/.381. He had six homers through nine games and nine through 25, but he ended with 13 homers in 88 games.
7. Eric Chavez , 36: Decimated by injuries from 2007-11, the continuation of Chavez's career into his late 30s seemed a lost cause, but he's been very productive the past two seasons for the New York Yankees and Arizona Diamondbacks , respectively. He's missed a large chunk of time both seasons, though, due to injury. Chavez makes a fine backup third baseman/backup first baseman/pinch hitter, but he can't be counted to to regularly start.
8. Justin Morneau , 33: His career has been ruined by that 2010 concussion. He was an MVP-caliber player before it and he's essentially a league-average hitter since. Worse yet, he's no longer a serious power threat. Morneau hit .259/.323/.411 with 17 homers last season and he's now hitting what's supposed to be the decline period in his career.
9. Kevin Youkilis , 35: Back and abdominal issues ruined Youk's 2013 season, limiting him to 28 unproductive games. He hit just .219/.305/.343. It's difficult to see him panning out as an everyday starter at first, let alone at third base considering age and back injuries.
10. Paul Konerko , 37: If the proverbial "Hall of the Very Good" is ever created, Konerko would make a great fit. He's had an excellent career and will be remembered for decades as a White Sox great. Considering his age, a slight decline in 2012 and a massive decline in 2013, though, odds are he's cooked. We're talking about a guy who hit .244/.313/.355 (80 OPS+) with no speed or defensive range who turns 38 next March.
Show Comments
Hide Comments