Trade deadline winners and losers: Did the Rays get ripped off?
The A's and Tigers positioned themselves nicely to win it all this season. But why did the Rays get so little for David Price, one of the best starters in the game?
More: Trade Tracker | Heyman's latest | Heyman on Twitter
The Tampa Bay Rays , ordinarily the fair-headed fellows of the internet set, are getting slammed on the net and beyond for their surprise trade of ace pitcher David Price for three underwhelming names.
But while it's hard to view a return of the trio of left-handed starter Drew Smyly , infield prospect Nick Franklin and 18-year-old shortstop Willy Adames as a bonanza, here are a couple things to keep in mind:
1. The esteemed Tampa Bay front office is very smart and their history of trades has been pretty decent (though the James Shields - Wil Myers deal isn't looking as special as the internet thought at the time) and;
2. The Rays have been surveying other organizations' talent and talking to teams for more than a month about Price. It seems pretty clear at this point that their intention was to trade him (keep in mind, they've come back from 18 games under .500 to the cusp of the race, and yet they still dealt him).
The conventional thinking is that since Price isn't just a rental and is tied to his current team through 2015, they should have gotten more. Several interviewed since the deadline deal rocked baseball on Thursday were suitably underwhelmed (though a few defended it).
The detractors saw Smyly as a No. 3 or 4 starter ("at best ... he's a 5 now," said one), Franklin as a decent piece (though one pointed out, "he's a swing-and-miss guy") and Adames as too far away from the big leagues (he's 18 and playing great in the Midwest League) to matter in a trade for baseball's second best left-handed pitcher.
One more thing to think about: the Rays gave some the impression they see Nick Franklin, an infielder with power, as a potential star. He's from Orlando, and they had their eye on him for a while. Scouts don't see him necessarily as a shortstop, but one AL exec, asked whether he believed the Rays' high opinion of Franklin may be warranted, said, "Yes, I do."
That exec still didn't love Tampa's end of the deal. But a few others did.
"I'm in the minority, but I thought they did well," one AL exec said. "Adames is too young to be on the top 100 prospect lists but he is going to be a special player."
Others, though, wanted more oomph for the 2012 Cy Young winner Price, a front-of-the-rotation star who wouldn't seem to be cost prohibitive, with about $25 million to go through next year. "I don't get it," one said, flat out.
The Rays may have believed they aren't a legit World Series contender this year, and they also may not have gotten the offers they wanted from the Los Angeles Dodgers , Seattle Mariners , St. Louis Cardinals   and Pittsburgh Pirates -- three teams with prospects galore.
LA, for instance, made it clear it wouldn't part with more than one of its big three of shortstop Corey Seager, outfielder Joc Pederson and 17-year-old lefty Julio Urias, if that. The Pirates are said to have pushed hard, but apparently not hard enough. And, according to sources, the Mariners don't have the $20-million allotted in their budget to keep Price into next year, meaning they viewed him as only an 11-start pitcher (of course they could have flipped him in the winter if they got him.)
I haven't had months  to survey the landscape like Tampa Bay did, and I generally give some benefit of doubt to its track record, but I'm still not positive I get it either.
The Winners
1.  A's. The mystery team usually wins, and so does Billy Beane, who's made more trades than anyone (the vast majority of the good to excellent). No one saw Beane adding a third big-time starter in one month, but out of the blue he did just that. If Beane is as good a big-game hunter as there is, Lester is arguably the best big-game pitcher over the last couple decades. That 0.43 lifetime World Series ERA is serious stuff. Yoenis Cespedes was well worth Oakland's $36-million, four-year outlay for him, but curiously it turns out his name was on the market, even before the surprise Lester deal. Throw in the Jeff Samardzija trade ( Jason Hammel may find himself out of a spot in the deepest rotation the game)  and it's hard to beat what the A's, baseball's best team, did this month.
2. Detroit Tigers . The addition of David Price gives them as formidable a rotation as anyone in the game, and while it certainly isn't the abject rip-off of say, the Miguel Cabrera trade, they have to be thrilled. The loss of Austin Jackson will diminish their outfield coverage, but they may not need as much coverage with this formidable front-four. GM Dave Dombrowski and company are big-trade makers (this is their third monster deal from the state of Florida alone), and this one was enormous. The A's still have the best team, but the Tigers made the biggest improvement.
3. Boston Red Sox . It has been a dreadful season in Boston but the Red Sox recovered nicely, adding Cespedes and Allen Craig to a needy outfield, and importing fine left-handed pitching prospect Eduardo Rodriguez for lefty reliever Andrew Miller ("I think Rodriguez, if you threw him the bullpen might be as good as Miller now," one AL scout opined, and while that's a stretch, he is a top rotation prospect). Boston showed how adept it could be playing the buying game two winters ago (going six for seven in its free-agent deals) and it isn't bad at the drearier selloff, either. The one question that remains is this: where will the pitching come from? Six of their seven main starters from the 2013 World Series champion team are gone, and two scouts said that while Boston has depth in its pitching prospects, they don't see a No. 1 or 2 in the minors.
4. Chicago Cubs . The North Siders hit their big score with top shortstop prospect Addison Russell and others coming in the Samardzija trade. A-ball catcher Victor Caratini, who came in the Emilio Bonifacio - James Russell deal with Atlanta, is another potentially very good one.
5. Cardinals. While the Cardinals are taking hits for selling low on Craig, St. Louis unquestionably enhanced its chances in the near term. Lackey should be better than Joe Kelly (and has more October experience), and rookie Oscar Taveras should produce more than Craig (at least the 2014 Craig), though admittedly, there are some worries in the clubhouse about his defensive acumen. Don't forget though, Lackey is under contract for the league minimum $500,000 next year, due to the unusual clause that triggered upon the need for Tommy John surgery -- though it's possible they may have to extend him a year to make it look a bit more equitable.
6. New York Yankees . There just wasn't the opportunity to land the big pitcher the Yankees sought, not because the Yankees didn't have the prospects but because Lester and Price weren't made available to them by their division rivals. The big-hitting right fielder wasn't out there either, and their hope to land Marlon Byrd flew away when the teams had a big difference of opinion over Byrd's value. So instead the Yankees took Brandon McCarthy to fortify their rotation, and Martin Prado , who's not a right fielder, to try to play right field. They added Stephen Drew , who is a necessity at second base due to the slippage of DFA'ed Brian Roberts, even though Drew has always been a shortstop.
7. Los Angeles Angels . Huston Street is a highly underrated closer (remember, he did it in Coors Field before San Diego), and Jason Grilli helped a pen in need, too. Good moves, but dwarfed by Oakland's maneuvers.
8. Milwaukee Brewers . Milwaukee didn't get the pitching prize it coveted, but Gerardo Parra upgrades an excellent set of positional players and provides their usual pennant boost. With Carlos Gomez and Ryan Braun , they should have one of the best defensive outfields in baseball.  Another plus: the Pirates failed to do anything.
9. Atlanta Braves . Russell is the lefty they needed (though he's currently no Andrew Miller) and Bonifacio could work for them because they aren't 100 percent set in either center field or second base. Caratini could be pretty special, though.
10. Mariners. Austin Jackson is a great center fielder, and Chris Denorfia helps against lefty pitching (a .301 career hitter vs. lefties), which is Seattle's prime weakness. They didn't want to go overboard for Price, who'd just be an 11-start guy for them, so they made incremental improvements, especially compared to the Angels and especially the A's. They marginally enhanced their chance at the wild card, and if King Felix can pitch that game they'd have a decent shot of advancing.

11. Twins. Not a bad get to land young starter Tommy Milone for waiver pickup Sam Fuld (of course Fuld cooperated by performing well).
12. Arizona Diamondbacks . Their trade of Martin Prado, the big piece in the Justin Upton trade that didn't work, was a good one in that they received power hitting prospect Peter O'Brien (33 homers in the minors this year) back from the Yankees while unloading all of Prado's contract. For Parra, they received for former top-pick pitcher Mitch Haniger. Vidal Nuno , who they got back for Brandon McCarthy, is a lefty long shot, but its best for all parties McCarthy changed teams.
13. San Diego Padres . They got four viable prospects for Huston Street. Plus, outfielder Abraham Almonte , whom they received for spare outfielder Denorfia, has a shot. Also, they left Ian Kennedy and Joaquin Benoit for the next regime. Nice job.
14. Baltimore Orioles . GM Dan Duquette added a big bullpen piece in Miller to manager Buck Showalter's arsenal, and Showalter is as good as anyone at handling the pen. Duquette isn't afraid to gamble, and the surrendering of Rodriguez carries some risk, especially with other top pitching prospects Dylan Bundy coming off Tommy John and Hunter Harvey currently shutdown. "Unless it was a mirage the Rodriguez I saw recently looks like a No. 3 starter. His numbers aren't great in Double-A, but he's only 21 and throws 93-94 mph," one scout said. Considering the interest level, though, Miller's price was going to be very high.
15. Miami Marlins . Jarred Cosart doesn't have great numbers beyond the 9-7 won-loss record, but he has considerable talent. Some wonder whether he will ever put it together, but if he does, look out.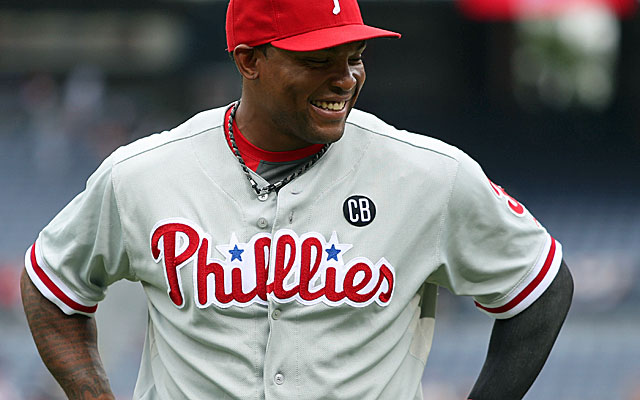 The Losers
1. Philadelphia Phillies . The one thing you can say about them is this: They love their guys. Many of these players helped them in their glory years at the turn of the decade but they all look like they're going down with the ship, together. Complaints were high that the asking price was too high for Marlon Byrd, for instance, though Phillies people thought some of the offers were joke-worthy. Byrd is an interesting one, because you have to like the production (20 home runs), but you can't like the contract that pays him $8 million next and possibly another $8 million even the year after that (if it vests at 1,100 plate appearances this year and next).  Still, that doesn't explain why they are stuck with all the other players. "They must really love those players that got them to (13) games under .500," one NL scout said. One plus: They didn't stick anyone with Cliff Lee on the eve of his elbow injury recurrence.
2. Rays. See above.
3. San Francisco Giants . They finally DFA'ed Dan Uggla Friday, but that still doesn't solve their second-base problem. Jake Peavy hasn't won since April 25, and Matt Cain may not be coming back. It seemed like Emilio Bonifacio would have been the perfect fit as someone who could bat second or leadoff. But alas, he went to Atlanta. So one of baseball's best dealers did nothing at the deadline at a time the team seems to be slipping a bit.
4. Kansas City Royals . It was a tough market to find a bat that could be a difference-maker, and KC didn't find that guy. They still have a lot better team than their record, but the Tigers look like they've locked up the AL Central, so now they are playing for a less-than-great chance at the one-game wild card spot.
5. Dodgers. While they didn't fill their bullpen hole, it could be argued that they are already easily the best team in the NL and that their main NL opponents didn't do much either. So maybe it shouldn't be a surprise they stood pat. "(GM Ned Colletti) didn't act in desperation," one rival GM said. And maybe he shouldn't have. With no budget issues, they also are in position to strike in August.
6. Pirates. It wasn't a great trading month for the state of Pennsylvania. The Pirates are notoriously stingy with their prospect largesse (which has actually started to serve them well), and they wound up doing nothing on deadline day despite flirting with Price and others. Previously, they had gotten Ernesto Frieri , which can be viewed as not so great with the way he's pitched
 7. Jays. Toronto star Jose Bautista expressed his disappointment over the lack of a move, and the issue seemed to be a lack of funds. Too bad, too, because they have played well enough to forge a lead for the second wild-card spot. Waiting for injured players ( Edwin Encarnacion , Adam Lind , Brett Lawrie ) to return usually isn't the route to a title.
8. Houston Astros . Colin Moran, the third-base prospect and former first-round pick, should hit, but there's a question as to whether he will hit for power. Jake Marisnick is an excellent defensive outfielder, but needs to hit more. The young Cosart seems like a loss. "This is the type of pitcher Houston should want to hold onto," one rival GM opined.
Show Comments
Hide Comments