Trevor Bauer brings the heat in his return to the Indians' rotation
Trevor Bauer looked an awful lot like the guy who was once drafted third overall when he joined the Indians on Tuesday.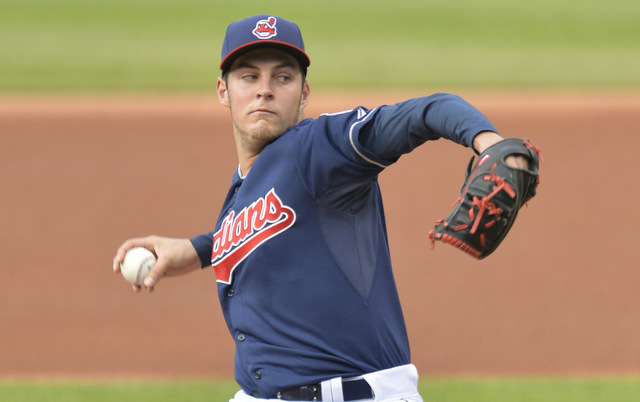 More MLB: Power Rankings | Expert Picks | Latest news & notes | Fantasy news
The Indians beat the Tigers by the score of 6-2 on Tuesday (box score), mostly because they roughed up Justin Verlander for five runs on 11 hits and three walks in only six innings of work. The offense came to life against one of Detroit's co-aces.
Cleveland also got a strong outing from starter Trevor Bauer, who was recently called up to replace the struggling Danny Salazar in the rotation. He held the Tigers to two runs -- solo homers by Torii Hunter and Alex Avila -- in six innings while striking out five. It was a solid outing, not a great one, but it was also a big step forward.
Bauer, 23, was selected third overall by the Diamondbacks in the 2011 draft and was traded to the Indians in the Shin-Soo Choo/Didi Gregorius three-team deal last winter. Arizona reportedly grew frustrated with his lack of adjustments, and there was also some concern about his decling stuff. Here's a snippet of what Baseball America wrote about him before the 2011 draft:
Bauer has the deepest repertoire of any pitcher in the draft. On his worst days, he still holds 91-93 mph fastball velocity deep into games, and he often tops out at 95-96. He has exceptional feel for a sharp, downer curveball that rates as plus to plus-plus. His changeup is above-average, and he mixes in an occasional split-finger and flashes a slider. He also throws what he calls a "reverse slider," which runs in on lefthanded hitters at 85-87 mph--and some scouts say that is plus, too.
That's the kind of stuff that gets a pitcher selected third overall, no doubt about it. However, during his brief MLB debut with D-Backs in 2011, Bauer averaged 92.2 mph with his fastball and often sat closer to 90 mph. It was more of the same with the Indians last season, when he averaged 92.6 mph. Good velocity but not what got him drafted so high.
Bauer came into the season with a 5.67 ERA and more walks (29) than strikeouts (28) in 33 1/3 big league innings, plus his Triple-A performance wasn't much better (4.15 ERA in 2013), so the "bust" label was starting to get thrown around. Then, following last season, Bauer set out to fix his unique mechanics, which he claims were thrown off by a groin injury in 2012. From Paul Hoynes of the Cleveland Plain-Dealer:
"Once last season ended, and I could work on it non-stop, it went quickly," he said. "It's just hard to make changes during the season."

...

"I can name six or seven major things that I've been able to accomplish.

"They're small changes. People who aren't looking at my delivery every day probably wouldn't notice them, but I'm all set and good to go. I won't have to worry about that anymore."
Bauer got roughed up in spring training (10.29 ERA), but his stuff looked better and he sustained it in Triple-A, where he had a 2.15 ERA with 44 strikeouts and 14 walks in 46 innings before getting called up this week. The numbers were good and so were the reports, which indicated livelier stuff.
In his start against the Tigers on Tuesday, Bauer showed off that livelier stuff. Here is the PitchFX data from Brooks Baseball: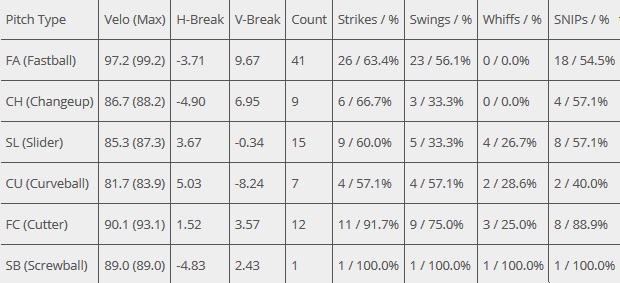 Yes, Bauer averaged 97.2 mph with his fastball on Tuesday. He topped out 99.2 mph. Hitters swung at 23 of the 26 fastballs he threw and they fouled off 18, so while Bauer wasn't blowing the ball by them, they couldn't square the pitch up at all. Besides, the fastball is just a setup pitch for his wide array of offspeed pitches. It's not his finish pitch.
Bauer is far from conventional and that seemed to spook the D-Backs, who reportedly considered him uncoachable. He has a funky delivery and is an extreme long-tosser (video), plus he goes against the grain by pitching up the zone and not being afraid of home runs:
Can SOMEONE explain to me why fastballs down in the zone are so revered? I don't get it. But baseball is obsessed with fastballs down...why?

— Trevor Bauer (@BauerOutage) March 25, 2012
People are afraid of home runs. I am not. The less hits you give up, the more likely a hr is only 1 run. Ill gladly give up 1 solo hr/game

— Trevor Bauer (@BauerOutage) May 3, 2012
Something tells me those solo homers by Hunter and Avila didn't bother Bauer all that much on Tuesday. He'll take two runs in six innings every day of the week.
Different doesn't always equal bad, but it usually makes people nervous. Arizona gave up on Bauer rather quickly and now it looks like the Indians landed themselves a talented pitcher who has gotten back to where he was when he was considered one of the top pitching prospects in the game. Bauer has a long way to go to live up to the hype of 2011, but his stuff has returned and he's with a team that appears to be perfectly fine with his unique style. It's an environment better able to help him succeed.
Show Comments
Hide Comments