Troy Tulowitzki top vote-getter so far in NL All-Star balloting
Major League Baseball has released an update on the National League All-Star balloting and Rockies shortstop Troy Tulowitzki is the leading vote-getter. Here are the rest of the results so far.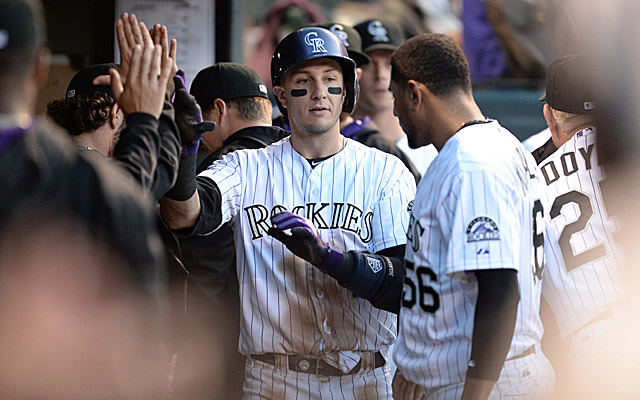 More All-Star coverage: AL leaders | Snyder's ballot

Major League Baseball has now released its first update of the season on the National League All-Star balloting for the starters in the 2014 Midsummer Classic.
There are several close races and voting continues through 11:59 p.m. ET on July 3, so a few of these races could change.
To cast your own ballot, hop on over to MLB.com
Here are the updated tallies by position (click here for full MLB PR release).
First base
1. Adrian Gonzalez , Los Angeles Dodgers ; 349,762
2. Freddie Freeman , Atlanta Braves ; 308,961
3. Justin Morneau , Colorado Rockies ; 305,327
Second base
1. Chase Utley , Philadelphia Phillies ; 509,390
2. Dee Gordon , Dodgers; 304,258
3. Brandon Phillips , Cincinnati Reds ; 187,067
Third base
1. Nolan Arenado , Rockies; 318,111
2. Aramis Ramirez , Milwaukee Brewers ; 282,843
3. David Wright , New York Mets ; 278,425
Shortstop
1. Troy Tulowitzki , Rockies; 745,823
2. Brandon Crawford , San Francisco Giants ; 218,123
3. Andrelton Simmons , Braves; 207,402
Catchers
1. Yadier Molina , St. Louis Cardinals ; 640,464
2. Buster Posey , Giants: 421,100
3. Evan Gattis , Braves; 241,005
Outfielders
1. Charlie Blackmon , Rockies; 549,394
2. Andrew McCutchen , Pittsburgh Pirates ; 467,378
3. Ryan Braun , Brewers; 446,780
4. Giancarlo Stanton , Miami Marlins ; 426,228
5. Yasiel Puig , Dodgers; 383,384
6. Carlos Gomez , Brewers; 370,630
Holy Rockies!
The NL will also have a designated hitter, but that will be named by the manager, Cardinals skipper Mike Matheny. So as things stood now, the starters would be Gonzalez, Utley, Arenado (who may still be injured by the time the game is played), Tulowitzki, Molina, Blackmon, McCutchen and Braun along with Matheny's choice for DH.
Again, though, there's lots of time still remaining to cast those ballots.
Show Comments
Hide Comments
Our Latest Stories
Kinsler seemed to disparage players from Puerto Rico and the Dominican Republic for showing...

From Adam Jones' catch to Jose Bautista's throw. Here are the best moments of the 2017 WBC

What makes a successful Phillies season? First off, the youngsters need to keep progressin...
How a chance trip to the WBC championship game turned me from skeptic to believer

Jim Leyland's USA team won the World Baseball Classic, and he was emotional

The United States wrapped up the 2017 World Baseball Classic championship on Wednesday nig...