Tulo day trip was innocent, but word is he wouldn't mind being a Yankee
Rockies star Troy Tulowitzki loves the Rockies, he's also said to love the history and tradition of winning of the Yankees.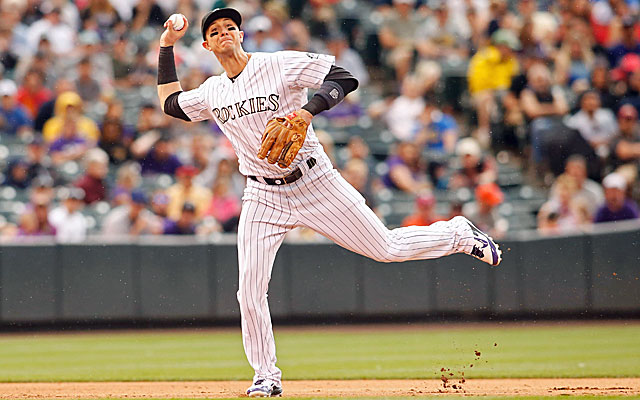 More MLB: Power Rankings | Expert Picks | Latest news & notes | Fantasy news
Rockies superstar shortstop Troy Tulowitzki didn't attend a Yankees game as a fan the other day to purposely signal any hidden meaning about any special distaste for his beloved current Rockies team or signal any special interest in the Yankees, according to people close to Tulowitzki.
It is unrelated to his day trip, but those close to the shortstop say they believe that if Tulo is to be traded from the Rockies -- a team he loves in a city he loves -- the Yankees happened to be one of only a handful of teams he'd be happy to join.
Friends of Tulowitzki say that while he hasn't necessarily presented a list of pre-approved teams for trade, he does indeed love the history and winning tradition of the Yankees, that he'd love the idea of replacing his idol Derek Jeter, and that he'd happily look past the fact that his beloved No. 2 is taken (Jeter's number will be retired with him after this year) to accept a trade to the Bronx.
The Yankees will be in the market for a shortstop after the year, preferably one like Tulo who could seamlessly replace an icon like Jeter, but there's at least one major hurdle: they may not have enough big-time upper-level pitching prospects to get anywhere near a Tulowitzki trade.
Tulowitzki often has been tied to the Mets, who are one of the main teams to check in with Colorado lately about a possible trade for Tulo (and also star Rockies outfielder Carlos Gonzalez). It' unknown how Tulowitzki would respond to the Mets, who do have just the sort of young pitching crop that could put them into position to make a blockbuster deal. But his list of preferred teams isn't believed to be very long.
Tulowitzki's surprise trip to Yankee Stadium has caused quite a stir, and while team officials still love their franchise player, word is they would have preferred a more discreet seat location than the second row, where his presence triggered quite a bit of interest and speculation, according to people close to the team. Manager Walt Weiss and other Rockies officials on Monday were still answering questions about Tulo's day trip.
As was reported here a couple weeks ago, Tulowitzki is frustrated enough by the Rockies' continuing struggles to combat the humidity and quirks of Coors Field that he signaled to Rockies owner Dick Monfort, with whom he is said to have an especially close relationship, that he'd be open to a trade to the right winning team if the Rockies felt it would be to the betterment of all parties. However, barring a trade demand by Tulo (and folks don't necessarily see him doing that), the strong belief is that Tulo will stay in Colorado through the trade deadline.
Tulowitzki hasn't had a sit-down session yet with Monfort, who is said to love Tulo to the point where he desperately does not favor a trade, and may never favor one.
"The owner doesn't want to trade him. I don't see (a trade) happening, at least not now," one person familiar with Tulo's situation said.
Monfort, the Rockies' longtime owner, is said to be especially hesitant to make such a blockbuster trade at a time the team is struggling. Complicating that chance further is the fact that Tulowitzki -- who has 21 home runs and 52 RBI and leads the NL with a .340 batting average, .432 on-base percentage, .603 slugging percentage and 1.035 OPS -- is on the disabled list with a high thigh injury. (While he is eligible to be traded while on the DL, there's a great likelihood teams would want to see him play before dealing for him).
While the Rockies technically wouldn't need his approval for a trade, the relationship between Monfort and Tulowitzki is so close that the team is very unlikely to trade him to an undesired team. At the time he signed his long-term Rockies deal, Tulowitzki is said to have specifically asked not to have a no-trade clause included because he didn't want the Rockies to be in position where they were forced to keep him.
But now, things have changed, and Tulowitzki may be wondering if the team (and he) might not be better off starting over with a trade of their franchise player.
That said, he is said to have no interest in embarrassing the Rockies. He isn't believed upset at all the Rockies promotional Tulowitzki T-shirts has him misspelled as "Tulowizki." (Nor should he be.)
He simply drove to New York after seeing a doctor in Philly he'd previously used for a sports hernia injury (the new injury was determined to be unrelated). He's expected to miss about a month with the current injury.
In the meantime he's talked to Rockies people about his day trip, explaining that it was a last-minute decision. It's believed one or some of the Rockies wish he might have been more discreet, maybe sat in a suite rather than the second row wearing a "Banana Stand" T-shirt
Tulowitzki told the Denver Post, "It's a short drive from Philadelphia. I'm with my family. I wanted to see Derek Jeter play one more time."
He also told the Rockies on Monday that his mother happened to be in New York. It all seems innocent enough.
He didn't say this, but if all breaks right, eventually he might not mind being in New York, either -- as a Yankee, anyway.
Show Comments
Hide Comments