Tulowitzki gives subtle blessing to trade; Rockies intend to keep him
Rockies star Troy Tulowitzki has told the Rockies they can consider moving him if they find something amenable to all parties. But there's no sign Rockies ownership has any interest in dealing him at this time.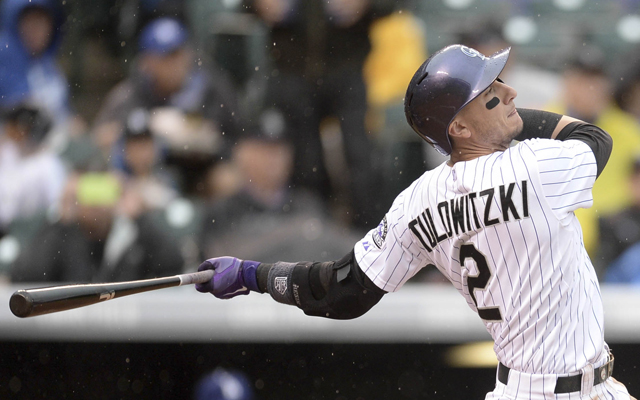 More MLB: Trade Market Stock Watch | A's land Samardzija, Hammel | Latest news
Rockies superstar shortstop Troy Tulowitzki, frustrated by the team's continuing struggles, recently met with team brass and gave a subtle blessing to a trade for him, but only if the higher-ups felt it was best for all parties involved.
Tulowitzki's message was said to be something along these lines: "I love it in Colorado. I'd like to be here. But if things (don't improve), and you can (trade) me to a winning situation I'm OK with it."
And this week, he also told the Denver Post, "I want to be somewhere where there's a chance to be in the playoffs every single year."
In typical Tulo fashion, they were classy ways to say maybe it's time for the team to look around, as a way to aid all involved.
But no surprise, the Rockies aren't looking around very hard to deal their iconic player, if at all, so far. While some of their baseball brass probably isn't opposed to considering such a drastic measure in these tough times, ownership especially loves him, and is said to be extremely concerned by the possible reaction of a trade of their franchise player at a time their fortunes are falling. One Rockies person, in fact, said he saw "no chance" there'd be trade at this time.
Other high-ranking Rockies people didn't even seem to be aware of Tulowitzki's subtle blessing to find a trade that could work for all parties. The reality is, it just may have been too subtle even to register.
Folks familiar with the situation say that Tulowitzki, in fact, may very well have to drop the subtlety if indeed he truly desires a trade (which isn't completely clear yet) – and that longtime Rockies owner Dick Monfort almost surely has to hear a clear trade request from Tulowitzki to even consider such a drastic, franchise-transforming move.
Even if Colorado has been a second-division club in recent years following its huge 2007 World Series season, they at least are a rare team with two positional superstars, also including outfielder Carlos Gonzalez, who is currently on rehab working his way back from injury, in addition to Tulowitzki, who's still only 29.
Anyway, Tulo, preparing for his fourth All-Star team, stopped far short of demanding a trade, or even asking for one. But for the first time, he has opened the door a crack.
Tulowitzki is said to be extremely frustrated by the team's latest fall, and especially its pitching woes; they are only a half-game out of last place in the NL West despite leading the league in runs scored and starting hot.
Since some Rockies people don't appear to have picked up on the hint (or don't want to), if things don't improve, it seems very likely a more serious conversation could be had over the winter, provided the Rockies don't stage a turnaround or make a new commitment to gather more pitching. Winning in Colorado has been a conundrum, thanks to the consistently low payroll buy even more to the almost impossible issues that come with the altitude, including pitching, home-road splits, fatigue and even injuries (the Rockies have had more of those than just about anyone).
While Tulo is known to love the only organization he has known, a friend says he is at wit's end over the latest freefall. It seems as if he may vacillate between upset, resignation and determination. "Is he a modern-day Ernie Banks? Maybe," the friend wondered aloud, referring to the Cubs great who never even got to play in a World Series (Tulo actually did, in '07, his first full season).
Well, he's certainly performed to those standards this year, as he's leading the league with a .348 batting average, 1.037 OPS and 5.2 WAR, and put himself in position to once again win a Silver Slugger and Gold Glove, if not an MVP. Anyway, at the moment all the great numbers don't seem to be appeasing Tulowitzki, who's said to be "out of his mind" with upset during the latest Rockies slide.
Assuming there's little to no chance for a trade during the season, a few teams that could make sense as possible trade partners for Colorado this winter include the Dodgers, Mets and Yankees.
If the Dodgers aren't able to re-sign Hanley Ramirez, Tulowitzki, a product of near by Long Beach State, would fit the bill. The Mets have a shortstop issue and several good-to-great pitching prospects they could dangle, and the Yankees will be looking to replace a legend.
Tulowitzki's $157.75-million, eight-year deal has $126 million left through 2020. He also has a $2 million "assignment" bonus if he's traded and would have a full no-trade if he's traded once within the contract. He doesn't have the no-trade yet because he's so tight with Rockies brass, he saw it as unnecessary. And he's right: they wouldn't trade him just anywhere. Before any deal would be consummated, he'd have to give his blessing to the targeted team.