Two days, three teams and wild finish in AL wild-card race
With just two games left on the schedule, the Rays and Indians are tied atop the AL wild-card standings. But the Rangers are just one game back, with only two spots available.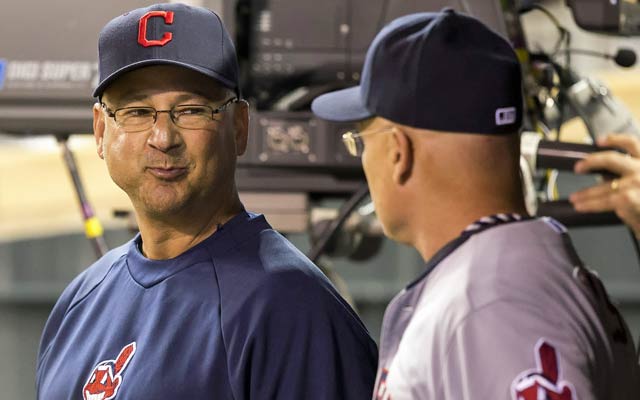 MINNEAPOLIS -- By Saturday night, we could have clarity in the American League wild-card race.
As it stands now, with two games to go, the Rays and Indians are tied atop the wild-card standings, each with 90 wins and 70 losses after the Rays finally lost a game Friday night, while the Indians kept winning.
But what makes this great (for us, but maybe not for the teams and fans involved) is that the Rangers also won again Friday. With an 89-71 record, they're just one game behind.
One game behind the Indians. One game behind the Rays.
Three teams, one game apart, with two spots available and two days left.
What it means is that any of the three teams could still be going home Sunday. But with the right results, the Indians and/or Rays could be celebrating Saturday.
"I just want to keep playing," Indians manager Terry Francona said after his team's 12-6 win over the Twins. "I don't want to go home."
Friday's win, the Indians' eighth straight, means that they will keep playing after Sunday, unless they lose their last two games and the Rangers win their last two. But this race could still end with a two-team tie between any of the three teams.
Or it could end with all three teams tied, which would force a Rays-Indians game Monday in Cleveland (winner gets the first wild-card) followed by a Tuesday game in Texas between the Rangers and Monday's loser (winner gets the second wild-card).
It's also still possible that Wednesday's AL wild-card game could be hosted by any of the three teams.

The Rangers play the Angels again Saturday at noon ET, in a game moved up by eight hours because of expected storms in Texas. The Indians play the Twins and the Rays play the Blue Jays, with both games scheduled for 1 p.m. ET (although there is also some rain in the forecast in Minnesota).
And that means another day of scoreboard-watching for the Indians, Rangers and Rays.
"You try managing three games at once," Francona said. "It's not easy."
If the Rangers lose, the Indians and/or Rays could clinch a spot by winning. But the Rangers, who were slumping when September began, have now won five in a row.
The Indians have won eight in a row. The Rays had won seven in a row, before running into R.A. Dickey and the Blue Jays on Friday.
Everyone's hot. Everyone's nervous.
"It's fun being nervous, man," Francona said. "It's a good nervous. It's excitement."
Two days to go, and they're still alive. But the other two teams in this wildest of wild-card races can say the same thing.
And they can't all get in.
By Sunday night, we're sure to have clarity. Or chaos.
Show Comments
Hide Comments