Two theories why Albert Pujols is hitting like Chone Figgins so far
It could be the thick air in Anaheim or the high expectations of Los Angeles, but Pujols hasn't been himself so far as an Angel.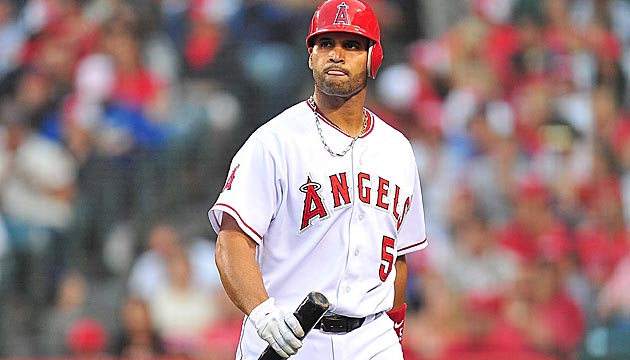 Pujols is in the midst of a career-worst slump.(US Presswire)
Seriously, what the heck is going on with Albert Pujols?
Pujols has yet to hit even one home run in 72 at-bats as a member of the Los Angeles Angels of Anaheim, and now he is in the throes of an 0-for-19 slump, the worst of his storied career. Overall he is hitting .222 with four RBI. His .601 OPS ranks 74th out of 94 qualifiers in the American League, one spot ahead of the Mariners' perennial disappointment Chone Figgins, the ex-Angel.
The Angels gave Pujols a $240-million contract for 10 years, which means he is only 1-2 percent into that contract. Yes, it's early. But this is unprecedented for Albert.
"I think he'll be fine,'' one scout says. "Not 10 years fine. But fine (in the near future).''
There have been basically two theories going around as to what could possibly be the matter for the player whose first 10 years were very much like Joe DiMaggio and Lou Gehrig. One is that Angels Stadium is tougher than it looks, and tougher than he figured. The other is that any new place is tough for an exalted, ballyhooed superstar.
1. Angels Stadium is no bandbox, especially at night.
The new Busch Stadium isn't, either, but it plays about as straight-up and even as any park in the majors. Anaheim Stadium is a difficult place for a power hitter, especially at certain times. "Anaheim is a tough place to homer at night,'' one Los Angeles-based scout said. "You better hit it in the early innings before the air gets heavier, and you better pull it.'' That scout, who seems to double as a meteorologist, said it's the "marine air'' that kills power hitters. I'm not sure if that's a euphemism for smog but he might have something there.
According to his spray chart, Pujols has hit four long drives at Angels Stadium, with four balls being caught deep and one hitting off the top of the wall. "He's very frustrated with that ballpark. The ball doesn't carry there,'' another scout said. "He probably underestimated the ballpark, and how tough it is to hit home runs there.''
That might be it. It could be the park. But the numbers also show that Pujols is actualy hitting much better at home, as he has a respectable .770 OPS at home and a .406 OPS on the road.
2. New teams are trouble for players who come with monster contracts.
"He was in the comfort zone in St. Louis,'' the second scout said. "Now he's in a new place and feels he has to prove something all over again. It's mental.''
One prominent agent (not Pujols' guy) said nearly every big player had a short adjustment period to his new surroundings. Last year Carl Crawford and Adam Dunn were among the new free agents adjusting to a change of locale.
Pujols does appear to be frustrated (though he denies that he is), and he appears to be looking for help on the bench from his teammates. Someone with the success he's had just isn't used to struggling like this.
In case he's interested, our scout said, "He looks like he's trying to pull everything.'' (Although in Anaheim, that might be his best bet to hit one out.)
Pujols hit .383 with seven home runs in spring training, where there are few expectations and little pressure (Plus, the air at Tempe's Diablo Stadium is thin and the ball flies.)
No one is taking seriously the idea that Pujols will be less than great, eventually. Not yet, anyway. Seventy-two at-bats isn't a lot. Nobody should really begin to be judged until at least a month in, or maybe 150 at-bats. So he isn't even halfway there.
The second scout said, "I don't want to be the team he's facing when he comes out of it. He'll get it going ... I think.''
Show Comments
Hide Comments