Under Pressure: GMs, managers and other non-player personnel
The third and final entry into our Under Pressure series looks at non-player personnel who will be the focus of attention in 2014.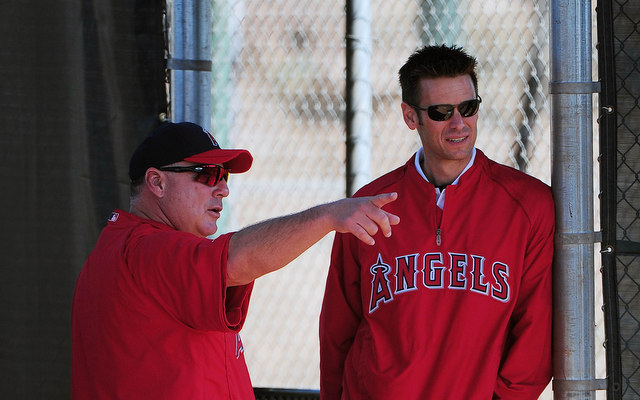 UNDER PRESSURE: New faces in new places | Bounce-back players
This is the third and final entry into our Under Pressure series. If you've missed the previous two, click the above links and read this for the scope of the series:
In it, we'll examine the players, managers and even GMs who have much to prove in the 2014 season to come.

In some instances, it's because they're playing for new teams on high-dollar contracts. In other cases, it's because they need to bounce back from disappointing seasons in 2013. In still others, it's because dugout or front-office jobs hang in the balance.
In this post we're going to look at non-player personnel who are, you guessed it, under pressure this season. That means front office people, managers and even MLB itself. Away we go...
Mike Scioscia and Jerry Dipoto, Angels
The Angels have spent a lot of money to disappoint in recent years, and last winter the jobs of both the manager and GM were called into question. Some tension reportedly exists between Scioscia and Dipoto but the two remain on the job and will give it another go in 2014. If the Halos fall short of contention again, both guys figure to return to the hot seat.
Alex Anthopoulos, Blue Jays
Last season was a disaster for Toronto and they haven't done much this winter to improve the team. During Anthopoulos' four years as GM, the Blue Jays have gone from an 85-win team with a $79 million payroll in 2010 to a 75-win team with a $119 million payroll in 2013. Another disappointing season with no on-field progress will bring heavy criticism.
Jack Zduriencik, Mariners
The Mariners won 85 games in Jack Z.'s first season as GM but have followed with four straight fourth place finishes. They've also gone from a defense-first approach (2010) to an all power, no defense approach (2013) to a "throw $240 million at Robinson Cano" approach (2014). Zduriencik has been on the hot seat for a year or two now, and if Cano doesn't put them over the top, a move at GM may be made.
Ruben Amaro Jr., Phillies
The 2007-11 run was arguably the best five-year stretch in Phillies franchise history, but they've since slid into fourth place with one of the highest payrolls and oldest rosters in baseball. I actually think Amaro gets too much criticism for the team's current plight, but he is the one in charge of digging them out of this hole. If he doesn't and soon, the scrutiny will be severe.
Major League Baseball
It took MLB a while to catch up to the other major sports, but the league finally has an expanded replay system. The new system features manager's challenges and an off-site review crew. The improved but still imperfect setup has been implemented for 2014 and there will surely be some controversy at some point. It's inevitable. How the league responds -- patience or knee-jerk reaction? -- will be key.
Major League Baseball Players' Association
In the wake of the Biogenesis scandal, MLB is expected to push for stiffer performance-enhancing drug related penalties. Will the union be receptive to opening the Joint Drug Agreement to make changes? And if so, how firm of a line will they hold during negotiations? The MLBPA is in a difficult spot right now due to the Biogenesis black eye and the recent death of chief Michael Weiner, so the pressure will be intense.
Show Comments
Hide Comments