Uniform mishap a 'mistake made by a human being'
The Pirates tweeted that the placement of Brock Holt's number on his jersey was a "mistake made by a human being and will be corrected."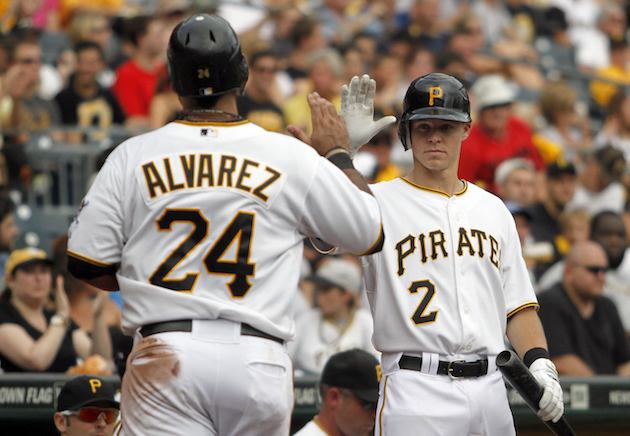 Brock Holt's number should be on the other side of his jersey. (Getty Images)
Notice anything weird about that picture of Pittsburgh's Brock Holt from Monday's 5-1 loss to the Astros?
The Pirates official Twitter feed explained:
In regards to Brock Holt's jersey today, it was a mistake made by a human being and will be corrected.

— Pittsburgh Pirates (@Pirates) September 3, 2012
While it sounds funny to say it was a mistake made "by a human being," what I think the person behind the Pirates' twitter feed meant was not that there was some robot performing the clubhouse duties at PNC Park, but that there is a real-life person who messed up and feels awful about it and the usual piling on from the internet isn't going to help anything. I know this might come to a shock, but sometimes people on the Internet can be hateful, judgmental and just plain mean to those they don't know -- and especially those they envy, like someone working in a big-league clubhouse. What the Pirates are probably trying to say is that sometimes mistakes just happen and nobody needs to be fired or reprimanded, it just happens.
Of course, not sure I'm helping any, but just found the entire thing interesting.
For more baseball news, rumors and analysis, follow @EyeOnBaseball on Twitter, subscribe to the RSS feed and "like" us on Facebook.
Show Comments
Hide Comments