Unlikely All-Star Edward Mujica feels 'unbelievable'
Edward Mujica was a middle reliever for the Marlins last season. Now he's an All-Star closer for one of the best teams in baseball.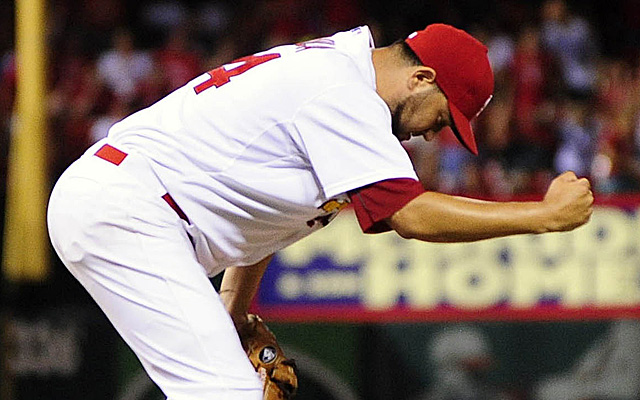 More MLB: All-Stars Hardy, Gomez once traded for each other | Jones brings title belt
Heading into last season, Edward Mujica was an obscure middle reliever for the Miami Marlins. In 2013, he's an All-Star closer.
"It's unbelievable," an elated Mujica said Monday in Citi Field.
Mujica took over as the Cardinals' closer early in the season and hasn't looked back, closing down 26 saves in 28 chances with a 2.20 ERA, 0.73 WHIP. Perhaps most impressive is that Mujica has only walked two batters in 41 innings pitched.
Still, when the All-Star rosters were unveiled last Sunday, Mujica's name wasn't on the list. After an outstanding first half for a team that has held the best record in baseball for much of the season, a great argument could have been made that Mujica was a snub. Not that he was harping on it.
"No, no, I wasn't disappointed," Mujica said. "There are so many guys having good seasons and the managers have hard decisions. It's out of my hands."
"I think for the first time Saturday I started to think about it. I thought I'll keep working hard and maybe it'll happen next year. Then I found out I'm an All-Star and it's unbelievable."
Not that he's satisfied.
"I'm gonna keep working hard every day, though, because I want to get a championship ring."
What a whirlwind of a season that would be for the 29-year-old pitcher who many baseball fans hadn't heard of through 2011.
Show Comments
Hide Comments