Ups and Downs: Underachieving Angels showing signs of a sale now
Lefty reliever Scott Downs is being talked about in trades no, suggesting the Angels know they aren't going to win this year despite a $140-million payroll.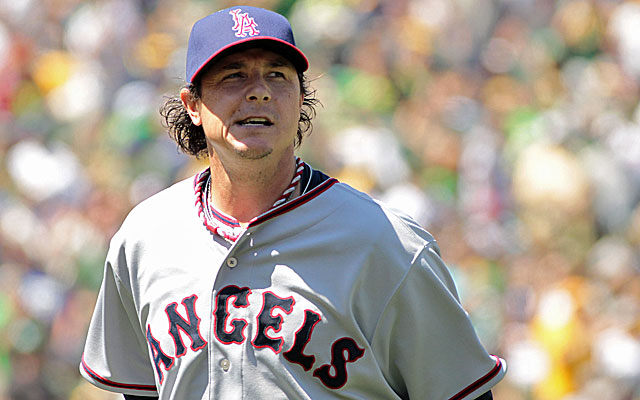 The Angels came into this season with a big payroll, and even bigger expectations, after adding megastar Josh Hamilton a year after they signed all-time great Albert Pujols. But they are 48-54 and they just lost Pujols -- maybe for a while -- so they are now showing signs of becoming a surprise seller (a surprise based on their original expectations, anyway).
Rival executives suggest that at least one Angels player, lefty reliever Scott Downs, is now being talked about in possible trades.
The Angels may have had huge dreams when they built their payroll to $140 million, but they appear to be facing reality, which is the right way to go under the circumstances.
Their sale may not be nearly as exciting their buying spree, however.
The Angels don't have a lot of salable pieces, anyway, and people familiar with their situation suggest one who is very marketable, slugger Mark Trumbo, isn't very available. While the Angels -- 12 games out in the AL West -- will listen on anyone, sources suggest they intend to keep Trumbo -- which probably shouldn't be very surprising considering Pujols' condition. Peter Bourjos may be a bit more available than Trumbo, but not much. (And he is currently on the disabled list with a wrist injury.)
Downs is having a verty nice year. His scoreless streak of 29 outings ended with a two-run home run by Derek Norris of the A's Saturday afternoon. He came into the day with a 2-2 record and 1.24 ERA.
One other player who could go in trade is veteran pitcher Jason Vargas, who is expected to begin a rehab assignment after suffering a blood clot in his armpit. Like Downs, he's a free agent after the year, so if they can find a buyer with a decent offer they could act. It's possible Vargas could clear waivers considering his situation, though Downs won't.
Pujols was sent back to California to have his ailing foot examined, and early suggestions are that he may miss a fair amount of time. The Angels understand there's no need to rush him back and will give him all the time he needs, which is only prudent considering they are not in the race.
And good for them for understanding that.
Show Comments
Hide Comments