Vegas odds: Dodgers are favorites to win 2014 World Series
The early Vegas odds are out for the 2014 World Series champion. The favorite, at 5-1, is the Los Angeles Dodgers.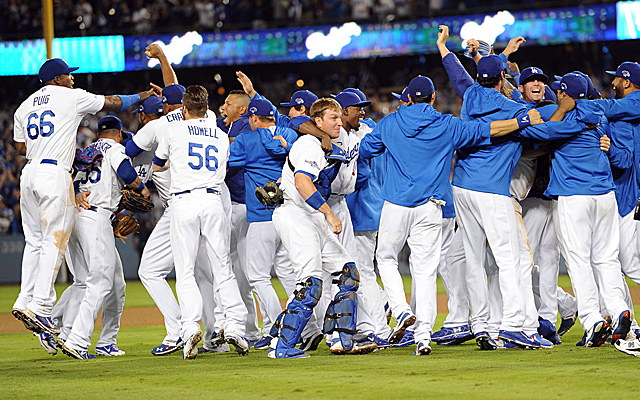 The Boston Red Sox are the 2013 World Series champions, and if you think they're going to repeat, you should probably find a way to place a wager. They have some decent odds.
Via RJ Bell of pregame.com, here are the Vegas odds for the 2014 World Series champion:
Los Angeles Los Angeles Dodgers 5-1
Detroit Tigers 8-1
Washington Nationals 9-1
St. Louis St. Louis Cardinals 10-1
Boston Red Sox 12-1
Cincinnati Reds 15-1
Los Angeles Angels 15-1
Oakland Athletics 15-1
New York Yankees 16-1
Texas Rangers 16-1
Atlanta Braves 17-1
San Francisco Giants 22-1
Pittsburgh Pirates 25-1
Baltimore Orioles 28-1
Cleveland Indians 28-1
Tampa Bay Rays 29-1
Kansas City Royals 35-1
Chicago White Sox 40-1
Philadelphia Phillies 40-1
Arizona Diamondbacks 45-1
Toronto Blue Jays 45-1
Chicago Cubs 60-1
Seattle Mariners 65-1
Colorado Rockies 70-1
San Diego Padres 70-1
Milwaukee Brewers 75-1
New York Mets 115-1
Miami Marlins 125-1
Minnesota Twins 125-1
Houston Astros 250-1
Here's our obligatory reminder that odds aren't actually predictions and instead an attempt by the house to maximize profits. So if a certain fan base might bet heavily on a team, the odds shrink. And vice versa. So larger market -- or generally more nationally more popular -- teams tend to show up higher on the list than smaller market teams that are equally as good.
Anyway, there you have it. Now go place your wagers.
Show Comments
Hide Comments