Video: Chris Davis' broken-bat homer
In the seventh inning of Wednesday's game with the Pirates, Orioles first baseman Chris Davis hit a broken-bat home run off of the Pirates' Tony Watson.
Take a look at this photo of Chris Davis and ask yourself what the outcome was: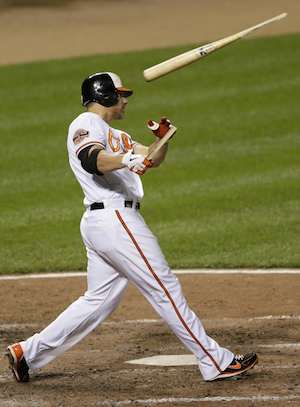 A weak grounder to second, right? At most, a pop up to shallow right. Nope. This is what happened:

 

Davis said he didn't think the ball was going to leave the park, but it just kept going.

"It's one of those crazy things. There's always crazy things gong on in this game," Davis told reporters after the game (via MASNSports.com). "To be honest with you, I went back and looked at it and I hit it on the bottom of the barrel. I probably cracked it earlier in the at-bat. I'm not sure. I'm actually kind of surprised I broke the bat. I didn't expect it to go out, but that's the way it goes."

Said Pirates manager Clint Hurdle (via the Baltimore Sun): "I've never seen a guy walk out of the batter's box with four inches of wood in his hand and he hit a home run. That was a new one for me."

Perhaps Hurdle's blocked out the second half of last season, because against the Pirates' Jeff Karstens last September, Arizona's Justin Upton did the same thing.

While both homers just got out of the park, and came in homer-happy ballpark, neither were mere products of their environment. According to HitTrackerOnline.com, Davis' 367-foot homer would have been out of nine different parks in MLB, while Upton's 387-footer would have been out of 20.

Davis, 26, is off to a fantastic start for Baltimore, hitting .305/.344/.538 with 12 home runs, including three in his last four games. He was acquired along with pitcher Tommy Hunter from Texas at the trade deadline in return for left-handed reliever Koji Uehara.

For more baseball news, rumors and analysis, follow @EyeOnBaseball on Twitter, subscribe to the RSS feed and "like" us on Facebook.