VIDEO: Not your typical Giancarlo Stanton homer, but still amazing
Watch as Giancarlo Stanton of the Marlins flashes the kind of opposite-field power you rarely see.
More MLB: Power Rankings | Expert Picks | Latest news & notes | Fantasy news
The baseball observer is accustomed to seeing Marlins hunter-gatherer Giancarlo Stanton smite moon-scraping shots to the pull field. That said, Stanton is also capable of going opposite field with some measure of authoritative authority.
Here, take a look at his FanGraphs spray chart from 2012 through the present (the black dots are homers) ...
Source: FanGraphs
Strong pull-field tendencies, but evidence of power to all fields. That's not surprising for a hitter as strong and skilled as Stanton.
What follows, however, is something entirely different. You're about to bear awed witness to Stanton's 11th-inning, eventual-game-winning spank against the Padres on Thursday night. Please regard:
Golly and whoa! Needless to say, not many hitters hit it out to center field and environs in power-suppressing Petco. Fewer still do it via the "humpback" liner. (Crack expert research reveals that it took roughly 3.63 seconds from crack 'o bat to clearing the fence. Hasty, is what that is.) Fewer, fewer still do it on an 0-2 pitch.
Also, please regard this screencap of the point of contact (HT: Reddit Baseball) ...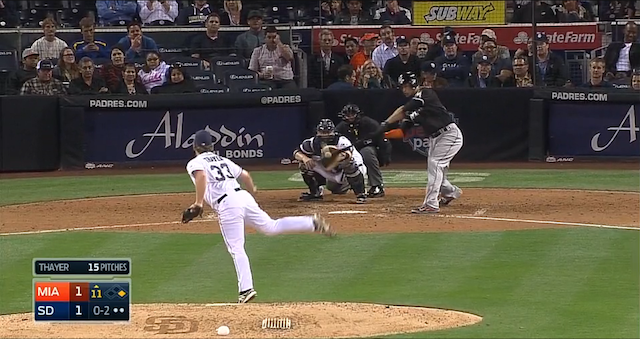 And here's a plotted look, courtesy of Brooks Baseball ...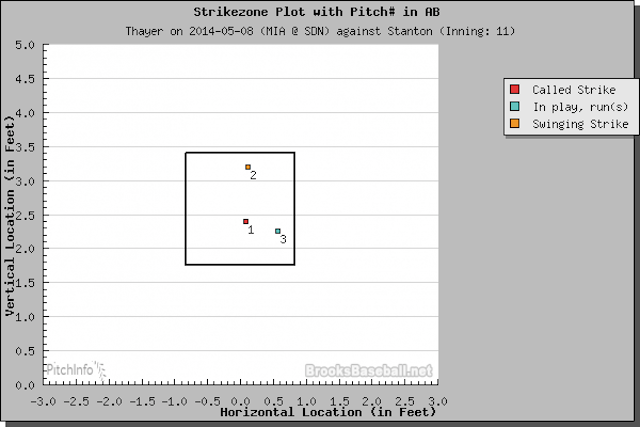 That's from the catcher's perspective, and the "3" indicates the pitch that Stanton ritually tortured for the go-ahead homer. Low and "on the black," as they say, and something of a pitcher's pitch to most right-handed batters. Not Stanton, though. 
On a number of Stanton home runs, I've seen a flicker of "did I really just do that?" cross his otherwised composed and business-first face. I think we see that here, as well. To lay to rest any such curiosities: Yes, Giancarlo Stanton, you really did just do that.  
Show Comments
Hide Comments