Vin Scully to be grand marshal of 2014 Rose Parade
On Jan. 1, 2014, Pasadena, Calif. will host the 125th annual Rose Parade. The grand marshal will be legendary Dodgers broadcaster Vin Scully.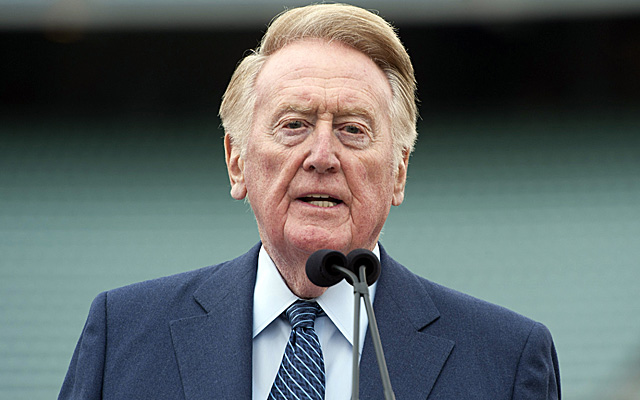 More MLB: Scoreboard | Standings | Probable Pitchers | Sortable Stats | Odds
Thursday, at the Tournament House in Pasadena, Calif., longtime Dodgers play-by-play man Vin Scully was named the grand marshal of the 125th Rose Parade on New Year's Day, 2014.
Scully, 85, will be joined on the 5 1/2 mile ride down Colorado Boulevard in Pasadena with his wife, Sandi. Per the Associated Press, Scully's reaction was, "wow."
Scully also told the AP he believes he was chosen due to the Dodgers' success this season and his famed longevity on the job. He'll be returning to the booth for his 65th season in 2014.
Tournament of Roses president R. Scott Jenkins, however, was interested in Scully for different reasons, citing Scully (via AP) as "an accomplished person who possesses humility and integrity."
College Football's famous Rose Bowl will be played later that day in Pasadena, pitting the winners of the Big Ten and Pac-12 conferences, assuming they're available. BCS and all that. See our college football page for more coverage on that front. I'm a baseball guy.
Congrats to Vin. Well deserved.
Show Comments
Hide Comments