Wednesday injury roundup: Royals' rotation set with Felipe Paulino to DL
Nightly roundup of minor injuries and updates for ongoing issues in spring training.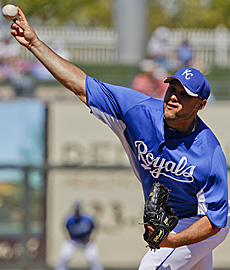 The Royals will place starting pitching
Felipe Paulino
on the 15-day disabled list, where he'll remain when the season starts, due to a "right forearm flexor pronator strain" (
KansasCity.com
). Basically, it sounds like a sore elbow and the Royals don't consider it serious.
So why, then, am I leading off with it here? Because it de facto sets the Royals' starting rotation to open the season.
Bruce Chen
has been announced as the opening-day starter, with
Luke Hochevar
and
Jonathan Sanchez
to follow. With Paulino out of the way,
Danny Duffy
and
Luis Mendoza
will fill the final two spots until Paulino is ready to come back. From there, surely performance to that point in the season will be weighed heavily.
The unlikely member of the group is Mendoza. He's a 28-year-old right-hander with only 16 career major-league starts. Last season he made two starts for the Royals, going 2-0 with a 1.23 ERA and 1.09 WHIP. That came on the heels of a big Triple-A season (12-5, 2.18 ERA), so maybe the Royals have a late bloomer on their hands.
• The MRI on
Curtis Granderson
's sore elbow came back negative --
he tweeted from his personal Twitter account
-- so he's just day to day.
• It has been headed this way for several days, but Nationals closer
Drew Storen
(sore elbow) and outfielder Mike Morse (strained lat) are "expected to open the season on the disabled list," (
CSN Washington
) though neither is expected to miss much time. If both do start the campaign on the DL, they'd be eligible to come off April 10.
• Indians closer
Chris Perez
was one of the first injured players in camp, going down the first week with an oblique injury. After back-to-back outings in minor-league spring games, Perez is now ready to jump to a Cactus League game Thursday. Assuming no setbacks, he'll be ready for opening day afterall (
MLB.com
).
• Brewers right fielder
Corey Hart
went 2-for-4 in a Triple-A game Wednesday, just over three weeks since having his knee scoped to repair torn cartilage. He served as DH and will have the same role Thursday in a Triple-A game (
MLB.com
).
• Orioles shortstop
J.J. Hardy
is fighting through discomfort in his right shoulder, and he actually had a cortisone shot to help alleviate the issue Tuesday. Manager Buck Showalter is hoping Hardy can play Friday (
MLB.com
).
•
Chris Carpenter
will have surgery in order to remove a bone spur from his throwing elbow. No, not
that
Carpenter (he'd get a stand-alone article for that). This one is the Red Sox reliever who was the compensation for Theo Epstein jumping ship and heading to the Cubs (
ChicagoTribune.com
).
Full Spring Training Coverage
• The Blue Jays are "optimistic"
Adam Lind
will be ready to get back in the lineup Saturday. He was a late scratch Tuesday with lower back tightness (
MLB.com
).
• More Jays: Starting pitcher
Dustin McGowan
has been completely shut down. The immediate reaction is clearly
uh oh
, considering McGowan's history of arm troubles. But he actually has plantar fasciitis in his right foot. He won't likely be ready to begin the season as the fifth starter, but this doesn't sound serious (
MLB.com
). Still, with McGowan it's hard to not fear the worst.
• Astros shortstop
Jed Lowrie
sprained his right thumb in Wednesday's game. X-rays were negative, so one would imagine this is an injury of the day-to-day variety (
MLBlogs Network
).
• More Astros: Injured center fielder
Jordan Schafer
will be out "at least a couple of more days" due to the nerve issue in his left hand. Fortunately, a visit to the hand specialist brought news that there is no major damage (
MLB.com
).
• Braves relief pitcher
Jonny Venters
has been cleared to pitch an inning Thursday. He's been inactive the past week and a half with "normal Spring Training soreness." (
MLB.com
) The Braves haven't exactly been secretive this spring that they'll attempt to keep Venters and
Craig Kimbrel
as fresh as possible for the regular season.
• Injured Red Sox starting pitcher
Daisuke Matsuzaka
is progressing in his return from Tommy John surgery. He threw in a controlled intrasquad game Wednesday and a "June 1 return to the major league team is not out of the realm of possibility." (
Boston.com
)
• Reds relief pitcher
Nick Masset
will begin the season on the DL with shoulder inflammation (via Associated Press). With closer
Ryan Madson
already down, the Reds will enter the season thin in the bullpen. It has yet to be determined, but I would expect
Aroldis Chapman
to end up down there out of necessity. So far, Reds manager Dusty Baker has said (via AP) that he'll go with closer-by-committee, so the smart money is on Chapman sharing those duties with
Sean Marshall
.
• For the majority of the offseason, it was known that Cardinals utility man
Allen Craig
wouldn't be ready for the opening-day roster, due to his mid-November knee surgery. In the past week, though, there was talk he was making a late push to be ready. But now we're back to having him not make it. The
St. Louis Post-Dispatch
reports that Craig's workload the rest of camp will be in minor-league appearances, which signals rehab.

Show Comments
Hide Comments