Weekday Watch List: Red-hot Royals get big test
What do you need to watch for this week? How about Royals-A's, Dodgers-Braves, Tigers-Pirates, Blue Jays-Mariners, Orioles-Yankees and whether or not the Giants can get back on track.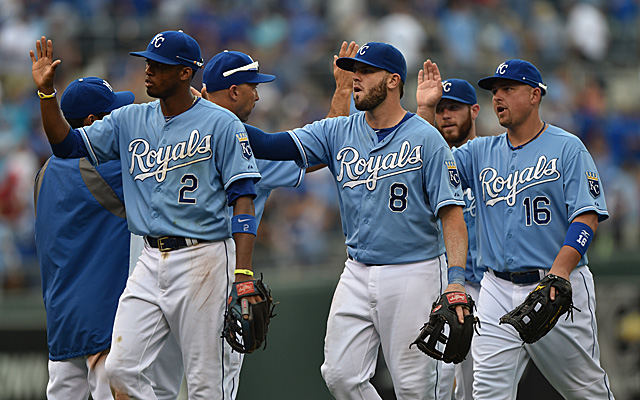 More MLB: Power Rankings | Expert Picks | Latest news & notes | Fantasy news
We now have just seven weeks left in the 2014 season. No division race has a greater margin at the top than five games and both wild-card races have three outside-looking-in teams within 2½ games.
Anyone having fun yet?
Let's take a look ahead at the weekday series we're about to witness.
1. Royals red hot, facing best team in MLB
Riding a seven-game winning streak and winners of 15 of their past 18 games, there's no one hotter in all of baseball than the Kansas City Royals . They even took two of three from the Oakland Athletics , the best team in baseball, to begin August.
Beginning Monday evening in Kauffman Stadium, Kansas City fans will see their beloved Royals take on the mighty A's -- formerly from Kansas City! -- in a four-game series.
This series brings us some pretty solid pitching matchups, too:
Monday: Yordano Ventura vs. Sonny Gray
Tuesday: Jeremy Guthrie vs. Jon Lester
Wednesday: Jason Vargas vs. Scott Kazmir
Thursday: James Shields vs. Jeff Samardzija
The Royals have a 1½-game lead for the second AL wild card, but in the AL Central, they're only a half-game back of the ...
2. Detroit Tigers face another tall task
The Tigers have lost five of seven and are coming off back-to-back extra-inning losses, including a 19-inning job Sunday. With Joakim Soria falling injured and the rest of the bullpen struggling to protect late-inning leads -- and overworked after the past two games -- they're gonna need some excellent starting pitching late into games. They won't have it easy, as they are set for a four-game series against the Pittsburgh Pirates .
The Pirates rank first in the NL in walks and on-base percentage and are also among the leaders in pitchers per plate appearance.
The Pirates also hold the second NL wild-card spot by a half-game and are just 2½ back of the Milwaukee Brewers in the NL Central.
This is a home-and-home series, with the first two in Pittsburgh and the next two in Detroit. And if the Tigers lose more than a couple, they may well be fighting for the ...
3. AL wild-card hopefuls battle
The Seattle Mariners and Toronto Blue Jays are locked in a virtual tie, both 1½ games back of the Royals for the second AL wild-card spot. Both have sizeable gaps in their division battles, so the focus is here, at least for now. Both teams also come in riding a bit of momentum, though the Jays only have a modest two-game winning streak after a patch of six losses in seven games.
The Mariners have won five of their past six, though, and held back Felix Hernandez for this series. It'll be King Felix, Chris Young and Hisashi Iwakuma against Drew Hutchison , J.A. Happ and R.A. Dickey .
Of note, the Jays are expecting to get Adam Lind back in the lineup.
The two teams are only one game ahead of ...
4. New York Yankees look to rebound against powerful Baltimore Orioles
The Yankees only managed one run combined in two straight losses against the Cleveland Indians over the weekend, killing some of their momentum as they had won six of seven before that little stumble. In order to get back on track, they'll have to deal with the first-place Orioles.
The O's did lose Sunday to the St. Louis Cardinals , but before that had won six of seven and were crushing the ball. They lead the AL in home runs and guess which pitching staff leads the AL in home runs allowed? Yep, the Yankees.
The Yankees will get Michael Pineda back from injury in the series finale. Will he be enough to help get them to the playoffs? The Yankees are the only team with more playoff appearances since the 1994 strike than the ...
5. Atlanta Braves seek revenge on Los Angeles Dodgers
Not only did the Dodgers bounce the Braves from the playoffs last year, but they swept them to begin a road trip in which Atlanta would go 0-8, concluding last week. Now back at home, the Braves are fresh off a series win over the first-place Washington Nationals and looking to get back into a playoff spot. They are 3½ games behind Washington in the NL East and two out of the second NL wild card.
The good news is they avoid Clayton Kershaw in a four-game series, so that's big. Still, before thinking about the second NL wild-card spot, they have to leap over the ...
6. San Francisco Giants still struggling
Save for a few bright spots, the Giants have not been able to get back on track since falling apart back in June. They're 20-35 since June 8. The only teams in baseball with a worse record since then are the Colorado Rockies (17-38) and Texas Rangers (15-39).
The Giants have just a two-gamer against the Chicago White Sox this week, getting days off Monday and Thursday. So that's good. The bad is they have to deal with Chris Sale on Tuesday and Jake Peavy against the White Sox on Wednesday doesn't inspire much confidence.
They've only scored seven total runs in their four-game losing streak. It's past time for them to fix their woes or they'll miss the postseason again in the crowded NL.
Show Comments
Hide Comments