Weekend Buzz: Athletics arriving in Texas at perfect time Monday
The free-falling Rangers right now couldn't buy a run if it was hand-delivered with their favorite delivery pizza. Inconvenient timing with the first-place Athletics barreling into town Monday. Plus, in this edition of Weekend Buzz, George Brett's secret weapon, the Padres push back into contention and don't tell Tony La Russa what Colby Rasmus is up to. ...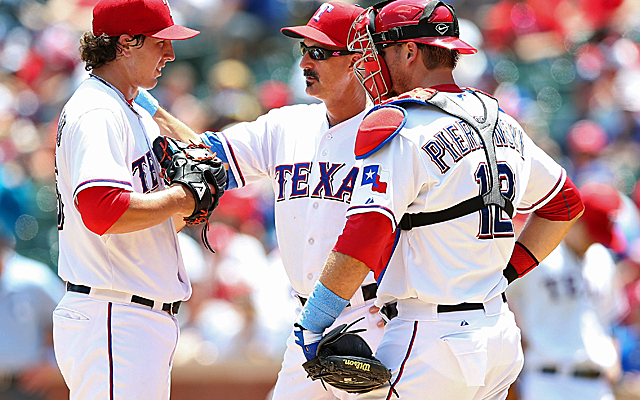 The Weekend Buzz while you were gathered around the Father's Day grill. …
1. Tex-less: The longest day of the year is Friday. The Texas Rangers sure hope their summer solstice is now behind them -- though after this weekend, it might be time to break the glass in case of emergency for Ron Washington's crew.
Blitzed this weekend in a four-game series by the Toronto Blue Jays , the Rangers now have lost six in a row, nine of their past 11, 11 of 15 and 14 of their past 20. Their home losing streak is now six, their longest skid at the Ballpark in Arlington since 2005.
What's up?
These Rangers couldn't score if you hooked them up with the New York Mets ' cougar dating site and several free coupons.
When the Rangers pushed across a run in the sixth against Toronto on Saturday, it snapped a streak of 21 consecutive scoreless innings. They celebrated by starting a new one, failing to score for the final three innings Saturday and the first eight Sunday before losing again, 7-2.
That's three runs over their past 31 innings.
In a sense, the Rangers did break the emergency glass in rushing second baseman Ian Kinsler back a day early from his injury rehabilitation assignment (rib cage). He's been out since May 18 and was expected to play at least three or four games at Double A Frisco, but after going 0 for 8 with a walk in two rehab games, the Rangers pulled the ripcord and summoned him in time for Saturday's loss.
They plummeted 8½ games in the standings without him, leading the division by 6½ games when he went down and trailing Oakland by two upon his return.
Elvis Andrus and Lance Berkman are not hitting. First baseman Mitch Moreland is disabled (hamstring straing). Overall situational hitting has been abysmal -- 21 of the Rangers' 37 runs scored this month, 56.8 percent, have come on home runs.
In Kinsler's return Saturday, he, Andrus and Berkman combined to go 0 for 13. According to the Elias Sports Bureau, in the five seasons since 2009, the only other game in which Texas' top three hitters were 0 for 13 or worse was on May 19, 2011, at Kansas City.
The Rangers batted .220 with a .360 slugging percentage and 37 runs scored over their first 14 games in June.
Part of this probably was unavoidable given the incredible number of injuries the Rangers have endured. Kinsler was activated Saturday. Moreland is out, as are pitchers Neftali Feliz , Matt Harrison , Colby Lewis , Alexi Ogando,  Joakim Soria and Michael Kirkman .
That's tested the Rangers' depth, and rookies Justin Grimm (0-2, 11.40 ERA in three June starts) and Nick Tepesch (0-2, 5.40 in three June starts) are, at times, looking overwhelmed.
No Texas starting pitcher has recorded a win this month -- the last came from Derek Holland on May 31 -- and it's not as if these guys have much margin for error. The Rangers rotation has received just 1.97 runs of support per nine innings during the month of June, the worst in baseball.
The remarkably reductive Rangers have opened the door for the Oakland Athletics this month and are even allowing the Los Angeles Angels to dream a little.
Until this weekend, the Blue Jays had never swept a four-game series at Texas in franchise history, as STATS LLC notes. And the Jays hatched in 1977.
The Rangers are in the midst of playing 20 games in 20 days, and so far they're 3-10 in that run.
They get a chance to dramatically reverse course Monday, when the first-place Athletics arrive for a four-game series.
Or, by week's end, they could find themselves in even deeper trouble.
2. George Brett's secret weapon: The Kansas City Royals before naming the Hall of Famer as hitting coach: losses in eight consecutive games, 12 of 13 and 16 of 19.
The Royals since plopping Brett onto their staff: 12-5, including winning nine of their last 12.
The funny part? The Royals were hitting .261 with a .314 on-base percentage, a .375 slugging percentage and averaging four runs a game before Brett took over as hitting coach. Under Brett, Royals hitters were at .245/.301/.345 and averaging 3.8 runs. But as the Kansas City Star's Sam Mellinger points out, the Royals' staff ERA before Brett was 3.82, and it's 2.13 since.
"Brett is like the best pitching coach ever, you guys," Mellinger writes.
3. The Swinging Friar and You: While you were either overlooking the San Diego Padres or unable to watch them on TV in San Diego (22 percent of the county still cannot), they've ripped off six consecutive wins, poked above .500 (35-34) and Sunday pulled to within two games of the first-place Arizona Diamondbacks . The keys to this 30-19 run since May 1? You mean, besides the genius of Bud Black as manager? Try this: Over their past eight games, Padres starters are 7-1 with a 2.31 ERA and 32 strikeouts. Padres' starters are 24-11 over their past 35 decisions, led by Jason Marquis at 8-0.
And by the way, the last time the Padres were over .500 before crossing that mark on Fathers' Day? Try April 11, 2011.
4. Down and Out with Mark Teixeira and the New York Yankees :  David Adams ? Austin Romine? Reid Brignac ? The Ghost of George Steinbrenner called. He wants his team back.
5. Yasiel Puig 's greatest feat yet: Forget his offensive numbers (.479, four homers, 10 RBI in 13 games) and his howitzer of an arm. How did he escape without a suspension in the brawl with the Diamondbacks? He slugs Eric Hinske , and Hinske was acting as a peacemaker … and Hinske gets a five-game suspension and Puig skates. The guy is magic.
6. Psst, don't tell Tony La Russa:  Colby Rasmus homered for a third consecutive game Sunday to help Toronto to its first-ever four-game sweep of Texas, putting Rasmus on pace for 31 homers this season.
7. Manny Machado , meet Earl Webb: The blistering-hot Baltimore Orioles ' Whiz Kid is on pace for 74 doubles. Which not only would be a record, it would be a way cool record. The current major-league mark for doubles is 67 and was set way back in 1931 by Boston Red Sox outfielder Earl Webb.
8. But will he pass this year's drug tests? The incredible resurgence of Bartolo Colon continues. Colon stiff-armed Seattle Sunday and now is 6-0 with a 1.05 ERA over his past six starts. That's either going to land him on the American League All-Star team or … geez, don't say it.
9. Generation Next: Hot Buccos rookie Gerrit Cole likes the NL West. And here comes Wil Myers to Tampa Bay.
Cole: Five days after beating the San Francisco Giants in his major-league debut, the top pick of the 2011 draft ran his record to 2-0 with a win over the Los Angeles Dodgers . Cole has yet to walk a batter while becoming only the fifth Pittsburgh Pirates pitcher in 50 years to win each of his first two major league starts. The others? Josh Fogg (2002), Tim Wakefield (1992), Jose DeLeon (1983) and Jim Nelson (1970).
And Myers: He'll join the Tampa Bay Rays in Boston on Tuesday. In his final 23 games at Triple-A Durham, Myers batted .354 with 10 homers and 32 RBIs. Bring 'em on.
10. Ryan Braun and ... David Letterman? Our favorite late-night host celebrated the release of Superman with a Top 10 Little Known Facts about the Superhero, and here was No. 5: "Owes super strength to anti-aging clinic in Miami." Why, I did not know that.
Show Comments
Hide Comments