Weekend Buzz: Baseball's best hitter (not A-Rod) puts on three-day show
Alex Rodriguez gets the attention. Miguel Cabrera deserves it. On the weekend A-Rod returned to the Bronx, Cabrera put on a show.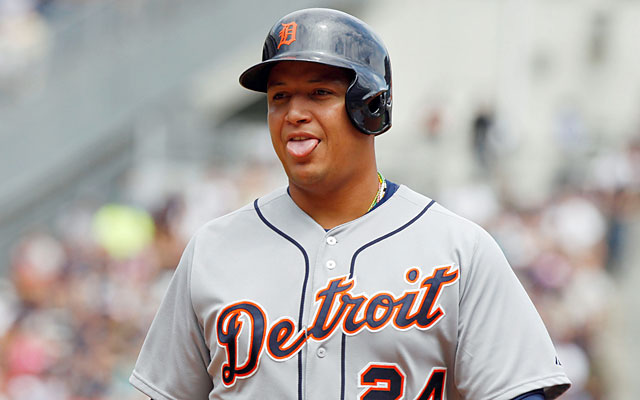 NEW YORK -- The Weekend Buzz, while you were thinking how appropriate it is that Alex Rodriguez and Breaking Badcome back the same week ...
1. The other (much better) third baseman in the Bronx: A-Rod sucks away all the attention. Once in a while he even does something to deserve it, as he did Sunday (with a home run and a single off Justin Verlander, in the Yankees' 5-4 win over the Tigers). But the best hitter in baseball was also in New York over the weekend, and on the field, Miguel Cabrera put on a far better show than A-Rod did.
Friday against Mariano Rivera, he fouled one pitch off the outside of his left knee and the next off the inside of his left shin ("It swelled up so much it looked like he grew another knee on his leg," one Tigers person said). He looked like he could barely walk, but stepped back in and tied the game with a 420-foot home run to center field.
Saturday against Phil Hughes, Cabrera turned on a 92 mph fastball that was so far inside that replays showed it crossed through Cabrera's own batter's box. He got his hands in and sent it deep over the left-field fence.
Sunday against Rivera, he did it again, leading off the ninth with an opposite-field bomb. In the 18 years that Rivera has been a full-time reliever, no other hitter had ever hit two home runs off him in the same season, let alone in back-to-back at-bats in the same series.
Cabrera has been playing with a sore hip flexor that kept him out of seven games in late July and early August, but Tigers people believe he has turned the corner on that injury. In eight games since returning, Cabrera has gone 13 for 29 with four home runs and 11 RBI. He leads the majors with a .365 batting average and 1.145 OPS, both well ahead of what he did in last year's Triple Crown season. Cabrera's home run Sunday put him one ahead of Chris Davis for the major-league RBI lead, and left him six home runs behind Davis.
"I tell people, we watch baseball history every time he bats," longtime Tigers radio man Jim Price said.
"Every day I shake my head," Torii Hunter said. "Unbelievable. Amazing. He does it in clutch situations, too. There probably won't be another one like him in the next 100 years."
2. Rivera's rough week: When another closer has three straight blown saves, we ask how soon he's losing his job. When Rivera does it, we see it as simply more proof of how great he has been.
And rightly so.
Until Sunday, Rivera had gone through 18 seasons as a full-time reliever and 750 save opportunities without ever having a blown save in three straight games. Until Sunday, Rivera had made 1,184 appearances as a reliever (regular season and postseason combined) and only twice had allowed more than one home run.
The Friday night Cabrera-Rivera confrontation was memorable because of what Cabrera did, but also because of who Rivera is.
"That's one you remember for the rest of your life," Tigers general manager Dave Dombrowski said.
3. Winning on the cheap: Remember how the Braves were supposed to be so challenged by the loss of Tim Hudson, after he broke his right ankle on July 24? Yeah, they've been so challenged that they've lost just two of 17 games since then, thanks in part to a five-man rotation that cost them just $4.6 million -- total -- in salary this year.
Four of the Braves' five current starters -- Mike Minor, Brandon Beachy, Julio Teheran and Alex Wood -- make either the major-league minimum or barely more than that. Kris Medlen is the highest-paid Braves starter at $2.6 million, which means the Braves' entire rotation is making less money this year than the Angels are paying Joe Blanton.
4. Winning quietly: Can you name the only American League team that hasn't lost a series since the All-Star break? It's the Royals. Yes, the Royals, and it's not because they've benefitted from an easy schedule. Two of their series wins have come against the Tigers and Red Sox. Coming up next weekend: A five-game series in Detroit.
5. A Reddick revival: Before Friday, even Ike Davis had hit more home runs this year than Josh Reddick (and you didn't even need to count the seven Ike hit during his month-long exile in Las Vegas). So Reddick wasn't exactly the leading candidate to tie a major-league record by hitting five home runs in two games Friday and Saturday in Toronto.
"It's kind of unbelievable," Reddick told reporters.
Yes, it is.
6. If they knew he was this good: The Rangers didn't like the price the White Sox were asking for Alex Rios in July, but they also kept hoping they could find someone better than Rios to trade for. They finally made the deal Friday, after claiming Rios on waivers (and after the White Sox agreed to accept infielder Leury Garcia in return).
In his Rangers debut Saturday, Rios drove in the tying run, scored the winning run and made a nice catch for the game's final out. He followed that up Sunday by going 2 for 4 and throwing a runner out at third base, as the Rangers won their seventh straight game.
7. Maybe they are this good: You can make an argument for the Braves as baseball's hottest team. The Tigers, Royals and Rangers have been outstanding recently. But the Dodgers seem determined to outdo all of them, at least in terms of amazing feats.
Did you see what happened late Friday night (so late that they had to cancel the scheduled postgame fireworks show)? Down 6-0 to David Price and the Rays after six innings, the Dodgers scored once in the seventh, twice in the eighth and four times in the ninth for a 7-6 win, their 18th in 21 games since the All-Star break (and they would make it 19 of 22 by beating the Rays again on Saturday).
As Vin Scully said on Dodgers TV: "The magic is here, even at home."
8. Boooooo! (or maybe not): A good percentage of Yankee fans showed up to boo Alex Rodriguez . . . at least until he started hitting. When A-Rod homered and singled in his first two at-bats Sunday off Verlander, he basically only heard cheers for the rest of the afternoon. In other words, some of the fans hated him for cheating . . . until he started helping their team win.
9. I'm suing! (or maybe not): Jack Clark was certainly reckless in accusing Albert Pujols of steroid use. You need a little more proof than a couple of second-hand conversations with a trainer (who, for what it's worth, denies it). But does anyone really believe Pujols' claim that he is going to sue Clark and the radio station he worked for? Does anyone really think he wants to testify under oath and give lawyers a chance (and the right) to look deeply into his past? Didn't think so.
10. Junior returns, Mariners lose: On the night the Mariners inducted Ken Griffey Jr. into their Hall of Fame, they lost 10-0 to the Brewers to fall 10 games under .500. Griffey's return is a reminder that the Mariners were good once. He might get into that other Hall of Fame in Cooperstown before they're good again.
Show Comments
Hide Comments