Weekend Buzz: Cardinals, Athletics in great scheduling shape
Three weeks left, do you know who your division winners are? Four of 'em, yes. And as the AL West and NL Central remain up for grabs, the schedule heavily favors St. Louis and Oakland. Also this week, Ryan Braun's new gig as a telemarketer, putrid Yankees pitching and there goes the Reds' Billy Hamilton, beep, beep! ...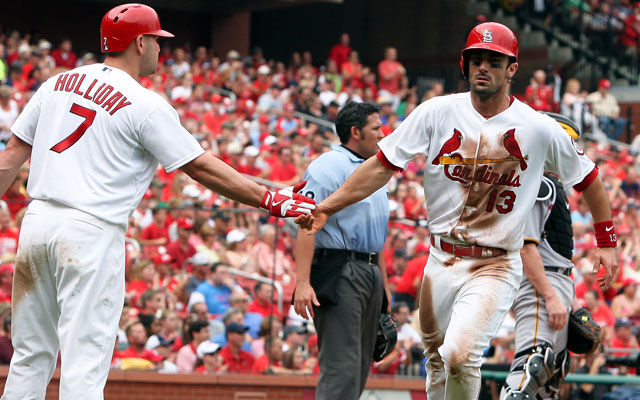 The Weekend Buzz while you were cursing conference realignment for moving the great Michigan-Notre Dame rivalry closer to the deep freeze. …
1. Cardinals and Athletics looking at soft landings: Any more questions about Adam Wainwright?
The Cardinals swept an enormous series from the Pirates this weekend, and their ace issued a gigantic statement: Relax.
Wainwright surfed the Internet message boards after the Reds blasted him in each of his previous two starts – 15 runs in eight innings – and discovered, in his words, "mild panic."
"I wanted to see what fan reaction was, what media reaction was," Wainwright told reporters after working seven shutout innings in Saturday's win. "And then I didn't open the computer to look at that stuff again. I just used it motivationally.
"I knew I could still pitch a very good game. I knew that those two games [against Cincinnati] were completely a fluke."
St. Louis fans undoubtedly are feeling far better about October following this weekend's sweep of Pittsburgh, and they should. And so should Oakland's. Because now is when the schedule becomes a factor that plays heavily in the Cardinals' and Athletics' favor as the game's only two division races thunder into the final turn.
Following a 17-game stretch against the Braves, Pirates and Reds, Wainwright and Co. now play 16 of their final 19 games against clubs well under .500 (including six against the 61-80 Brewers and three against the 60-81 Cubs).
Meantime, the Pirates and Reds will be beating each other up six more times. And Pittsburgh opens a three-game series in Texas on Monday.
Like St. Louis, the A's – on paper – now have a clear path to the finish line, too. Other than a three-game showdown series in Texas this weekend, every one of their remaining 16 other games is against a club with a losing record.
The Rangers, meantime, host the Pirates for three this week. And their final road trip is at Tampa Bay (four games) and Kansas City (three), each of whom remains in wild-card contention.
As Texas outfielder David Murphy says, "Baseball is such a weird sport. You can run out whatever lineup on paper, but when you get on a good streak, it doesn't matter whether they're nine studs or nine average Joes."
So no, there are no guarantees down the stretch. But with a premium now on winning the division and not taking your chances in a one-game wild-card playoff, you would much rather have St. Louis' schedule than those of the Pirates and Reds. And you'd take the Athletics' schedule in a heartbeat over that of the Rangers.
Plus, the A's, winners of 11 of their past 14 games, are hot at the right time. Dan Straily dominated the Astros on Saturday, and Bartolo Colon was on his A game Sunday.
Wainwright and the Cardinals are hot at the right time, too. Manager Mike Matheny told reporters that, among other things, hitting coach John Mabry, injured ace Chris Carpenter and other players thought Wainwright had been tipping his pitches while getting waxed in his previous two outings.
Conclusion: Little reason now even for "mild" panic – in St. Louis, or in Oakland.
2. Billy Hamilton and the Art of Thievery: Here come the Reds … and their very own trailblazer, Hamilton, is leading the way. Emphasis on blazer. The pinch-runner extraordinaire won two games in five days by outrunning the extraordinary arms of Cardinals catcher Yadier Molina and Dodgers right fielder Yasiel Puig. In doing so, Hamilton became the first player since 1921 to successfully steal a base in each of his first four games. This kid could outrun a bolt of lightning. Just ask Molina and Puig.
3. Apparently, perfect games are available to anyone: Look, nothing against Giants journeyman Yusmeiro Petit. But, as a rule, Diamondbacks hitters on Friday night appeared as if wildly swinging at a swarm of bees. Petit cruised through the first seven innings on just 65 pitches. Sixty-five.
4. Mo' Yankees Bullpen Blues: Clearly, Yankees relievers would be far less offensive had they spent the past few days twerking instead of "pitching." For the first time in franchise history, the Yanks were beaten in three consecutive games when scoring at least seven runs of their own in each game. So you can understand why they asked Mariano Rivera to collect a six-out save on Sunday – something he last did in the regular season on July 16, 2006. Though he blew the save, he still looked pristine compared to the rest of the schmoes in the pen. Especially when the Yanks won on a walk-off wild-pitch. Only surprise is that it wasn't a Yankees' reliever who threw it.
5. Ryan Braun, telemarketer: So now he's phoning Brewers season ticketholders to personally apologize for being a Human Steroids Machine? I like to imagine the conversations going something like this:
"Hi, Mr. Chesterton? It's Ryan Braun."
"Who?"
"Ryan Braun."
"Who?
"Ryan. Braun."
"The guy who cheated his ass off and then lied about it for two years?"
"That's why I'm calling. To apologize."
"You've wasted my time with all of your lies. Are you calling to waste more of my time?"
"No sir. I just want to apologize. For cheating. And for lying. And for. …"
"It's a little late. You ARE calling to waste more of my time. I'd rather talk to the guy calling from the solar panels company who's been bugging me three times a week."
"I don't know anything about solar panels. Sorry."
"I told you! You've already wasted too much of my time for me to listen to you now. I'd rather talk to the guy from the house-painting service who thinks I want my house painted."
"I only know about who can paint the corners. That Adam Wainwright is tough. That's all the painting I know. Sorry."
"Enough with the apologies! Hang on –"
Braun is placed on a music hold that lasts … oh, years.
6. Jose Fernandez, future bat boy: He retired the first 14 hitters en route to a two-hit shutout over the Nationals on Friday night. He's got one more start, Wednesday against the Braves in Miami, before he reaches his 170-inning limit and the Marlins do something no opponent has been able to do all summer: Shut him down.
7. Where Hallmark greetings come from: Don't look now, but Kansas City's wild-card push is throttling up into full gear. The Royals won for the 11th time in 15 games Sunday. Greg Holland has 40 saves and an 0.80 WHIP. Ned Yost's crew is playing meaningful September games for the first time in decades. Now, with six of their next nine games against the Indians, things could get real interesting.
8. Daisuke to Indians: See? You can't make this stuff up. Needing every victory possible to stoke their wild-card bid, the Indians were beaten by the Mets on Sunday … and held to one run on three hits in 5 2/3 innings by Daisuke Matsuzaka, whom they released less than three weeks ago. In his best outing yet for the Mets, Matsuzaka fanned six Indians and walked three on 103 pitches.
9. Hit 'em where they ain't: And Atlanta's Evan Gattis did just that … with the summer's longest home run. Hittracker.com measured Gattis' blast Sunday at 487 feet, not only the longest home run of the season, but the longest in Citizen Bank Park's history. 
10. The Dodgers will sign them: Classic from David Letterman, on Diana Nyad's 110-mile odyssey: "She swam all the way from Cuba to Miami – accompanied by five Cuban pitchers."
Show Comments
Hide Comments