Weekend Buzz: In hot NL Central, are THESE Pirates for real?
Three of the best four records in the majors are found today in the NL Central. As for recent Octobers, which one of these doesn't belong: The Cardinals, Rangers, Reds or Pirates? Yep, Clint Hurdle's crew, which hasn't had a winning season since 1992, is threatening excitement again. ...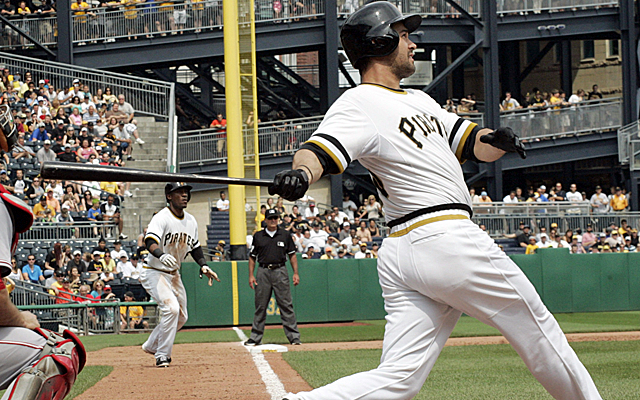 The Weekend Buzz while you were purring over the fact that Grumpy Cat has scored a movie deal. …
1. Riverball, Grilli cheese and the Pirates' life: Is this the year we trust the Pirates?
I mean, really, really trust the Pirates?
There was no better time to contemplate that question than Sunday afternoon, just after a baseball clobbered by Garrett Jones splashed down in the Allegheny River on another postcard-perfect baseball day in Pittsburgh.
Just when the Pirates entered the weekend with the second-best record in the majors … they stalled with two shutout losses to the Reds. They went without a hit with runners in scoring position from the 11th inning Thursday through the sixth inning Sunday.
Then Andrew McCutchen delivered in the sixth as the Pirates chipped away at Cincinnati.
And then Jones became the first Pirate ever to drill a home run into the Allegheny on the fly, and this wasn't just any homer. It was a two-run poke that wiped out the Reds' 4-2 lead in the bottom of the eighth, and three innings later the Pirates had stolen one from the Dusty Baker's crew – their third 11-inning victory in six days.
Would you believe the three best records in National League – and three of the four best in the majors -- now all reside in the NL Central?
The Cardinals lead the division at 37-19 (.661), followed by the Reds and Pirates, who both now are 35-22 (.614).
This could be summer's most slam-bang blockbuster this side of Iron Man 3.
Except … do we trust Iron Man McCutchen and the rest of the Pirates?
Last July 31, they were 59-44, second place, just three games back … then went 11-17 in August and 9-22 in September and October and finished 18 out.
In 2011, they were 53-47 and tied for first in the NL Central on July 25 … then went 8-22 in August and finished 18 ½ out.
"I had a lot of anger in that swing," Jones said on the Pirates' postgame TV show of his drenched homer, referencing a failed opportunity with a runner on third earlier in the game.
Yo ho ho, if the Pirates know what's best, they'll all tap into that anger and hold onto it through the peg-legged months of August and September.
How cool would it be if the Pirates finally broke through, had their first winning season since 1992 and they are showing highlights of Sid Bream, Willie Stargell and Roberto Clemente before playoff games in PNC Park this October?
What a story it would be if the Cardinals, Reds and Pirates all made the playoffs, with both NL wild-cards coming from the Central.
What's different about these Buccos so far is, the construction cones surrounding the mound finally have been removed. A.J. Burnett was a steal from the Yankees. Jeff Locke (acquired from Atlanta in 2009) and Wandy Rodriguez (Houston, last July) are making GM Neal Huntington look like a genius. Free agent Francisco Liriano has been sharp.
In 25 games from May 7 through Sunday, Pirates starters were 10-6 with a best-in-the-majors 2.22 ERA. The rotation ranked fourth overall, behind the Cardinals (2.49), Reds (3.21) and Nationals (3.36).
The Bucs bullpen, meanwhile, leads the majors in ERA (2.75), saves (24), wins (14) and opponents' batting avearage (.211). Jason Grill has converted 22 consecutive save opportunities, closing in on Joel Hanrahan's club-record 26.
"We have the best pitching staff in the league, and that's why we're winning ballgames," Jones said.
Go ahead, fans of the Cardinals, Reds and Nationals, start the argument. There's room for a healthy debate, but the point is, the Pirates are in the debate.
It's part of the reason why they have nine wins when trailing after six innings this season, and six when trailing after seven: Even when their pitchers are a bit off, they bend but don't break.
Two consecutive years, the Pirates have broken in August.
So we know when the real test is going to come for a team that has not lost three in a row since April 4-7, when the Pirates dropped four straight.
Do you believe?
2. George Brett, Slumpbuster? The last act of a desperate organization, or the first move in a Royal turnaround? Kansas City has handed total offensive control over to George Brett, the Hall of Fame interim hitting coach, and told him to go get 'em. Brett has free reign to make changes and act as he sees fit offensively, sources say.
Whether that involves physically lighting a stick of dynamite under the clubhouse chairs of Eric Hosmer and Mike Moustakas … let's assume yes.
His plan? "Get rid of the [baby] bottles and let's go," he told reporters. "Let's go."
3. All hail the Athletics: Following a sweep of the White Sox, Bob Melvin's remarkable crew has won 14 of 16. Only thing missing is Mustache Day on the schedule. Brad Pitt is warming up in the bullpen for Moneyball II.
4. Dodgers summon Yasiel Puig: Filed under the category of "Things to do in Denver when you're dead"? Now willing to try anything to revive their season, the Dodgers already were without Matt Kemp (disabled list, hamstring strain) and Hanley Ramirez (DL, hamstring strain) when Carl Crawford went down Saturday (yep, hamstring). The $230 million Dodgers are so mangled that manager Don Mattingly had little choice but to go with Skip Schumaker in center field in all three weekend games in Colorado.
"We're going to have to get some bodies here," Mattingly told reporters. As opposed to the corpses already wearing Dodger blue.
5. Baby Birds and Cardinal rules: Until Tyler Lyons finally gave up four runs to the Giants on Sunday, St. Louis starters had surrendered three or fewer runs in 13 consecutive games, according to STATS LLC. In a related story, the Cardinals, after the debut of Michael Wacha last week, now have used eight pitchers age 25 or younger.
And as they continue to hold off the Reds and Pirates, consider this: Pittsburgh is a perfect 30-0 this season when leading after eight innings. Only team with more victories in that situation? St. Louis is 37-1.
6. Orioles' Chris Davis belts No. 20: In the Camden Yards visiting dugout this weekend as Davis' major league-leading 20th homer landed, even Miguel Cabrera was impressed.
7. Hack Wilson hears footsteps: Following his grand slam Saturday, Cabrera was on pace for 195 RBI this season. Wilson's 191 in 1930 for the Cubs is the all-time record. If Cabrera can hack past Hack … that will make last year's Triple Crown look like a simple Citizenship Award.
8. Does he eat at Subway, too? Phillies outfielder Domonic Brown now has eight homers in his past nine games and leads the NL with 16. He hit 12 homers in May and has clubbed the Brewers for three homers and eight RBI over the weekend. He talks about trying to "keep my stroke small", and if this kid can develop consistency, look out. Last Phillie to have as many as 12 homers in a single calendar month? Ryan Howard, with 14 in August, 2006.
9. Chicago's summer Sale: Flat Stanley-thin Chris Sale ran his scoreless innings streak to 28 on Sunday before it was snapped, longest for a White Sox pitcher since Wilson Alvarez fired 31 scoreless in 1993. But alas, it still wasn't enough to prevent the skidding Sox from losing their sixth in a row. Don't put too much blame on Sale -- it was his first loss to an AL West team in 11 career decisions.
10. Score one for John Gibbons: No manager handles a bullpen more deftly, which is why the Blue Jays have always liked Gibbons. And in the midst of a (so far) crushingly disappointing season, here is one small stat that stands out:
The Blue Jays' bullpen ranks a respectable sixth in the AL with a 3.67 ERA … despite the Toronto rotation ranking 13th in the AL with 295 2/3 innings pitched. Only Houston's bullpen has thrown more innings than Toronto's 210 this season … yet Gibbons somehow has been able to keep an overtaxed bullpen reasonably fresh.
Show Comments
Hide Comments
Our Latest Stories
Can the Giants topple the Dodgers in the NL West, or will they play bridesmaid again?

Starting next season, Rob Manfred will have even more power along these lines

The disappointing (and expensive) outfielder failed to run out a ground ball on Thursday
Chris Archer asked, and the Tigers' ace answered

The University of Minnesota will play a weekend series in U.S. Bank Stadium

In 12 years with the club, Buehrle won 161 games and was a four-time All-Star