Weekend Series Rankings: Hot Reds have tough battle with Braves
What are the best series of this coming MLB weekend? Let's break it down, hoagie style.
More MLB: Power Rankings | Expert Picks | Latest news & notes | Fantasy news
Another weekend, another set of 15 series for Major League Baseball. We'll rank 'em based upon their sandwich power. That is, the best matchups are footlong hoagies, followed by the six-inch variety, wraps and then sliders bring up the rear.
At the top, an old-school NL West -- that is, when there was no Central and the team in Atlanta actually played in the West -- rivalry.

| | | |
| --- | --- | --- |
| | at | |
Cincinnati Reds at Atlanta Braves
Friday: Homer Bailey (1-1) vs. Ervin Santana (2-0)
Saturday: Mike Leake (2-1) vs. David Hale (0-0)
Sunday: Johnny Cueto (2-2) vs. Julio Teheran (2-1)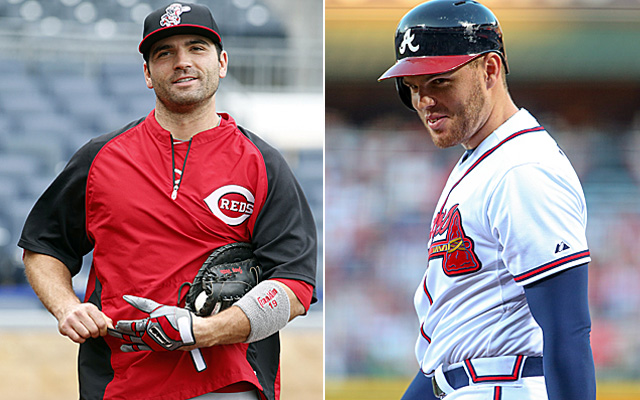 It is funny to think about, but, as mentioned above, these two teams were each in the NL West from 1969 through 1993. Anyway, that doesn't mean much for this particular series. I was just pointing it out.
As for this series, it's a dandy. The Reds are only 11-11, sure, but they come in having won eight of their past 11. The offense is starting to find itself, Jonathan Broxton  return has shored up the back of the bullpen and Cueto is throwing the ball as well as anyone right now.
The Braves, meanwhile, are in a familiar spot atop the NL East. Their starting pitching has been ridiculously good, with Hale's 2.93 ERA being the worst in their rotation. Saturday will mark his last start before the return of Mike Minor .
The Braves have played seven series so far this year and lost only one of them. The Reds are, um, red-hot. So who takes this one?
| | | |
| --- | --- | --- |
| | at | |
Pittsburgh Pirates at St. Louis Cardinals
Friday: Gerrit Cole (2-1) vs. Shelby Miller (1-2)
Saturday: Francisco Liriano (0-3) vs. Tyler Lyons (0-1)
Sunday: Edinson Volquez (1-1) vs. Adam Wainwright (4-1)

This one brings us a rematch of the NLDS last season that went all the way to five games and also pits two teams looking to turn things around here in the early going. The Cardinals have a winning record, yes, but they come in having lost four of five games and trail the Brewers by 4½ games in the Central.
The Pirates need some kind of spark in the worst way. They're now 9-14 with seven of those wins coming by just a run. They did, however, take two of three from the Cardinals during the first week of the season. Grabbing a series victory here could help get things back on track.
Including the playoffs, the Pirates are 14-13 against the Cardinals in the past two seasons.
Meanwhile, the Cardinals have only played six home games against 17 road games and get to return home.
| | | |
| --- | --- | --- |
| | at | |
Los Angeles Angels at New York Yankees
Friday: C.J. Wilson (2-2) vs. Hiroki Kuroda (2-1)
Saturday: Hector Santiago (0-3) vs. Vidal Nuno (0-0)
Sunday: Garrett Richards (2-0) vs. Masahiro Tanaka (3-0)

There will be a lot of really, really rich dudes playing baseball here (and a few being paid by these teams to watch from afar). There's a lot of talent, too. The Yankees actually sit atop the vaunted AL East after embarrassing the Red Sox in Boston. The Angels have been good since opening the season by getting swept by the Mariners, save for some bullpen meltdowns.
Keep an eye on the Angels and the short right-field porch in Yankee Stadium. The Angels lead the majors with 31 homers this season.
A fun matchup is coming Sunday, too, when Japanese phenom Tanaka faces off against Mike Trout and Albert Pujols for the first time.
| | | |
| --- | --- | --- |
| | at | |
Colorado Rockies at Los Angeles Dodgers
Friday: Jordan Lyles (3-0) vs. Josh Beckett (0-0)
Saturday: Juan Nicasio (2-0) vs. Paul Maholm (0-2)
Sunday: Jorge De La Rosa (1-3) vs. Hyun-Jin Ryu (3-1)

The Rockies started the season by losing three of four in Miami and were still just 7-9 eight days ago. Since then, though, they've gone 5-2 and could actually be sitting in first place after this weekend if everything falls right for them.
Another plus for Colorado: They have one of baseball's best offenses and avoid facing the Dodgers' top two pitchers in Clayton Kershaw and Zack Greinke . Don't sleep on the Rockies' potential here to emerge from the weekend looking real good.
Interesting nugget on the first-place Dodgers: They have a losing record when they aren't playing the Diamondbacks.

| | | |
| --- | --- | --- |
| |  at  | |
Boston Red Sox at Toronto Blue Jays
Friday: Jake Peavy (0-0) vs. Mark Buehrle (4-0)
Saturday: Clay Buchholz (0-2) vs. Brandon Morrow (1-1)
Sunday: Jon Lester (2-3) vs. R.A. Dickey (1-3)

The Blue Jays have an exciting, powerful offense and can put runs on the board in bunches. Their suspect pitching staff has started to rear its ugly head a few times of late, too, as they've lost five of eight.
The story here, though, is the Red Sox and how they respond to yet another beating at the hands of their rivals. The offense needs to show something and the Blue Jays pitchers have looked vulnerable -- well, except for Buehrle, who gets the ball Friday.
On the hill for Boston, Buchholz needs to show them something after a dreadful start. He has an outstanding history in Toronto, too -- 7-2 with a 1.49 ERA in 10 starts in the Rogers Centre. Maybe this venue is what he needs.
| | | |
| --- | --- | --- |
| | at | |
Detroit Tigers at Minnesota Twins
Friday: Rick Porcello (2-1) vs. Kevin Correia (0-2)
Saturday: Anibal Sanchez (0-2) vs. Phil Hughes (1-1)
Sunday: Justin Verlander (3-1) vs. Kyle Gibson (3-1)

The Twins have actually been very good for a few weeks, having won eight of their past 12 games. Their secret? They get on base. Despite ranking in the bottom half of batting average and slugging percentage, the Twins lead the AL in walks and on-base percentage (DORKS! Am I right?). The result is them ranking second in the AL in runs scored and winning some games despite awful pitching.
Now, the Tigers have very good starting pitching, but their bullpen has been a trainwreck. Considering that, there could be some late fireworks. On the flip-side, the Tigers' offense hasn't been as good as it could be, but the Twins' starters are bad. Some good intrigue here.
| | | |
| --- | --- | --- |
| | at | |
Cleveland Indians at San Francisco Giants
Friday: Carlos Carrasco (0-2) vs. Tim Hudson (2-1)
Saturday: Zach McAllister (3-0) vs. Tim Lincecum (1-1)
Sunday: Danny Salazar (0-3) vs. Ryan Vogelsong (0-1)

The Indians were notorious for being one of the most streaky teams in the majors last season. After a 5-3 start this year, they lost seven of nine and have since won four of five. So here we go again. Can they keep it going? Well, the Giants are reeling themselves, having lost five of seven.
Not surprisingly, the Giants pitch far better at home, as they sport a 2.93 home ERA against a 4.14 mark on the road.
Several of the starters look vulnerable here, but that's where it gets interesting because both bullpens have been excellent in the early going this year.
| | | |
| --- | --- | --- |
| | at | |
San Diego Padres at Washington Nationals
Thursday: Padres 4, Nationals 3 in 11 innings
Friday: Robbie Erlin (1-2) vs. Stephen Strasburg (1-2)
Saturday: Andrew Cashner (2-2) vs. Tanner Roark (1-0)
Sunday: Ian Kennedy (1-3) vs. Taylor Jordan (0-3)

If Thursday's game was any indication, we're in for some entertainment. There was plenty of drama throughout, including a replay controversy (at least according to Bud Black) and an Andrew Cashner sighting in left field.
The intriguing storyline here is the contrast. The Padres are 9-6 since a terrible start. The Nationals are 5-9 since a great start.
Also, Stephen Strasburg grew up in San Diego and went to San Diego State. This isn't a "homecoming" since the game Friday is in DC, but some might find it interesting. He has faced the Padres three times before, going 2-1.
| | | |
| --- | --- | --- |
| | at | |
Tampa Bay Rays vs. Chicago White Sox
Friday: Chris Archer (2-1) vs. Erik Johnson (1-1)
Saturday: Cesar Ramos (0-1) vs. John Danks (2-0)
Sunday: David Price (3-1) vs. TBD
Monday: Jake Odorizzi (1-2) vs. Andre Rienzo (1-0)

It's the top offensive team in the American League to this point playing at home in its hitter-friendly yard against a team whose calling card has been run prevention. That's always fun. Unfortunately, the battle of left-handed studs Price vs. Chris Sale was ruined by Sale's injury.
Still, this has the potential to be a fun series. Archer and Price are very good starters and the Rays have a good bullpen. We already mentioned the White Sox and their hitting, but it really is such an exciting offense. Keep an eye on this one.

| | | |
| --- | --- | --- |
| |  at  | |
Kansas City Royals at Baltimore Orioles
Friday: Yordano Ventura (1-1) vs. Ubaldo Jimenez (0-3)
Saturday: Jeremy Guthrie (2-1) vs. Wei-Yin Chen (3-1)
Sunday: James Shields (2-2) vs. Miguel Gonzalez (1-1)

It's a battle between two teams who wished they were doing better thus far but still haven't been too bad.
How's this for a something's-gotta-give contrast? The Royals pitch well but don't hit well enough while the Orioles hit well but don't pitch well enough. So everything comes to a head here.
In the spotlight? Mike Moustakas had a dreadful start but has started to show some slight signs of life. The same could be said for Ubaldo Jimenez after his last start. Baby steps for each so far, so can either one take the next baby step forward?
| | | |
| --- | --- | --- |
| | at | |
Miami Marlins at New York Mets
Friday: Henderson Alvarez (1-2) vs. Zack Wheeler (1-2)
Saturday: Kevin Slowey (0-0) vs. Jenrry Mejia (3-0)
Sunday: Tom Koehler (2-1) vs. Dillon Gee (1-1)

If this series happened at the start of the season, it would have been below as a slider. In fact, I'm quite certain it would have ranked last unless the Astros were playing the Cubs or something. But the Mets have actually gone 12-7 since being swept in the opening series and just took three of four from the Cardinals.
The Marlins, meanwhile, have already enjoyed a pair of three-game winning streaks. We know about Giancarlo Stanton (and The Great Jose Fernandez , who won't be pitching in this series), but don't neglect the young Christian Yelich or Marcell Ozuna . I would be OK with arguments that this series should be ranked higher, because it's a nice little series that will be neglected by many.
| | | |
| --- | --- | --- |
| | at | |
Texas Rangers at Seattle Mariners
Friday: Robbie Ross (1-1) vs. Roenis Elias (1-2)
Saturday: Colby Lewis (1-1) vs. Felix Hernandez (3-1)
Sunday: Matt Harrison (0-0) vs. Brandon Maurer (0-0)

This has the potential to be a bloodbath.
The Rangers are the hottest team in baseball, having won eight of their past nine and coming off a sweep of Oakland. How about Robbie Ross' start and the Rangers doing all this with all their injury woes? Very impressive.
The Mariners, meanwhile, have lost 10 of 12 and have 60 percent of their rotation on the DL. At least King Felix is still OK.
| | | |
| --- | --- | --- |
| | at | |
Oakland Athletics at Houston Astros
Thursday: A's 10, Astros 1
Friday: Jesse Chavez (1-0) vs. Brad Peacock (0-2)
Saturday: Dan Straily (1-1) vs. Dallas Keuchel (2-1)
Sunday: Tommy Milone (0-1) vs. Collin McHugh (1-0)

This has the potential to be a bloodbath, part two.
The A's are coming off two straight AL West titles and again appear primed for the postseason. The Astros are coming off three straight seasons of having the worst record in the majors and again appear primed for a shot at that spot.
The only intrigue might be the Astros, namely reliever Paul Clemens , and their problem with former Astros shortstop Jed Lowrie . Remember when the Astros were angry that Lowrie bunted with a 7-0 lead (in the first inning, with a shift on, mind you) last week? Clemens tried to hit Lowrie with a pitch in that game.
Clemens did hit Lowrie Thursday night. And then ...
Lowrie on Clemens: "Flat-out embarrassing from any perspective." No doubt it was intentional. #Athletics

— Susan Slusser (@susanslusser) April 25, 2014
OK then.
Anyway, expect a sweep.
| | | |
| --- | --- | --- |
| | at | |
Chicago Cubs at Milwaukee Brewers
Friday: Carlos Villanueva (1-4) vs. Matt Garza (0-2)
Saturday: Travis Wood (1-2) vs. Marco Estrada (1-1)
Sunday: Jason Hammel (3-1) vs. Wily Peralta (3-0)

This has the potential to be a bloodbath, part three.
The Brewers have a great argument for the best team in baseball to this point. The Cubs have a great argument for the worst team after splitting four games at home against Arizona.
What's interesting is the Cubs have been getting very good work from both Wood and Hammel and it wouldn't be surprising to see them with leads in either of those games in the middle innings. The problem is the bullpen probably can't fend off the Brewers and the Cubs' offense is rather terrible.
Expect a sweep.

| | | |
| --- | --- | --- |
| |  at  | |
Philadelphia Phillies at Arizona Diamondbacks
Friday: Roberto Hernandez (1-0) vs. Josh Collmenter (0-2)
Saturday: Cliff Lee (3-2) vs. Bronson Arroyo (1-2)
Sunday: A.J. Burnett (0-1) vs. Brandon McCarthy (0-4)

This has the potential to be a bloodbath, part four.
What separates this from the above three and gets it slider relegation is the fact that the three above series each sport a first-place team against dregs. This is just a mediocre team against dregs.
Die-hard Phillies fans should definitely watch. This series does present the club with a chance to move up to maybe even second place and emerge with a winning record for the first time since they were 3-2 (thanks to two wins over the Cubs). And the Phillies are playing well right now, having won four of five to pull themselves to .500.
For everyone else, stay away unless you're just watching the innings Cliff Lee pitches.
Show Comments
Hide Comments