White Sox trade Addison Reed to Diamondbacks for Matt Davidson
The White Sox have traded closer Addison Reed to the Diamondbacks for third base prospect Matt Davidson.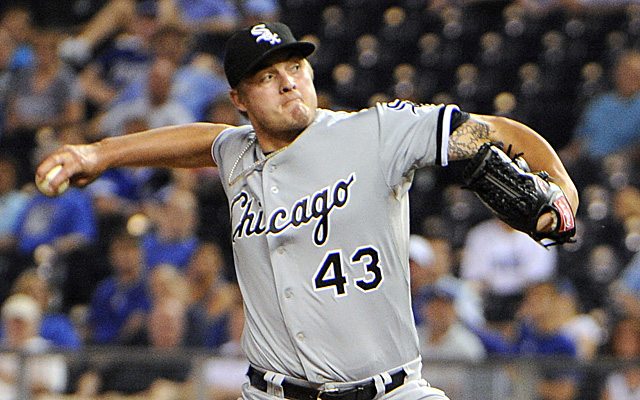 MORE: FA tracker: position players | FA tracker: pitchers
The White Sox and Diamondbacks have agreed upon a trade again, this time it's only a two-team dance, though. Closer Addison Reed has been sent to the D-Backs while the White Sox will get infielder Matt Davidson in return. Arizona has officially announced the deal.
Reed, 24, saved 40 games in 48 chances last season with a 3.79 ERA, 1.11 WHIP and 72 strikeouts in 71 1/3 innings. The best guess is he immediately takes over as Arizona closer with the likes of Brad Ziegler, J.J. Putz and David Hernandez forming the bridge to the ninth inning.
Davidson, 22, is a former first rounder and has been ranked among Baseball America's top 100 prospects in each of the past three offseasons. In 115 games for Triple-A Reno last season, Davidson hit .280/.350/.481 with 32 doubles, 17 homers and 74 RBI. In 31 games for the D-Backs, he hit .237/.333/.434 with six doubles, three homers and 12 RBI.
Davidson has played mostly third base, but could also swing across the diamond and play first. With the White Sox in 2014, though, he seems a decent bet to open the season as the starter at third. That would also be his long-term destination, as the White Sox signed Cuban slugger Jose Abreu to be their future first baseman earlier this offseason.
The White Sox and Diamondbacks also did business last week during the Winter Meetings, taking part in a three-team trade that sent Mark Trumbo to Arizona.