Who was the last player to wear No. 42 for each team?
Jackie Robinson's No. 42 was universally retired by baseball in 1997, but active players were grandfathered in and allowed to keep the number. Who was the last man to wear it for each team?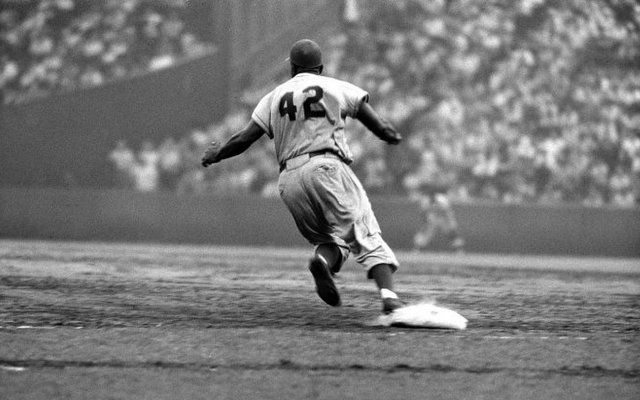 More MLB: Scoreboard | Standings | Probable Pitchers | Sortable Stats | Odds
In honor of the 66th anniversary of Jackie Robinson breaking the color barrier, all MLB players will wear his No. 42 on Monday. Baseball universally retired the number in 1997, but active players were grandfathered in and allowed to continue wearing No. 42. No new players have worn the number since 1997.
With Mariano Rivera announcing his intention to retire after the season, this is the final Jackie Robinson Day with an active player wearing No. 42. It's fitting that the final player to wear the number is a Hall of Famer and a class act just like Robinson.
Ever wonder who was the last player to wear No. 42 for each franchise? Well, here's the answer:
Yankees: Mariano Rivera (1995-2013)
Mets: Mo Vaughn (2002-03)
Tigers: Jose Lima (2001-02)
Twins: Michael Jackson (2002)
Astros: Jose Lima (1997-2001)
Angels: Mo Vaughn (1999-2000)
Brewers: Scott Karl (1995-99)
Indians: Michael Jackson (1997-99)
Orioles: Lenny Webster (1997-99)
Mariners: Butch Huskey (1999)
Red Sox: Mo Vaughn (1991-98)
Royals: Tom Goodwin (1995-97)
Athletics: Buddy Groom (1996-97)
Giants: Kirk Rueter (1996-97)
Pirates: Jason Schmidt (1996-97)
Marlins: Dennis Cook (1997)
Rangers: Marc Sagmoen (1997)
Expos: Kirk Rueter (1993-96)
Rockies: Armando Reynoso (1993-96)
Phillies: Toby Borland (1994-96)
Reds: Roger Salkeld (1996)
White Sox: Scott Ruffcorn (1996)
Cardinals: Jose Olivo (1995)
Padres: Pedro Martinez (1993-94)
Cubs: Dave Smith (1991-92)
Braves: Armando Reynoso (1991-92)
Blue Jays: Xavier Hernandez (1989)
Dodgers: Ray Lamb (1969)
Yes, the Dodgers actually re-issued No. 42 after Robinson retired. Lamb wore the number for 10 games during his rookie year before switching to No. 34 the following year. The Dodgers retired No. 42 in 1972.
The Diamondbacks and (Devil) Rays joined the league in 1998 and have never issued the number.
Show Comments
Hide Comments
Our Latest Stories
Kazmir will begin the season on the DL

Tebow struck out twice against Scherzer and got a taste of an elite fastball

It seems unlikely Las Vegas will be atop MLB's list of destinations whenever they expand or...
The Raiders are moving to Las Vegas, but the A's remain committing to staying in Oakland.

Canseco is joining NBC Sports California to provide Athletics coverage this year

Mike Trout played a little prank on the Angels former pitching coach with the help of his...