Who will be the next to throw their first no-hitter?
Felix Hernandez seems unhittable at times, but Wednesday's perfect game marked his first career no-hitter. Which pitchers without a no-hitter on their resume could be next with a no-no?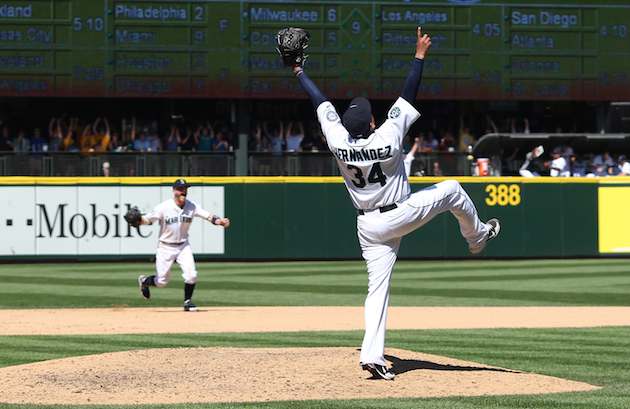 Felix Hernandez's first no-hitter was perfect. (Getty Images)
What does it say about Felix Hernandez that he's just 26, and still I had to look up to confirm that he'd never thrown a no-hitter? Before Wednesday, he hadn't, but with a perfect game against the Tampa Bay Rays , he finally got his no-no.


Felix Hernandez is perfect
If you were going to do a list of pitchers who haven't thrown a no-hitter who could get their first one in any start, Hernandez would likely have been on the top of the list before Wednesday, especially with three shutouts in his last nine starts, including a two-hitter against the New York Yankees on Aug. 4.

So, who's left on that list of pitchers with the stuff for a no-no, but not in the history books? Glad you asked…

1. CC Sabathia, Yankees: Sabathia has two of the biggest prerequisites you need for a no-hitter -- stuff and endurance. Sabathia strikes out roughly a batter an inning and allows just 8.6 hits per nine innings. Meanwhile, he's averaging more than seven innings a start this season and has two complete games this season and 35 in his career, third most among active pitchers behind Roy Halladay (66) and Livan Hernandez (50).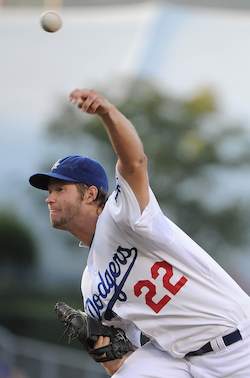 Clayton Kershaw won a Cy Young at 23 last season. (Getty Images)
2. Clayton Kershaw , Los Angeles Dodgers : He's only 24, but the lefty already has a Cy Young under his belt and nobody would be surprised if he adds to that list. Last season he led the National League in WHIP (0.977) and hits per nine innings (6.7). This season he's allowed just 6.9 hits per nine innings. Kershaw not only throws in the mid-90s, his secondary pitches are some of the nastiest in the game.

3. R.A. Dickey , New York Mets : He's flirted with no-hitters this season and the unpredictability of the knuckleball makes it a possibility every time he takes the mound. Because he throws a knuckleball, if that pitch is working, a pitch count doesn't really matter. Dickey's one-hitter on June 18 against the Baltimore Orioles had a Game Score of 96, tied for third-best of any game this season, behind only the perfect games by Matt Cain and Felix Hernandez. Philip Humber had a Game Score of 96 in his perfect game. Dickey put up a game-score of 95 in his June 13 start against the Rays.

4. Adam Wainwright , St. Louis Cardinals : Here's something Cincinnati Reds and Pittsburgh Pirates fans probably don't want to hear, but Wainwright seems to be back to his old form after last year's Tommy John surgery. Over his last four starts, he's 3-0 with a 1.84 ERA and batters are hitting just .221/.259/.288 against him. The right hander has two complete games this season and his 8.3321 hits per nine innings in his career make him 20th among active players in that statistic.

5. Cole Hamels , Philadelphia Phillies : You don't give $144 million to someone who can't dominate -- and Hamels can dominate. In his last two starts, he's thrown shutouts . In each of the last two seasons he's thrown eight-inning one-hitters.

6. David Price , Rays: Price hasn't thrown a no-hitter, but he's certainly seen his fair share. Tampa Bay has been on the short end of four no-hitters in the last three seasons, three of those perfect, including Felix Hernandez's perfecto on Wednesday. In addition to being no-hit three times in 2010, Matt Garza threw a no-hitter for the Rays that season. Earlier this month Price allowed just two hits in eight innings against the Orioles.  The 26-year-old lefty has just three complete games on his resume, his last in April when he shutout the Los Angeles Angels on five hits.

7. Cliff Lee , Phillies: Forget his 2-7 record, Lee has everything needed to throw a no-hitter, even if his 2012 is a little lacking. He doesn't have a complete game this season, but he has 23 over the last eight seasons and last year had a big-league best six shutouts.

8. Josh Johnson , Miami Marlins : If Johnson is right and healthy, few pitchers have the pure "stuff" that he possesses. His health and up-and-down 2012 put him lower on this list than he would've been before his injury a year ago, but he's still capable of shutting down any offense in any start.

9. Zack Greinke , Angels: Always an enigma, Greinke hasn't thrown a complete game since 2010 and doesn't have a shutout since his Cy Young season of 2009. Still, he has the talent to throw a no-no anytime he takes the mound.

10. Stephen Strasburg , Washington Nationals : There's no question that Strasburg can be unhitable -- but he's never gone nine innings in his big-league career. If the Nationals are unwilling to push him to win a World Series, there's no way they'd relax their plan for a no-hitter. Next year the reins will be off and the no-hitter watch will be on. Until he actually goes nine innings, it's tough to put him ahead of anyone else on this list.
For more baseball news, rumors and analysis, follow @EyeOnBaseball on Twitter, subscribe to the RSS feed and "like" us on Facebook.
Show Comments
Hide Comments