Will Bryce Harper cash in on quip? 'That's a clown question, bro'
Nationals outfielder Bryce Harper has applied for a trademark for his 'That's a clown question, bro,' response to a Toronto reporter.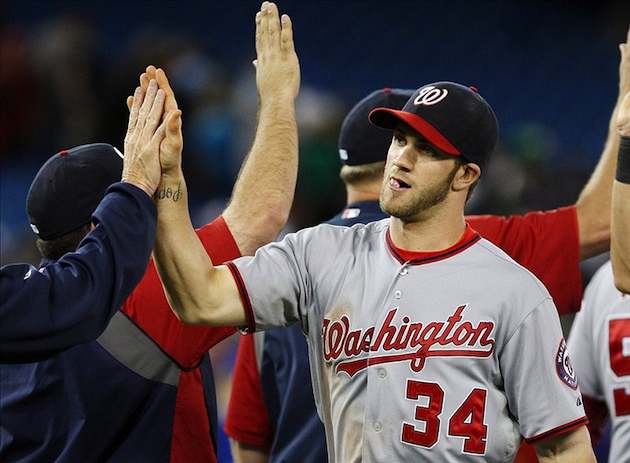 Remember the old days when an internet meme was just for fun? That was a simpler time, before we decided that a Twitter account could be the basis for a TV show or we had to keep up with Kardashians.

Bryce Harper's famous, "that's a clown question, bro" retort to a Toronto reporter seemed fun, innocent and pithy at the time (way back about a week-and-a-half ago). Now it's just another "Just Do It" corporate slogan.


'That's a clown question, bro'
According to the Washington Post, the day after Harper's clown question retort, someone representing him applied for a trademark in Harper's name for the phrase, "That's a clown question, bro" for "wearing apparel, namely, shirt, t-shirts, sweatshirts, jackets, pants, shorts, hats, visors, gloves, shoes."

And, as Comcast SportsNet reported on Thursday, you won't have to wait long to get a T-shirt from Under Armour with the phrase -- while all those who went to CafePress to try to make a quick buck on a shirt in the aftermath will soon get a cease and desist letter.

I'm sure whoever the Canadian radio reporter making $50 bucks that night for asking clown questions is happy to know he's just helped line Harper's pockets with more cash to spend on things other than beer. Maybe he'll at least get a free pair of "clown question" gloves.
For more baseball news, rumors and analysis, follow @EyeOnBaseball on Twitter, subscribe to the RSS feed and "like" us on Facebook.
Show Comments
Hide Comments