Williams, Knorr appear to be Nats' top two managerial candidates
The Nationals need a manager to replace Davey Johnson, and Matt Williams and Randy Knorr have emerged as the top two possibilities.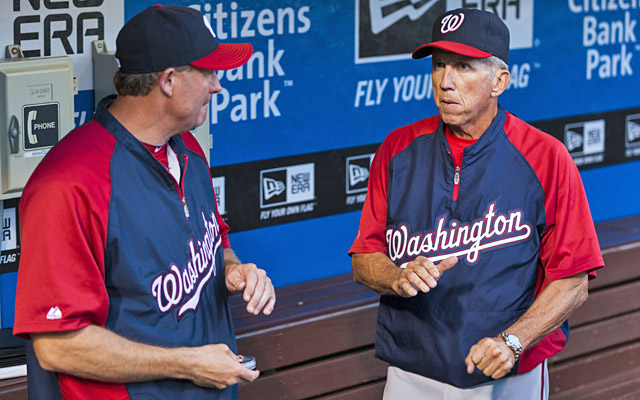 Matt Williams is still considered the leading candidate to take over for Davey Johnson as Nationals manager, if the team hires from outside the organization.
But will the Nationals look outside?
It's no longer a given that they will, and people who speak regularly with Nationals management now believe bench coach Randy Knorr also has a strong chance to get the job. Knorr is said to have strong support within the organization, and a few Nationals players have also spoken out recently suggesting they would like to see him get the job.
The Nationals' strong finish would seem to work in Knorr's favor. Back in early August, when CBSSports.com first reported that Williams would be a Nationals candidate, the Nats were one of the most disappointing teams in the game.
A 16-11 August and an 18-9 September weren't enough to get the Nationals into the playoffs, but they changed the perception that any kind of shakeup was needed. If continuity is valued, then that would work in Knorr's favor.
"The clubhouse is in a good spot," reliever Tyler Clippard told reporters over the weekend. "The only thing I ask of whoever makes the decisions on the managerial side of things is: Don't mess it up. We've got a good thing going on."
Knorr spent six years managing in the Nationals' minor-league system, then worked as Johnson's bench coach for the past two seasons.
Williams has been Kirk Gibson's third-base coach for the past three seasons with the Diamondbacks. He has managed in the Arizona Fall League, and also served as an interim manager for two months in Double-A. Williams and Nationals general manager Mike Rizzo worked together when Rizzo was with the Diamondbacks.
Show Comments
Hide Comments