Wladimir Balentien hits 55th homer, ties single-season record in Japan
Former Mariner and Red Wladimir Balentien tied Japan's single-season home run record with his 55th dinger on Wednesday.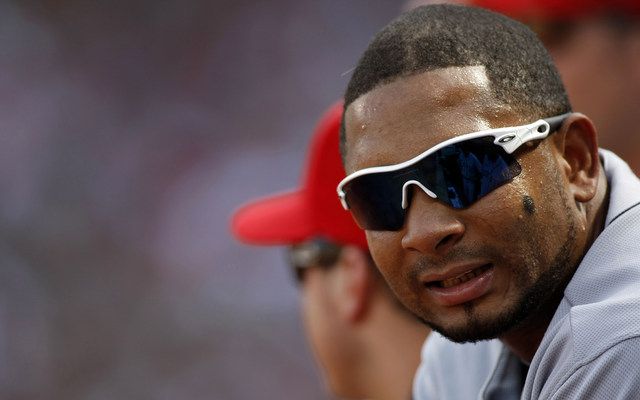 More MLB: Scoreboard | Standings | Probable Pitchers | Sortable Stats | Odds
Former Mariners prospect Wladimir Balentien hit his 55th home run of the season for the Tokyo Yakult Swallows on Wednesday, tying Japan's single-season homer record. Sadaharu Oh (1964), Tuffy Rhodes (2001) and Alex Cabrera in (2002) also hold the record.
"It's an honor to be tied with such great players," said Balentien to the Associated Press. "I'm relieved and happy I was able to do it here in front of our home fans."
Balentien, 29, went into Wednesday's game hitting an insane .340/.464/.816 with 88 walks and 86 strikeouts. Only eight of those walks are intentional, so if pitchers are going to pitch around him, they have yet to do so in earnest. Of course, it's hard to pitch around him when Balentein can do this:
The GIF comes courtesy of r/baseball. Jeff Sullivan at FanGraphs estimates the pitch was somewhere between five and six feet off the ground. Pretty much eye-level for a 6-foot-2 hitter in his batting stance/crouch.
Balentien missed the first 12 games of the season with a leg injury suffered during the World Baseball Classic. Despite that, he still has a whopping 21 games left to break the record. It seems like a foregone conclusion that he'll hit No. 56 at some point and he has a chance to top 60.
In 160 games with the Mariners and Reds from 2007-09, Balentien hit .221/.281/.374 (74 OPS+) with 15 home runs. He hit 31 homers for the Swallows in both 2011 and 2012 before signing a new three-year, $7.5 million contract this past offseason. Balentien won't be returning to MLB anytime soon.
Japanese baseball officials admitted to introducing a new official ball this season without notifying players, according to the Associated Press. The new ball has resulted in a drastic increase in home runs.
Show Comments
Hide Comments