World Series Grades: Cards take 2-1 series lead over Red Sox in Game 3
The Cardinals grabbed a two games-to-one series lead in the World Series by walking off in Game 3.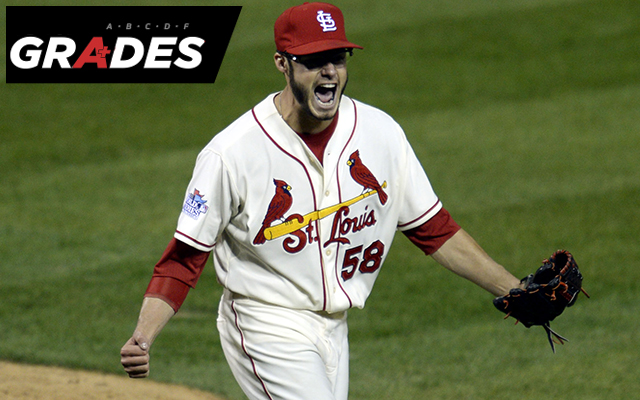 More World Series: Game 3 box score | Game 3 quick hits | Who has the edge?
Game 3 of the World Series featured one of the most memorable finishes in Fall Classic history as the Cardinals walked off with a 5-4 win over the Red Sox thanks to an obstruction call at third base. St. Louis is now leads the best-of-seven series two games-to-one . Let's hand out some grades for Game 3:
| Team | Grade | Analysis |
| --- | --- | --- |
| | A | Going to go with third base umpire Jim Joyce for the A for his (correct!) obstruction call that ended the game. The rulebook is very clear and according to everything it says, Will Middlebrooks obstructed Allen Craig as he attempted to score the winning run on Jarrod Saltalamacchia's poor throw into left field. It's not something we see all that often but that doesn't make it incorrect or controversial. It's a gutsy call and probably not one most umpires make. |
| | B | Matt Holliday is my early favorite for the World Series MVP award right now, though we obviously have a long way to go. He went 2-for-5 in Game 3, driving in the Cardinals' first run of the game with a single and then giving them a 4-2 lead with a two-run double in the seventh. Holliday's been awesome and he delivered again in Game 3. |
| | B | I'm handing out another B in lieu of a C. The second B goes to St. Louis right-hander Joe Kelly, who held the high-powered Red Sox offense to two runs on two hits in 5 1/3 innings of work while striking out six. Kelly was dominant the first time through the order, starting the game by retiring the first nine men he faced while not allowing a single ball out of the infield. It was a great job against the strong and deep lineup. |
| | C- | Red Sox right-hander Jake Peavy, on the other hand, immediately put his team in a 2-0 hole with an ugly first inning. He settled down -- he escaped a bases loaded, no outs situation unscathed in the fourth inning -- and went three more innings, but two runs and seven base-runners in four innings in what Peavy called the "biggest start of his life" just isn't good enough. Boston needed better in Game 3. |
| | F | Second guessing managers is easiest thing in the world and often misguided, but I think Red Sox skipper John Farrell deserves some blame for his late-game moves. He let rookie right-hander Brandon Workman bat for himself in the ninth inning of a tied World Series game (!), but removed him after just two batters the next half-inning. If his leash was that short, he shouldn't have been allowed to hit for himself. As a result, the powerful Mike Napoli never appeared in the game. Very weird. |
Show Comments
Hide Comments
Our Latest Stories
A storm and slow drainage is to blame for the flooded field

Yoenis Cespedes, Jose Abreu, and Yasiel Puig headline the lineup

Batting practice? We're talking about batting practice?
MLB is working with Rawlings to produce a baseball with natural tact

No, this isn't one big marketing gimmick for the Mets. Why do you ask?

Scherzer has been dealing with a stress fracture in his right ring finger since last seaso...