Yankees acquire Alfonso Soriano from Cubs
The Yankees finally got their man. The team has acquired outfielder Alfonso Soriano from the Cubs.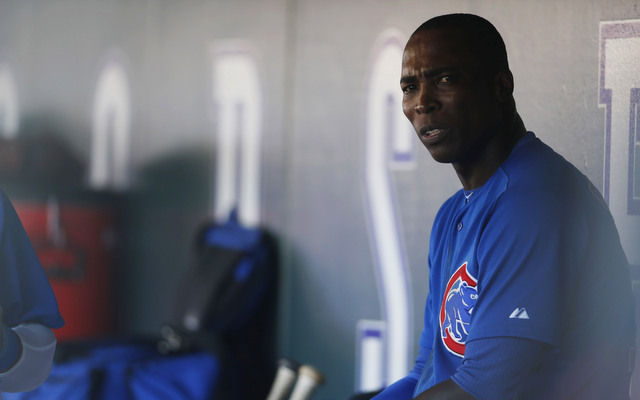 More: Heyman: Yanks-Cubs deal sensible | Miller: Yanks get power they need
The Yankees, desperate for power, have acquired outfielder Alfonso Soriano from the Cubs. CBSSports.com's Danny Knobler reports that Soriano will be in the Yankee lineup on Friday night, batting cleanup and playing left field. 
Soriano, 37, is owed approximately $25 million through the end of next season. CBSSports.com's Jon Heyman says the Cubs will pick up more than half of that, and the money exchange will reportedly be structured in such a way that it will have minimal impact on the Yankees' efforts to get under the $189 million luxury-tax threshold in 2014. They did something similar when they acquired Vernon Wells from the Angels in March.
Because of the money involved, the trade required the approval of MLB commissioner Bud Selig, which he granted on Friday.
In 93 games this season, Soriano has hit .254/.287/.467 with 17 home runs. He has come on strong after a slow start, hitting 10 of those 17 homers in the last month. Soriano hit .262/.322/.499 (117 OPS+) with 32 homers last year, his best offensive season since 2008. He credits switching to a lighter bat for the increased production.
The Yankees this season have gotten a .223/.266/.330 (62 OPS+) batting line from their left fielders and a .212/.299/.361 (80 OPS+) line from their DHs this season. Soriano could step in to fill either role. New York is also hitting .234/.306/.338 (84 OPS+) against left-handers while the righty-hitting Soriano has put up a .273/.340/.496 (118 OPS+) line against southpaws.
Soriano broke into MLB with the Yankees back in 1999. He hit .284/.322/.502 (114 OPS+) with 98 home runs and 121 steals in parts of five seasons in pinstripes before being traded to the Rangers for Alex Rodriguez in February 2004. Soriano has played for the Nationals as well.
In return, the Cubs receive minor-league right-hander Corey Black, age 21. In parts of two seasons as a pro, Black has pitched to a 3.79 ERA and struck out 138 batters in 135 1/3 innings. 
The Cubs are very much in "sell" mode right now. They traded Matt Garza to the Rangers on Monday and have previously moved Scott Feldman and Scott Hairston. Chicago is expected to receive a minor league pitcher from the Yankees for Soriano.
Show Comments
Hide Comments
Our Latest Stories
Hosmer is one of many Royals nearing free agency

Niese isn't that far removed from being useful

Your feel-good moment of the college baseball weekend
The Union head weighed in on the ongoing drama between the Yankees and one of their star r...

The Red Sox youngster said he was going deep and he did on the first pitch

Jason Heyward's new swing, the health of the Mets' rotation and more question marks for NL...