Yankees are looking at the outfield market now, not pitching; Victorino an option later
The Yankees are more concerned about their outfield than their rotation right now.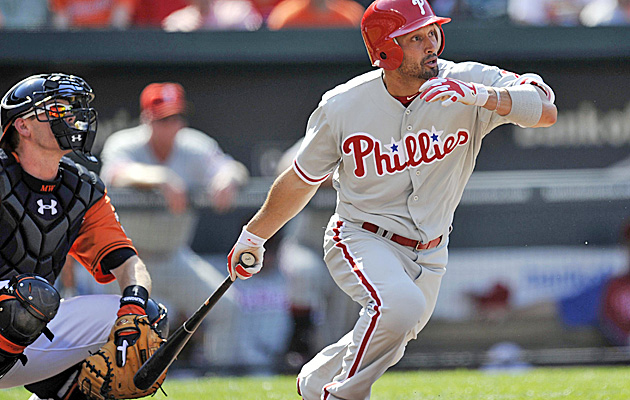 Philly's Victorino could wind up in pinstripes. (US Preswire)
The Yankees are looking harder at the outfield market than the pitching market, as they still have concerns about Brett Gardner's elbow situation.
They've talked to the Phillies about Shane Victorino and the Diamondbacks about Justin Upton, but Upton is a major long shot for them and right now they see the price tag as too high on either. Victorino may be slightly more realistic eventually, though.
GM Brian Cashman said on Sunday asking prices are generally too high, and that the deals available weren't worth it to make "marginal'' improvements.
Gardner is due to try to come back later this month, but his past attempts to do so have been unsuccessful. Raul Ibanez and Andruw Jones have done very well filing in, but the Yankees may have concern about wear and tear on those two veterans as the season drags on.
Yankees people suggest they aren't deeply involved in the top starter market and don't expect to be but rather only plan to monitor Cole Hamels and perhaps Matt Garza (they don't see Zack Greinke as a fit for the Bronx). They have scouted Francisco Liriano, as well, but it's uncertain whether he'd be a rotation or relief option.
The Yankees aren't too concerned about their rotation, as CC Sabathia is returning soon, and Andy Pettitte is expected back by early September.