Yankees are right for Girardi, and he's right for them
Joe Girardi is staying with the Yankees, a decision that always seemed most likely despite interest from the Cubs and possibly other teams.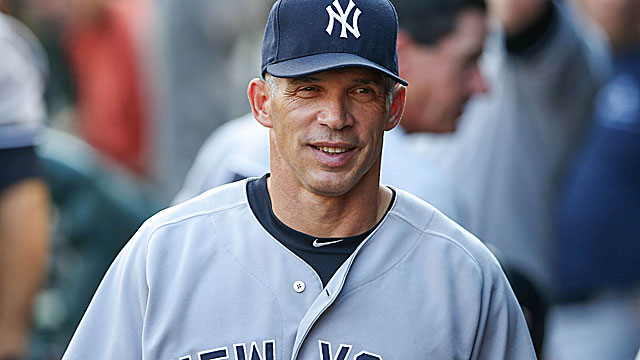 Just the other day, an American League manager was talking about who should be manager of the year.
"I'd probably give it to [John] Farrell, because [the Red Sox] went from last place to first place," the manager said. "But if you want to know who did the best job in the league this year, it was Joe Girardi."
Girardi did a fine job in somehow coaxing 85 wins out of an often-overmatched and almost-always injured Yankee team, and it's absolutely no surprise that the team decided to bring him back, with a significant raise on a four-year deal. Girardi was believed to have been making $3 million a year on his previous contract; colleague Jon Heyman reports that he'll get $4 million a year guaranteed under the new deal, with bonuses.
The new contract will make him the second-highest paid manager in the game, behind the Angels' Mike Scioscia, who is working under a 10-year, $50 million contract that runs through 2018.
Just as it was no surprise that the Yankees wanted Girardi back, it's no surprise that he decided to stay, even with hints that the Cubs might be prepared to offer him even more money to go. For all the talk about how attractive he might find the Cubs' job, the truth always seemed to be that Girardi preferred staying right where he was, with bosses who love him (and who he seems to love, too).
Girardi himself pointed out that most of his ties to Chicago were in the somewhat-distant past, that his family has put down roots in the New York area, and that he's much more a Yankee than a Cub at this stage in his life. Even in the most difficult final days of a Yankee season that ended without a playoff appearance, Girardi continued to talk about the Yankees' future without any hint that he wouldn't be a part of it.
What is that Yankee future?
Well, the immediate future doesn't look good, whether or not owner Hal Steinbrenner sticks to his plan to bring the payroll down under the $189 million luxury-tax threshold for 2014. One rival executive said in the past week that even with unlimited funds to spend, it would be impossible for the Yankees to buy their way into true playoff contention next year.
Even if they cut their spending this winter, though, the Yankees will have almost unlimited funds to spend going forward, in 2015 and beyond. They may be in transition now, but with a four-year contract, Girardi will be in position to benefit from that spending.
He'll also be in position to manage the Yankees through a few more exits by all-time stars. Girardi handled the final days of Mariano Rivera and Andy Pettitte's careers brilliantly. He may have a bigger challenge managing Derek Jeter's final games, whenever those may be (and assuming we haven't already seen them).
Girardi turns 49 next week, so he's still relatively young by manager standards. He has already made it through six years in the Yankees job, but could well stay for a lot longer.
When he took over the Yankee job in October 2007 (he was picked over Don Mattingly to replace Joe Torre), Girardi chose to wear No. 27 on his uniform, because the Yankees at the time had won 26 world championships.
When his team won the World Series in his second season, Girardi then switched to No. 28, symbolizing the new goal.
Given the questionable talent on the current Yankee roster and the almost total lack of help available from the farm system, he may be wearing 28 for quite a while longer.
It seems, though, that he'll get that chance. Girardi's Yankees missed the playoffs in his first season, and again this year, the only two times the Yankees failed to make the postseason since the 1994 strike.
Maybe it seems strange that for the Yankees, with their lofty stated goals of being in position every year to win a World Series, would reward a manager who missed the playoffs with a four-year deal and a raise.
It shouldn't.
Even those who criticize Girardi for sometimes seeming too tense will admit that he did a fine job this year with a team that had no business making the playoffs, or even coming as close as the Yankees did.
Should he be manager of the year?
I'd actually lean towards Terry Francona, with Farrell and Bob Melvin also fine choices. But if you want to make the argument that Girardi deserves it, well, that's a perfectly reasonable argument to make.
There's no doubt that it made sense for the Yankees to keep him, especially in this era where they can use a sense of continuity.
It also made sense for him to stay.
Show Comments
Hide Comments