Yankees are the only team not to sign an MLB free agent this offseason
Believe it or not, the Yankees are the only team in baseball that has yet to sign a free agent to a major-league contract this offseason.
Pitchers and catchers will begin reporting to spring training a little more than three weeks from today, so the offseason is drawing to a close. Thank goodness. I'm sick of the hot stove season. Bring me actual baseball.
At this point of the offseason, there is only one team in baseball that has yet to sign a free agent to a major-league contract. That team? The New York Yankees . No, really. Baseball's perpetual big spender has not yet signed a player to a big-league contract this winter.
New York's offseason has been limited to mostly trades, with some minor-league free agent signings and waiver claims mixed in. Here's a really quick recap of their notable offseason moves:
Trade Pickups: LHP Aroldis Chapman , IF Starlin Castro , OF Aaron Hicks , RHP Kirby Yates
Minor League Signings: RHP Anthony Swarzak, IF Pete Kozma , IF Jonathan Diaz , IF Donovan Solano , RHP Vinnie Pestano
Waiver Claims: OF Lane Adams
That's all. No major-league signings. The Yankees haven't even been rumored to have interest in many free agents this offseason. They were said to have interest in Wei-Yin Chen and Jeff Samardzija back in November, but that's about it. Obviously that interest went nowhere.
Free agency has been around since 1975, and since then the Yankees have never gone an offseason without signing a major-league free agent. Not once. The closest they've come is re-signing one or two of their own free agents a few times. They're on the verge of doing something they've never done before.
Not only have the Yankees not signed a big-league free agent, they've made it clear this is intentional. Would they jump in sign a player at the right price? Of course. But right now they don't see any of the prices as being right. Owner Hal Steinbrenner and GM Brian Cashman have indicated they are trying to avoid long-term contracts on multiple occasions.
The last major-league free agent the Yankees signed was Stephen Drew last January. That was a tiny little one-year contract. Most of New York's major recent moves have been trades, including Chapman and Castro this offseason, Dustin Ackley at the trade deadline, and Didi Gregorius and Nathan Eovaldi last offseason.
The Yankees are intentionally avoiding big free agent contracts and are attempting to get younger in the post-Derek Jeter world. It's a big change. This team is known for throwing money at big-name free agents, and I'm sure they'll get back to doing that eventually, but right now that is not in the cards.
Cashman and his staff are looking to get younger via trades -- what do Castro, Hicks, Ackley, Eovaldi, and Gregorius have in common? They all fell out of favor with their former teams and the Yankees bought low -- while promoting from their own farm system, a la Luis Severino and Greg Bird late last season.
It's odd to see the Yankees steering clear of big-league free agents. That's not in their DNA. For now, the plan is to avoid big contracts, try to get younger, and build a new core before jumping back into free agency.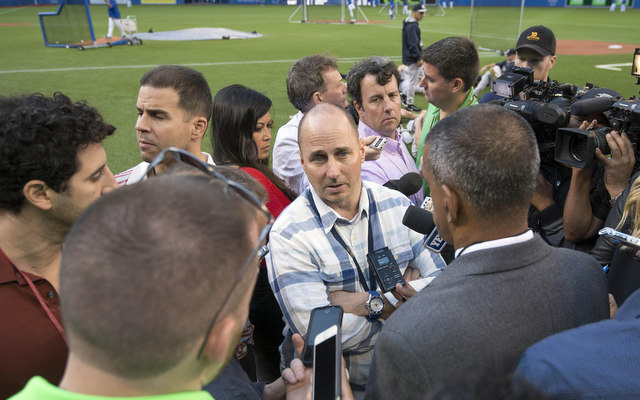 Show Comments
Hide Comments
Our Latest Stories
GM John Mozeliak says the team probably isn't going to exercise their option on Holliday for...

Big Papi will be playing the final regular season home series of his career this weekend

Price hasn't done a lot of winning in Cincy, but he'll be back in 2017
Jose Fernandez is among those up for an award

Say what you will about the D-Backs this year, but this was a nice touch

Farrell had enough and he let the fan have it