Yankees dangling Phil Hughes for hitter to help flailing offense
The Bronx Bombers are in immediate need of offensive help. Joba Chamberlain is also on the block.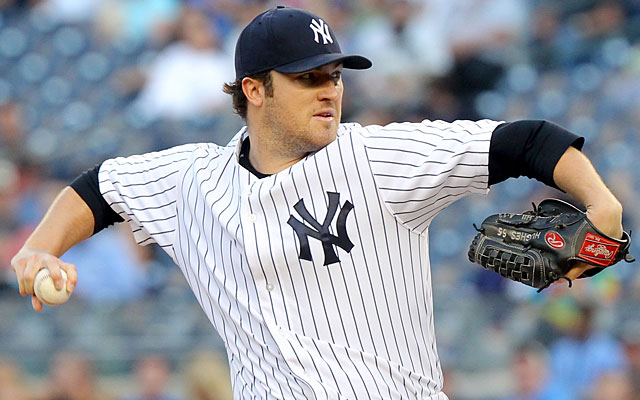 The Yankees, desperate for offense, are talking to teams about right-handed starter Phil Hughes, sources say.
And while Hughes is 4-8 with a 4.55 ERA, he still might have some value. Hughes, who has 78 strikeouts against only 25 walks, is a free agent at year's end, and with the Yankees still hoping to get below the $189 million luxury tax threshhold for 2014, there's no belief he'll be back in pinstripes next year.
"I think he could fetch quite a bit," one rival executive said, though other opinions are mixed.
That exec further opined that Hughes could be quite effective "if you get him out of Yankee Stadium and into a pitcher's park." While the Yankees are hitting in that same park, their offense has been about the worst in baseball since the beginning of June, causing them to fall into fourth place in the tight AL East.
If the Yankees found a taker for Hughes, they could promote the rehabbed righthander Michael Pineda for the rotation.
The Angels have been interested in Hughes, an Orange County, Calif., product, in the past, though it's undetermined whether they will be a buyer or seller. Angels GM Jerry Dipoto recently was quoted saying his team is neither a buyer nor a seller at this point.
The Angels planned to draft Hughes out of a local high school before owner Arte Moreno switched at the last minute and ordered his baseball people at the time to take Long Beach State product Jered Weaver which has turned out to be a very good decision.
Ken Rosenthal of Foxsports.com mentioned Hughes as a trade possibility Wednesday. The other pitcher the Yanks would consider trading is reliever Joba Chamberlain.
"I'm sure they'd like to show him the door," one other rval exec said about the once-ballyhooed Chamberlain. "They may trade him for a pine-tar rag."
Show Comments
Hide Comments