Yankees don't have many pitching options if they miss out on Tanaka
The Yankees are making a hard push for Masahiro Tanaka, but what happens if they don't sign him? The pitching alternatives are limited.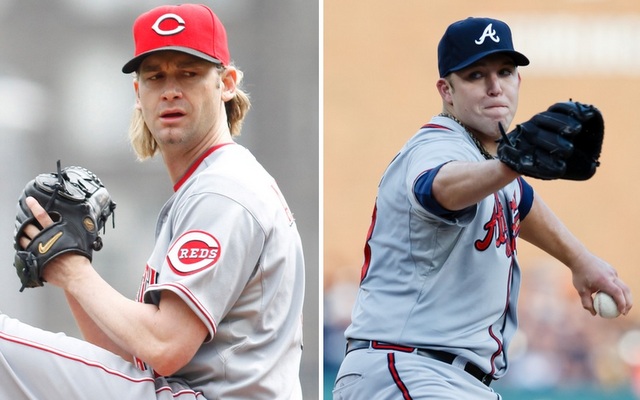 MORE: FA tracker: position players | FA tracker: pitchers
Within the next three and a half days, Masahiro Tanaka will sign with a MLB club. Negotiations have been intentionally tight-lipped and there's little reliable information out there, but it does appear the three most serious contenders at this point are the New York Yankees , Dodgers and Cubs. That passes the sniff test, if nothing else.
The Yankees made Tanaka their offseason pitching priority months ago, long before the season ended and the posting system changed. They like his combination of age (only 25) and stuff, and reportedly believe he has the makeup to handle New York, something they value dearly after failures by fellow Japanese hurlers Kei Igawa and Hideki Irabu.
We're used to seeing the Yankees get almost any player they want thanks to their deep pockets, and it stands to reason that will be also be the case with Tanaka. But what happens if they don't get him? What happens if he decides the Dodgers give him a better chance to win or that deep dish pizza is just too tasty to pass up? How would the Yankees address their rotation concerns then? Let's try to figure it out.
GO BIG: Matt Garza , Ubaldo Jimenez , Ervin Santana
This is the obvious next step, right? Fail to sign Tanaka, then turn to Garza, Ubaldo or Santana. All three will command decent sized contracts (but not as big as Tanaka's) and both Jimenez and Santana will require forfeiting a draft pick. That probably isn't a concern for New York since they've already surrendered their top three picks for Brian McCann, Jacoby Ellsbury and Carlos Beltran. What's another pick surrendered?
All three of these guys have been waiting for the Tanaka situation to resolve for their markets to take shape, and all three come with concerns. Garza has been hurt (elbow and oblique) these last two years, Jimenez was terrible for about two years before turning it around in the second half last season, and Santana's fly ball ways might not be a fit for tiny Yankee Stadium. The Yankees have not been seriously connected to any of these guys yet -- they did recently request Santana's medical records according to Ken Rosenthal of Fox Sports, but it was only due diligence -- but really no team has at this point.
GO MEDIUM: Bronson Arroyo , Paul Maholm , Suk-Min Yoon
If Garza, Jimenez and Santana are deemed not worth the money, second-tier guys like Arroyo and Maholm could be in the mix. Both are known as workhorses who will take the ball every five days, but they are career NL pitchers (mostly, in Arroyo's case) whose soft-tossing ways might not fly in the hitter-friendly confines of the AL East and Yankee Stadium. The Yankees have been in touch with both guys this winter but again, it was just due diligence more than serious interest.
Yoon, a 27-year-old free agent out of Korea, is cut from a similar cloth as Arroyo and Maholm. He's considered a back-end starter at best, and, in fact, the general belief is that he'll wind up in the bullpen long-term. Could he survive as a starter for a season before the league catches up to him? Possibly. We shouldn't rule him out as a possibility even though it seems unlikely. For what it's worth, agent Scott Boras told George King of the New York Post he was planning to discuss Yoon with the Bronx Bombers earlier this winter.
GO SMALL: Tommy Hanson , Jeff Niemann , Johan Santana
Missing out on a star-caliber pitcher and turning to the scrap heap would not be an unprecedented move by the Yankees. When they failed to sign Cliff Lee during the 2010-11 offseason, they responded not by signing the next best free agent starter, but by digging up reclamation projects in Freddy Garcia and Bartolo Colon. It worked too. Garcia and Colon combined for a 3.82 ERA in 311 innings as the team won the AL East by six games.
Once a club makes a move like that, eschewing big name players for the scrap heap after losing out on their top target, I don't think you can ever say they won't do it again. In fact, back during the Winter Meetings, GM Brian Cashman suggested the Yankees may following a similar path this winter if they fail to sign Tanaka. Hanson, Niemann and Santana are just three names from a crowded pool of low-end arms who could solidify the staff if they stay healthy. Others include Erik Bedard , Chris Capuano , Bruce Chen , Jason Hammel l and Joe Saunders .
STAY IN-HOUSE: Vidal Nuno , David Phelps , Michael Pineda , Adam Warren
In their ideal world, the Yankees would add Tanaka to CC Sabathia, Hiroki Kuroda and Ivan Nova, and let one of those four young pitchers serve as the fifth starter. All four have had success at the MLB level at some point, though Nuno (groin), Phelps (forearm) and Pineda (shoulder) missed big chunks of last season due to injury. Heck, Pineda hasn't pitched in two years due to his shoulder problems. Only Warren made it through the entire 2013 year healthy, and he was the team's long man.
The Yankees have some cheap depth pitchers but Pineda is the only who has been successful as a starter across a full MLB season, and that was two years and one shoulder surgery ago. These four guys all have promise but it's hard to see New York as a legitimate contender if two of the four are in their opening day rotation.
---
It's obvious why the Yankees and many other teams are making a hard push for Tanaka. Aside from his age and pedigree, there is also the lack of appealing options. The step down from, say, Tanaka to Garza is one clubs would like to avoid if at all possible.
I think, and this is just my opinion, the Yankees would opt for a cheaper pitcher like Arroyo or Maholm rather than spring for Garza, Jimenez or Santana if they fail to land Tanaka this week. Heck, they might bring in two cheap starters in that case, like Arroyo and a dice-roll on Johan or Hanson. Either way, the team's pitching situation will be much more dire without Tanaka. Even after adding those three big free agents weeks ago, he is the key to their offseason.
Show Comments
Hide Comments