Yankees' Hiroki Kuroda exits early, but shouldn't miss a start
With all their injuries, the Yankees couldn't afford one to Hiroki Kuroda. He left Wednesday's game early, but shouldn't miss a start.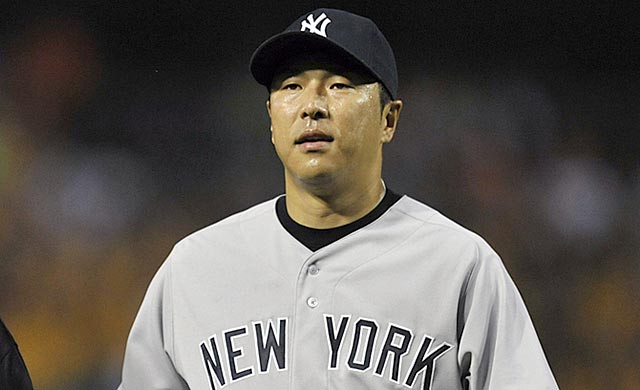 BALTIMORE -- Hiroki Kuroda has been the Yankees' most effective starting pitcher this season. With all their injuries, they could hardly afford to see him get hurt, too.
Wednesday night, he did, but he and the Yankees both insisted he won't need to miss a start because of the bruised right calf that forced him early in a 6-3 loss to the Orioles.
"I would be shocked if he couldn't [make his next scheduled start, next Tuesday against the Mets]," Yankees manager Joe Girardi said.
Girardi said he removed Kuroda from Wednesday's game in the third inning because the pitcher told him he was having difficulty pushing off the mound. Kuroda seemed to also be stretching his back, but both manager and player said that the bruised leg was the only concern.
"There's no issues with my back," Kuroda said through an interpreter.
Kuroda was hit by a Manny Machado line drive in the second inning. Machado's hit was the fifth allowed by Kuroda, who ended up giving a season-high eight hits and five runs.
Girardi went to the mound, accompanied by a trainer and an interpreter, after the first two Orioles reached base in the third. Kuroda left the game at that point.
The Yankees already have two starting pitchers on the disabled list (Andy Pettitte and Ivan Nova), and have a ton of injured position players, as well.
One of the reasons they've been able to survive all the injuries is that Kuroda has pitched so well. The Yankees won seven of his first nine starts, and Kuroda took a 1.99 ERA (second in the American League to Clay Buchholz) into Wednesday's start.
Show Comments
Hide Comments