Yankees lose Greg Bird (shoulder) for 2016 season: Three things to know
The Yankees reportedly got some bad news on Monday, as first baseman Greg Bird is set to have shoulder surgery Tuesday and will miss all of the 2016 season.
The month of February is off to a rough start for the New York Yankees, as they will lose first baseman Greg Bird for the entirety of the 2016 season, the club has announced Monday. Bird will have shoulder surgery to repair a torn labrum in his right shoulder on Tuesday.
Here are three things to know.
1. Even though Bird wasn't a starter, this is a big blow
The 23-year-old Bird debuted last season once Mark Teixeira went down with an injury. Bird hit .261/.343/.529 (138 OPS+) with nine doubles and 11 homers in just 178 plate appearances. That's very good power production in replacing a power hitter. So Bird is one of the better backups options available.
Of course, he was a necessity given Teixeira's history. Teixeira is entering his age-36 season and that's easily a decline phase for the majority of baseball players these days. Not only that, but he's not durable in the least. His games played the past four seasons: 123, 15, 123, 111.
So Bird was the insurance here and now he's out.
2. The Yankees do have depth options
We already mentioned Teixeira as the starter, so they are set heading into the season in terms of an everyday first baseman. As patchwork options, Brian McCann (119 1/3 career innings), Dustin Ackley (106 1/3) and Alex Rodriguez (9 2/3) are available. The hunch here is that with a full spring training working out at first, A-Rod would be fine. Carlos Beltran logged five innings at first in 2014 and -- given his banged up knees and poor outfield range -- I wonder if this could be pursued. After all, the Yankees could play Brett Gardner, Jacoby Ellsbury and Aaron Hicks in the outfield.
3. Prospects could get a quicker look now
Let's say Teixeira goes down and the Yankees decide their best route is to move McCann to first base on at least a semi-regular basis. That opens the door for top catching prospect Gary Sanchez. In just 35 career Triple-A games (all last year), Sanchez hit .295/.349/.500 with six homers and 26 RBI.
If A-Rod is OK to handle at least semi-regular duty at first base, the door could be open for Aaron Judge as well. He struggled last year in Triple-A (.224/.308/.373), but a better start to the season would make him part of the hypothetical conversation (again, if Teixeira gets hurt). He has big upside, per the scouting community.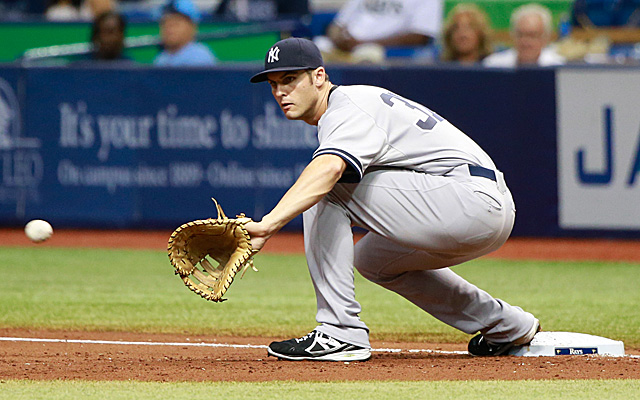 Show Comments
Hide Comments
Our Latest Stories
The Red Sox missed an opportunity to clinch the AL East title as well

Here's a look at the postseason race standings with five days left in the regular season

Diaz grew up with Fernandez
Fernandez's family will hold a public viewing on Wednesday

Kluber will be ready to return in 7-10 days

The good news: they were able to find the ring