Yankees, Masahiro Tanaka agree to seven-year, $155 million deal
The Yankees and Japanese starting pitcher Masahiro Tanaka have agreed on a seven-year, $155 million deal. There is an opt-out clause after four years.
MORE: FA tracker: position players | FA tracker: pitchers
The Yankees and Japanese starting pitcher Masahiro Tanaka have agreed on a seven-year, $155 million deal, Jon Heyman of CBSSports.com has confirmed. 
The deal also includes an opt-out clause after the fourth year.
Tanaka, 25, was 24-0 with a 1.27 ERA, 0.94 WHIP and 183 strikeouts in 212 innings last season for the Rakuten Golden Eagles. In his seven-year career in Nippon Professional Baseball, Tanaka was 99-35 with a 2.30 ERA and 1.11 WHIP. As I've pointed out before, he has the best track record of any pitcher coming to the U.S. from NPB.
Tanaka thrives with three plus pitches, according to scouting reports. He has a fastball that works up to the mid-90s, a devastating splitter that sits in the 85-90 range and a slider that sits in the low-80s.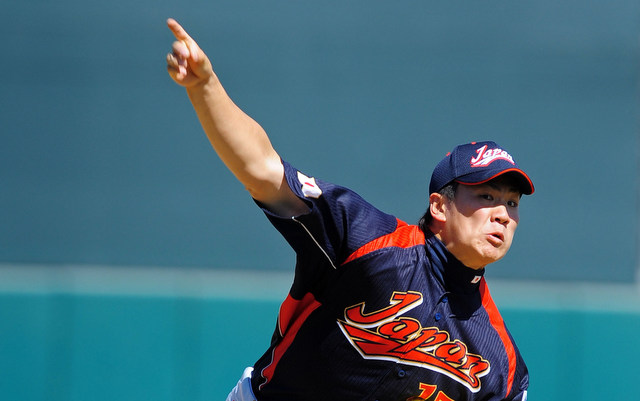 As part of the new posting system, the Yankees also owe the Golden Eagles a $20 million posting fee. Not only that, but the Yankees have now surpassed the $189 million luxury tax threshold, so they were awfully serious about landing Tanaka.
Tanaka can now slot behind CC Sabathia in the Yankees' rotation and ahead of the likes of Hiroki Kuroda and Ivan Nova. The fifth starter will come from the Michael Pineda, Vidal Nuno, David Phelps group. This move definitely gives the Yankees an admirable rotation that had appeared suspect on the back end.
The Yankees won out over the likes of the Dodgers, Cubs, White Sox and Diamondbacks. For those teams to varying degrees, it's back to the drawing board. The top free agent starters left on the market are Matt Garza, Ubaldo Jimenez and Ervin Santana, although draft pick compensation is tied to the latter two and Garza has had recent injury woes.
News of the Tanaka deal was first reported by Ken Rosenthal of Fox Sports.
Show Comments
Hide Comments
Our Latest Stories
How a pitch that was already nasty back in May became downright illegal in October

The Indians are looking to take a 2-0 series lead Wednesday

Perez went deep twice in Game 1, but he had his biggest impact behind the plate
Looking for a reason to be optimistic after the Game 1 loss, Cubs fans?