Yankees may join a few others in hunt to sign Kendrys Morales
New York is concerned about the health of Mark Teixeira and Carlos Beltran and might look into Kendrys Morales.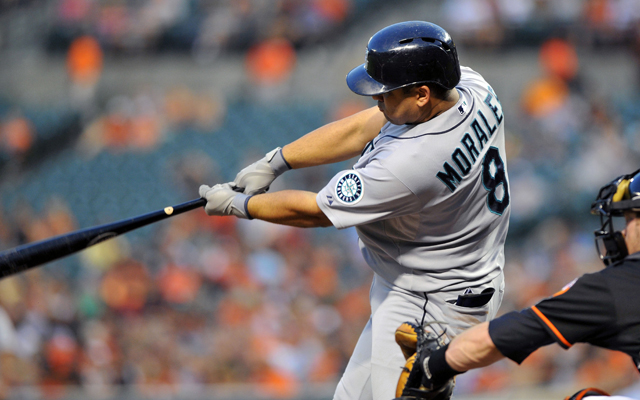 More MLB: Power Rankings | Expert Picks | Latest news & notes | Fantasy news
The Yankees could become a player for Kendrys Morales, sources confirm.
Some among the Yankees' hierarchy are said to be interested in getting in the derby for the free-agent switch hitter now that there are physical concerns about both first baseman Mark Teixeira and right fielder Carlos Beltran.
The Brewers, Rangers and incumbent Mariners are seen as the other most likely players for Morales. The Orioles, who showed interested earlier, may be more focused on pitching at the moment.
Morales is expected to sign shortly after the June 5 draft, when a draft pick will no longer be attached to him. The signing team won't have the opportunity to make him another qualifying offer since he won't have played the whole 2014 season, so he won't be limited again in 2014-15 free agency by the attachment of a draft choice.
Teixeira missed three straight games with right wrist inflammation and Beltran is trying to come back after elbow pain. Teixeira missed most of the 2013 with wrist trouble, and while he has produced at the plate this year, he doesn't appear to be running too well. Beltran reported feeling fine after hitting a few balls Wednesday and he could be ready for a rehab assignment if all goes well hitting Friday.
Yankees owner Hal Steinbrenner, who authorized more expenditures as needed, is thought to have some interest in Morales. The team spent $453 million on four free agents alone this winter, and the aim as always remains to win. Ken Rosenthal of Foxsports.com first linked the Yankees to Morales.
Brewers owner Mark Attanasio has had success signing Scott Boras clients Kyle Lohse and Francisco Rodriguez in recent years, and Milwaukee is one of the lowest producing teams at first base right now. Some teams see Morales as a first baseman, but the American League may be somewhat more logical since he can DH there.
The Rangers were one of the teams to scout Morales at his workout in Miami Gardens, along with the Orioles, Brewers and a couple others, and Texas has lost Prince Fielder for the season after neck surgery.
Seattle loved Morales both in the lineup and the clubhouse, but it is uncertain whether they have extra room in the budget at present.
Show Comments
Hide Comments