Yankees tell players to be less like Cam Newton, more like Russell Wilson
The Yankees used Cam Newton's and Russell Wilson's recent Super Bowl press conferences to show their players the right and wrong way to handle the media.
Spring training involves much more than bullpen sessions, batting practice, and meaningless exhibition games. There's a lot of training that goes on behind the scenes, and not all of it is physical.
Every team conducts some kind of media training in camp because they want their players to know the right way to speak with reporters. They want them to talk to the media but not saying anything controversial, basically. It's easier said than done.
The Yankees, who have to deal with the ruthless New York media, take media training very seriously in spring training. They often bring in guest speakers and show video of what they consider the right and wrong way to act around reporters.
According to ESPN New York's Andrew Marchand, this year the Yankees showed their players video of Cam Newton's and Russell Wilson's recent Super Bowl press conferences.
During the Yankees' media training, the Super Bowl is being used to portray the right and wrong way to act. Part of a video shown to pitchers and catchers compares how Cam Newton handled his Super Bowl loss to the way Russell Wilson dealt with his defeat the previous year.
Following this year's Super Bowl loss, Newton abruptly left his postgame press conference in the middle of a question. Wilson, meanwhile, answered every question and shouldered the blame for the loss following his team's Super Bowl defeat a year ago.
The Yankees want their players to be more like Wilson -- accountable and available -- and less like Newton, at least when dealing with the media. And hey, I don't blame them. The last thing the Yankees want is some sort of distraction because a player was grumpy with reporters.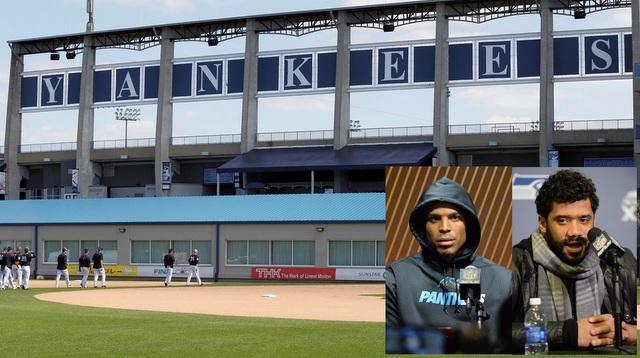 Show Comments
Hide Comments