Yanks struggling to balance winning with honoring Jeter in final season
The Yankees are struggling to find a balance between putting the best team on the field and honoring Derek Jeter in his final season.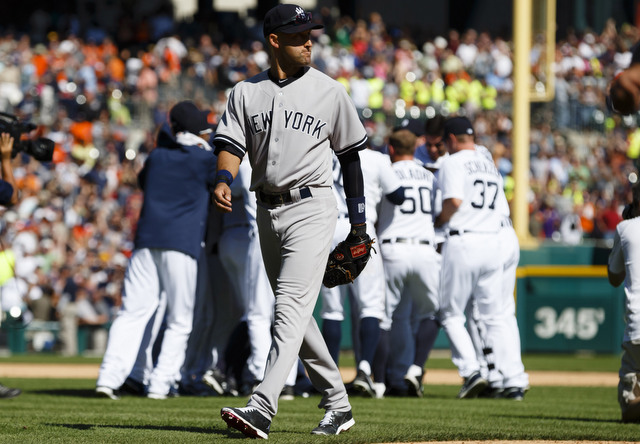 Thanks to Alex Avila's walk-off single, the Yankees dropped an important game to the Tigers on Thursday afternoon (DET 3, NYY 2). The loss dropped New York to three games back of both the Tigers and Mariners for the second wild-card spot. FanGraphs now puts their postseason odds at 9.7 percent.
In Thursday's game, Yankees captain Derek Jeter went 0-for-4 with three ground outs to short and a fly ball to center field. It extended his August slump -- he is now hitting .216/.235/.278 this month -- and lowered his season batting line to .265/.313/.317 in 525 plate appearances. That is roughly 24 percent worse than league average.
Jeter is a slam dunk, no doubt about it first ballot Hall of Famer, but he looks very much his age in his final season. The history of 40-year-old shortstops is ugly -- only one 40+ year old shortstop has been worth even 0.8 WAR in the last 50 years -- and Jeter's performance this summer is no different. It would have been a surprise if he hit like vintage Jeter, not that he's struggled this year.
And yet, because he's Derek Jeter, manager Joe Girardi and the Yankees have continued to pencil him into the second spot in the lineup because that's where he's always hit. With big money free agent signing Jacoby Ellsbury entrenched at the top of the lineup, Brett Gardner and his team-leading 120 OPS+ started Thursday's game batting eighth.
Furthermore, Jeter continues to play shortstop on an everyday basis. He has started 108 of the team's 132 games at short plus another eight at DH. There is no disputing Jeter is the third best defensive shortstop on the team's roster behind Brendan Ryan and Stephen Drew. And yet, Drew is playing second base and Ryan has played all over the infield -- including first base -- in deference to the captain.
The Yankees are in an uncomfortable situation with Jeter. They aren't stupid, Girardi and the front office know he is a shadow of the player he once was, but they continue to treat him like he's vintage Jeter out of respect for who he is and what he's done for the franchise. The team has better options to bat second (Gardner, Martin Prado) and better options to play at short (Drew, Ryan), yet they stick with Jeter.
Unfortunately this treatment of Jeter is also costing the Yankees games in the standings at a time when every win is crucial. There are also real life ramifications here -- if the Yankees miss the postseason, they'll lose out on millions of dollars in postseason revenue. Even more than usual since this would be their second straight postseason-less year.
There is no easy solution. Not in the real world. It's easy to sit back and say they should bat Jeter ninth or take him off shortstop -- I know I wouldn't want to be the person to tell him that's happening -- but such a move would result in a media frenzy and constant questions for Girardi, Jeter and the rest of the team. It would be a major distraction. How would the veteran clubhouse take to their captain being marginalized? That's another question we can't answer.
I'm sure that, in the Yankees' perfect world, Jeter would volunteer to move down in the lineup or not play shortstop. There is zero chance of that happening though. No player has ever offered to reduce their role like that. These guys are top notch competitors and they're always the last to admit their skills have eroded. The chances of Jeter volunteering to bat down in the order are about as good as the chances of me replacing him at shortstop next year.
"I wasn't hired to put on a farewell tour," said Girardi to reporters, including the New York Post, back in April when asked about handling Jeter this year. Actions speaker louder than words though, and it's clear the Yankees are catering to their captain in his final season. (This isn't all on Girardi, by the way. Ownership and the front office are definitely involved in the decision making.)
The Yankees are treating Jeter as if he is the player he was most of his career, and you know what? That's perfectly fine. They're allowed to do that if they want. The result is that they're not putting the best possible team on the field most nights despite being in the middle of a postseason race, however. It's uncomfortable for everyone, from the team to the fans to Jeter himself. The end of the line for a fading superstar is almost never pretty and this is no exception.
Show Comments
Hide Comments