Yanks' Tanaka throws breaking balls, splitters in 35-pitch bullpen
Yankees ace Masahiro Tanaka continues to make good progress in his effort to recover from a partially torn UCL.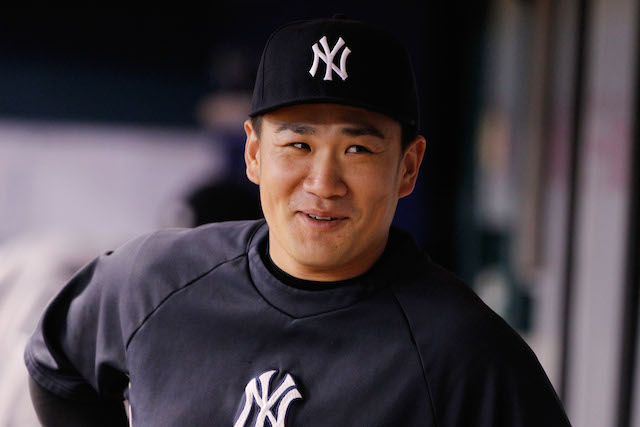 Days after throwing from a mound for the first time since being diagnosed with a partially torn ulnar collateral ligament in his pitching arm, Yankees ace Masahiro Tanaka took the next step toward a possible September return to the rotation. Here are the details on Tanaka's Wednesday bullpen session via MLB.com's Bryan Hoch:
Tanaka threw 35 pitches in the Yankee Stadium bullpen, a mix of fastballs, curveballs and sliders. He also snapped off five splitters, which is fairly significant considering the torque that Tanaka's signature pitch requires. 
Obviously, this is a strong second session for Tanaka, who said he felt good afterward. The Yankees will of course need to see how Tanaka's arm feels when he wakes up on Thursday before plotting out what's next for the rookie right-hander. 
Before getting hurt, the 25-year-old Tanaka pitches to a 2.51 ERA and a stellar 7.11 K/BB ratio in 18 starts and 129 1/3 innings. He signed a seven-year, $155 million contract with the Yankees over the winter.
Show Comments
Hide Comments