Yu Darvish and hard luck losses
Yu Darvish has now taken losses in three games by the score of 1-0. Only eight starting pitchers in big-league history have had more.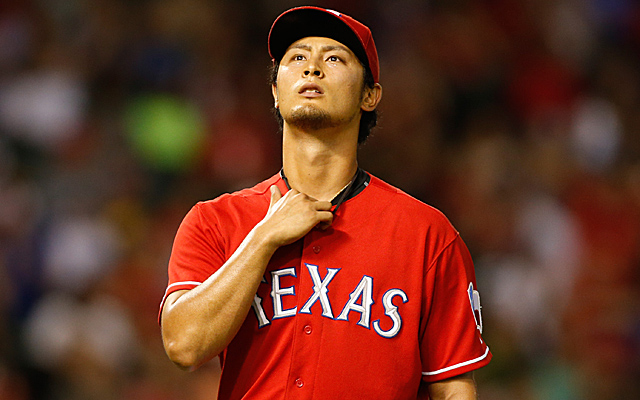 More MLB: Scoreboard | Standings | Probable Pitchers | Sortable Stats | Odds
Perhaps lost in the shuffle of the fanfare for Monday night's Pirates win -- their 82nd, meaning they'll finish with a winning record for the first time since the (first) Bush administration -- was that Rangers starter Yu Darvish dropped a 1-0 decision.
It marked the third time this season that Darvish has taken a 1-0 loss. That's the most 1-0 losses in one season for a starting pitcher since Orel Hershisher took four in 1989.
Here's the list of starters who ended a season with more 1-0 losses than Darvish since the beginning of the 1916 season. It's pretty short, considering the number of seasons since then:
1. Roger Craig, five, 1963
1. Jim Bunning, five, 1967
1. Fergie Jenkins, five, 1968
2. Walter Johnson, four, 1916
2. Lee Meadows, four, 1916
2. Billy Pierce, four, 1955
2. Don Drysdale, four, 1964
2. Hershisher, four, 1989
That's it. There are a litany of guys to have lost three 1-0 contests like Darvish has this season, but only eight in major-league history have had more.
I'm not going to go to great lengths in order rail on how much I dislike wins-losses as a primary indicator of a pitcher's performance, because that's been done to death this year by myself and many others concerning guys like Max Scherzer, Chris Sale and Clayton Kershaw. Instead, let's just focus on the obvious lack of perspective it provides in Darvish's case.
Darvish lost three games by the count of 1-0. What if his offense provided him with just two runs in each of those three games? Remember, Darvish has absolutely nothing to do with what his offense provides. Had the offense done so in those three games, all of a sudden the record goes from 12-8 to 15-5.
That's quite a bit different. That takes Darvish from being a scapegoat for some Rangers fans to a hero and possibly even a Cy Young frontrunner -- remember, Scherzer is 19-3 now and that isn't leaps and bounds better than 15-5.
[Obligatory aside: Settle down, Tigers fans. I'm only making a point that Darvish is an ace, not arguing against Scherzer for Cy.]
Instead, Darvish is 12-8 and there have actually been constant discussions this season in parts of the Internet as to whether or not he's a "true ace." This all despite the fact that Darvish ranks in the top five in the AL in ERA (second), ERA+ (third), WHIP (fourth), strikeouts (first) and strikeout rate (first). He's also in the top 10 in WAR among pitchers (sixth) and strikeout-to-walk ratio (eighth).
That's an ace, no matter how often his team refuses to provide him with any run support.
Show Comments
Hide Comments