Yu Darvish under MLB investigation after brother's gambling arrest
Sho Darvish was arrested in Japan in October. MLB says it's looking into it as it might relate to Darvish.
Although Rangers ace Yu Darvish has not been accused of wrongdoing by authorities in Japan to this point, Major League Baseball reportedly confirmed that he is under investigation related to the arrest of Darvish's younger brother for operating an illegal gambling ring that took bets on MLB and Nippon Professional Baseball games.
The Japan Times reports that MLB spokesperson Michael Teevan told them the league is "aware of this situation and are looking into it, per our standard protocols." The situation is the arrest of Sho Darvish in October following a year-long investigation for gambling and running a betting ring. Police allege he accepted some "1,850 wagers valued at ¥10,000 each on pro games in both North America and Japan."
It is not clear, writes Jack Gallagher, if Sho Darvish took any bets on Rangers games.
Best-selling author Robert Whiting, who penned both "You Gotta Have Wa" and "Tokyo Underworld," feels it is not much of stretch to think that Sho Darvish, who was 26 at the time of his arrest, may have turned to his older brother for information.

"Gambling on baseball in Japan exists, it always has existed, and always will," says Whiting.

"As for (Yu) Darvish, you would have to say it was likely that he provided information, unwittingly I would have to assume (unless of course he is looking to supplement his income, which the last time I looked was about half of Masahiro Tanaka's)," added Whiting.

"Anything Darvish would have to say about team injuries or health of the players could affect the possible outcome of a game and the betting line."
Yu Darvish missed most the 2015 season after undergoing elbow reconstruction surgery but, even as an injured member of the team, could have been in a position to inform his brother of useful information for a gambling operation. Even unwittingly, as Whiting says. 
Darvish released the following statement Tuesday afternoon:
"I am not and have never been involved with gambling activities. While I understand Major League Baseball must conduct an investigation, I am certain that they will find that I had no involvement in this matter whatsoever."
Encouraging news for Yu Darvish, beyond police in Japan not associating him with any of his brother's alleged crimes, is that MLB has yet to hire a private investigator of its own. That's when it would become apparent that Yu is in actual trouble. Were MLB to find anything that indicated Yu Darvish knowingly helped his brother's alleged illegal gambling operation, he probably would be kicked out of MLB and banned for life. Leagues in Japan, Korea and Taiwan probably would abide such a ban, and Darvish would be done playing baseball as he knows it.
MLB, as the Pete Rose and the Black Sox scandals showed, is very serious about matters relating to gambling on baseball.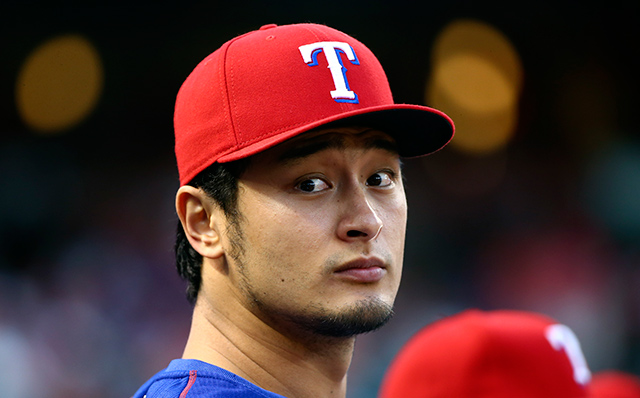 Show Comments
Hide Comments
Our Latest Stories
Rain cut things short in Pittsburgh on Thursday night, so nobody won

Here's a look at the postseason race standings with four days left in the regular season

A certain Yankee legend was on hand to honor Big Papi before his final appearance at Yankee...
The outfield grass will be looking good for David Ortiz's final regular season appearance in...

The Tigers and Indians were rained out on Thursday. Here's what that means for the AL wild...

It was paid for by a local radio station, as the listening won a contest