In the Eye On Baseball Top 10s, here's what we do: rank players according to criteria. Those criteria change depending upon week and whim, but the Top 10 will always be informed by some angle or another, painfully contrived or otherwise.
And that brings us to this week's guiding query: Which active players have had the best careers?
As you're surely aware, Derek Jeter's storied career is winding down, and that's put us in the "career achievement" frame of mind. So we're seeing which current players have provided the most value over their course of their MLB lives. Let's repeat ourselves at the outset: This is about total career value and not the 2014 season in isolation. Ergo, "But he's having a terrible season, you @#$%!" is not a valid complaint. As always, defense and base-running are very much part of the calculus for position players.
Omissions? Alex Rodriguez, first and foremost. He's on the restricted list, of course, so we're leaving him off. However, if he were eligible for inclusion, then A-Rod would be tops on the list. I also left off the criminally underrated Bobby Abreu, who isn't on an MLB roster at the moment. If he were, then Abreu would be just outside the top five. Elsewhere, Jason Giambi was also given due consideration, as were Torii Hunter, David Wright, Mark Teixeira, Joe Mauer, Jimmy Rollins, Matt Holliday and others. On the pitching side, names like Adam Wainwright, Jered Weaver, Cole Hamels, Matt Cain, Jon Lester, Jake Peavy, Joe Nathan and Jonathan Papelbon were tough to leave off.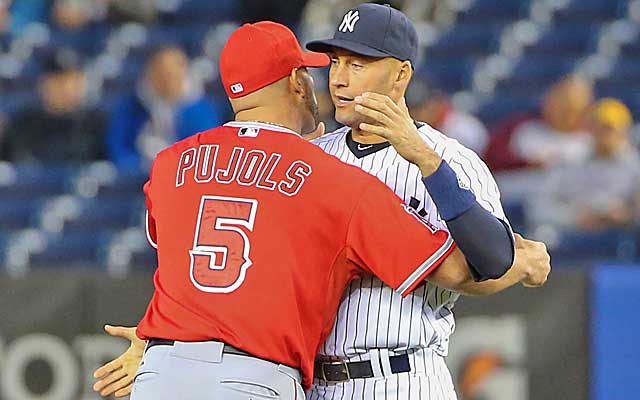 And now let us recite baseball names for the dual purposes of SEO and making you angry. Feel free to brandish your incorrect opinions and make idle threats in the comments section.
Weapons-grade complaints and spleen-venting? By all means, reach out to the author at hotmail@hotmail.jpg.